Sorting out your wedding music is one of the most enjoyable parts of wedding planning. You get to make an epic playlist filled with your favourite songs and hire an awesome musician (or musicians) to play it. Because this isn't any old Spotify mix or gig, you may not know where to start. But fear not! We're here to show you the ropes.
This is your essential guide to wedding music.
Who should I hire to handle my wedding music?
The first thing you'll need to do is decide what type of musician you want - a live band or a DJ. Naturally, this comes down to personal preference, so don't let your friends and relatives sway you. Remember, you can choose one type for your ceremony and another for your reception, giving you the best of both worlds on your big day.
Where do I look for potential candidates?
Unless you throw pretty extravagant parties, you probably haven't hired many (or any) bands or DJs in your life. If you don't know where to start your hunt, we suggest taking a peek at our supplier directory section (it includes bands and DJs from Cornwall, Cardiff and beyond). If you still haven't found what you're looking for, ask your recently married friends and relatives, they might be able to point you in the direction of some awesome candidates. Keep in mind that your wedding musicians will be emceeing and setting the tone for your big day, so you don't want to hire just anyone.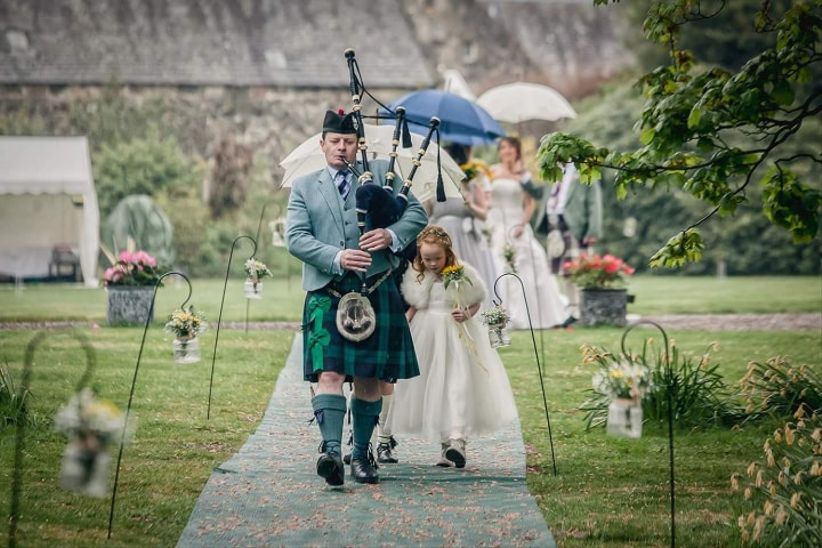 When do I need to hire my wedding musician(s)?
You'll want to figure out who will be performing at your wedding well before crunch time. Couples usually start their search about six months in advance of their big day, giving them plenty of time to sort out the details. Pro tip: of you're hosting your wedding in the summer, you'll want to start hunting for your musician(s) even earlier, as they tend to book up fast for this season.
How much should I spend on my wedding musician(s)?
Now it's time to talk pounds and pence (I know, it's not the most enjoyable part of planning). Unfortunately, wedding music doesn't come cheap, but you do get what your pay for. You should aim to spend about 3% of your total wedding budget on your music, which is actually a pretty sizeable chunk. If you need help figuring out the exact £ amount, try using our Budget Planner Tool, it'll remove any guess work from the equation.
How do I decide on the music style for my wedding?
Now's not the time to dig up any old Spotify playlist and call it a day - you want your wedding music to be extra special, so take care when choosing your songs. If you don't know where to start when it comes to genre, think about your wedding theme. For example, if you're having a rustic countryside wedding, you may want to go more indie with your music mix. Fill your playlist with songs by Mumford & Sons, Arctic Monkeys and the like.
How do I decide on the important songs for my wedding?
Your wedding will be filled with magical musical moments. Events like your walk down the aisle, your first dance and your grand finale all deserve special songs, so spend a little extra time looking for those. Paying attention to the tone of each moment (for example, your garter toss song calls for something on the sexier side) will steer you in the right direction. P.S. if you have no clue what these "big songs" are, click here and here.
Can I use a premade mix for my wedding?
If you're not exactly music buffs, you can use a mix that you've found on Spotify or that your DJ or band has created for you. Just remember, music is a big part of every wedding, so you'll want to tweak it to suit your event (even if that just means swapping in a different song for your first dance).
Find wedding musicians and DJs on WeddingWire »