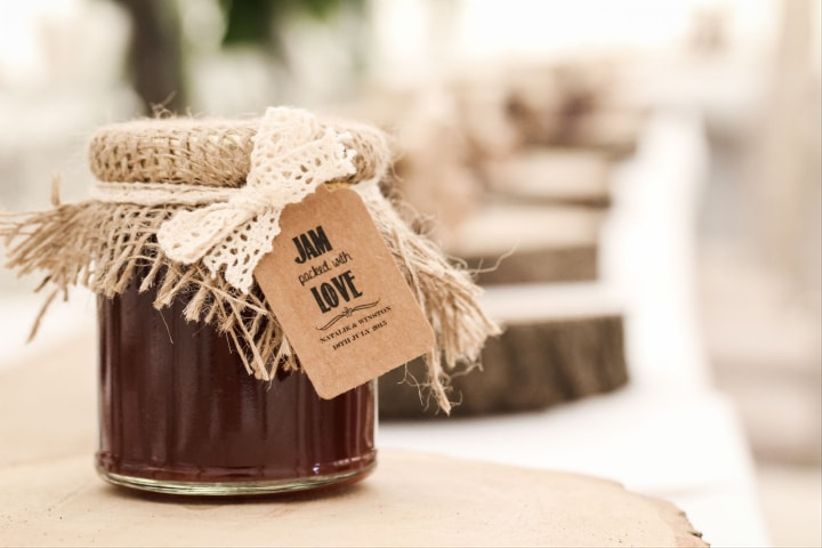 Time to get your wedding favours in order! Deciding what to gift your guests with is one of the highlights of planning your big day. However, even if you do consider yourself a master at picking out presents, you're probably a novice when it comes to wedding favours. We've answered all the essential questions about these goodies to get you in the know.
This is your essential guide to wedding favours.
Is giving out wedding favours a must?
Favours are pretty much a necessity. They're a way of saying thank you to your guests for taking the time out of their busy schedules to attend your wedding. And, don't worry, they don't have to be expensive to be sentimental.
How much should I spend?
Your wedding favours shouldn't be too pricey. In fact, they should only eat up around 1% of your entire wedding budget (you can use our Budget Planner tool to help figure out just how much that is). Remember, inexpensive doesn't mean low-grade - plenty of cheap and cheerful favours are actually very useful and thoughtful (like packets of seeds, small potted plants, wedding favour biscuits, etc.). Keep in mind that many places will cut you a deal for ordering in bulk, so don't be afraid to ask. P.S. Check out our money-saving tips for wedding favours.
Can I DIY wedding favours?
You sure can! Just make sure you're not in over your head when you commit to DIYing your own wedding favours. If your wedding guest list is in the hundreds, you may want to kiss your dreams of making everyone a pint-sized terrarium goodbye and hire a pro to do the job for you. A good test is to time how long it takes you to make one or two of your dream favours, then you'll know roughly how long the entire process will take.
When should I start shopping for them?
It's never to early to start shopping for your wedding favours. Time tends to fly in the months leading up to your big day, so plan ahead (like, way ahead). We recommend starting your search around two to three months before your wedding, just so you don't find yourself without favours at the eleventh hour. Keep in mind, if you plan to craft your favours yourself, you may want to start even earlier (unless they're edible).
How do I find the right ones?
This is where knowing your wedding theme really comes in handy. It'll help narrow down your search and point you in the direction of the perfect prezzies for your big day. For example, if you're hosting a rustic affair in the countryside, you may want to go with tiny jars of jams or preserves. Or, maybe you're hosting a glitzy soiree in a London townhouse? Why not give out itty bitty bottles of bubbly?
Where can I find wedding favours in the UK?
There are plenty of places to find favours. First, check our wedding favour listings section or turn to craft sites like Etsy (it's a treasure trove for unusual wedding favours). Then try walking around your neighbourhood and looking in stores that sell favours or small gifts that can be ordered in bulk. Feeling super creative? Go ahead and DIY your favours - Pinterest and YouTube have thousands of DIY wedding favour ideas for each and every theme. Giving charity wedding favours in support of a cause that is important to you is another great option that your guests will appreciate.
Do I need to purchase kids wedding favours?
Yes, you should have wedding favours on hand for the children on your guest list. You may want to consider offering them child-friendly prezzies, like colour books and crayons, small toys or cookies, instead of giving them the same thing as the adults (this is a definite must if you plan on giving out boozy favours). The one exception to this rule is babies and toddlers - they probably won't even notice the favours.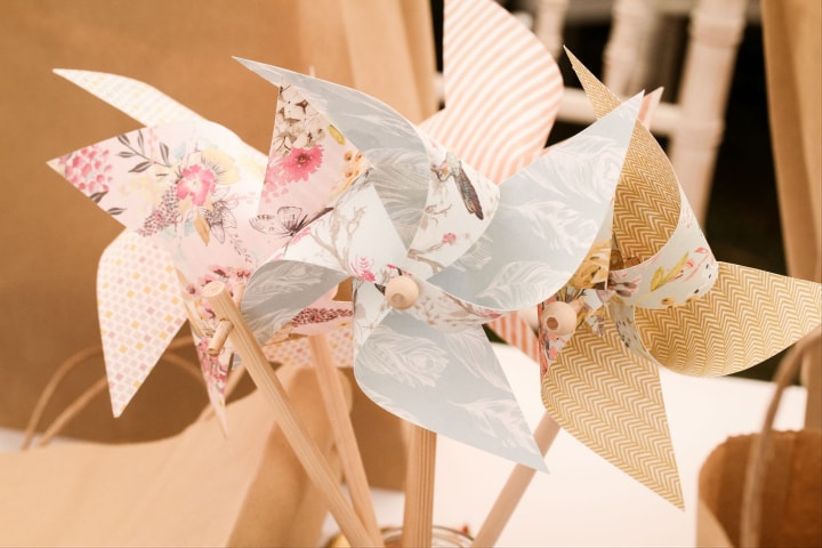 How many favours should I buy?
Obviously, you'll want to have enough favours for everyone on your guest list, so count out all your friends and relatives before placing your order. You should also purchase a few backups, just in case one or two go MIA or get mangled on their journey to your venue. Yes, this will add a few extra pounds to your bill, but it's totally worth the investment - you don't want any guests to leave your event empty-handed.
How should I wrap them?
When it comes to wrapping your favours, your options are endless; you could put them in tiny bags or boxes or even leave them sans-wrapping and just add tiny tags. Just remember to watch your spending - you don't want the packaging to cost more than the gift itself. Pro tip: if you're giving out edible favours, you'll want to add at least one or two layers of cellophane or wax paper so that no crumbs or oils sneak out (the same rule applies for soaps and candles).
Find your wedding favours on WeddingWire »