Want to tie the knot in a winter wedding wonderland? Awesome! The cooler months of the year have plenty to offer happy couples. If you really want to embrace the season, we've got a few steal-worthy winter wedding ideas for you to consider. From snowflake stationery to s'mores stations, these are bound to impress your guests and take your celebration to the next level.
Here are some steal-worthy winter wedding ideas.
Snowy wedding stationery
One of your first wedding planning duties will be sorting out your wedding stationery style. If you're hosting your wedding in the winter months, we suggest going with a glittering snowflake design, like this couple.
Long-sleeved wedding dress
Forget about strapless gowns and short-sleeved frocks, a long-sleeved winter wedding dress is the way to go. These can still look ultra-sexy if you opt for illusion lace sleeves or a plunging neckline, so you don't have to go ultra-traditional or sacrifice your style.
Fur stole
You're going to want to stay toasty warm when taking outdoor portraits and getting to and from your winter wedding venue, so think about purchasing a wedding dress cover up, like a fur stole. P.S. you may want to get some for your, bridesmaids, too (they'll thank you if it's extra chilly on your wedding day).
Shimmering shoes
Add a little festive sparkle to your wedding look by rocking some festive shoes, like this glittering gold pair of pumps.
Winter bridal bouquet
Give your wedding bouquet a dose of winter style by working in some rich-hued blooms. You could even work in a few dried flowers if you want to go that extra mile. Pro tip: we've got the best winter wedding flowers to help you select seasonal blooms.
Green buttonholes
Add sprigs of spruce or pine to the groom and groomsmens' buttonholes for a unique winter look. You can go all green or add in a few colourful blooms to make them pop.
Over-the-top aisle
This winter wedding idea will take your aisle or entranceway to the next level. Make it magical by lining it with branches, baubles and more.
Pinecone decor
Here's an easy DIY winter wedding idea. Work a few pinecones into your wedding decor for a real wintery feel! You can add them to your aisle markers, altar arrangements, table settings, centrepieces and even to your bridal bouquet and/or boutonniere.
Fireplace wedding altar
Say your wedding vows in front of a roaring fire instead of at a traditional altar. This will keep you toasty warm throughout your ceremony, despite what's going on outside.
Blankets
Make sure no one catches a chill by having a healthy supply of blankets on hand for your wedding reception and/or ceremony.
Snowflake guest book
That's right! Even your guest book can match your winter wedding theme. Simply choose a white album and decorate it with icy-toned ribbons and snowflake decals.
Destination-style wedding venue
Couldn't afford to escape the winter weather for your big day? Bring the destination wedding to you by hosting your celebration in a palm-filled greenhouse.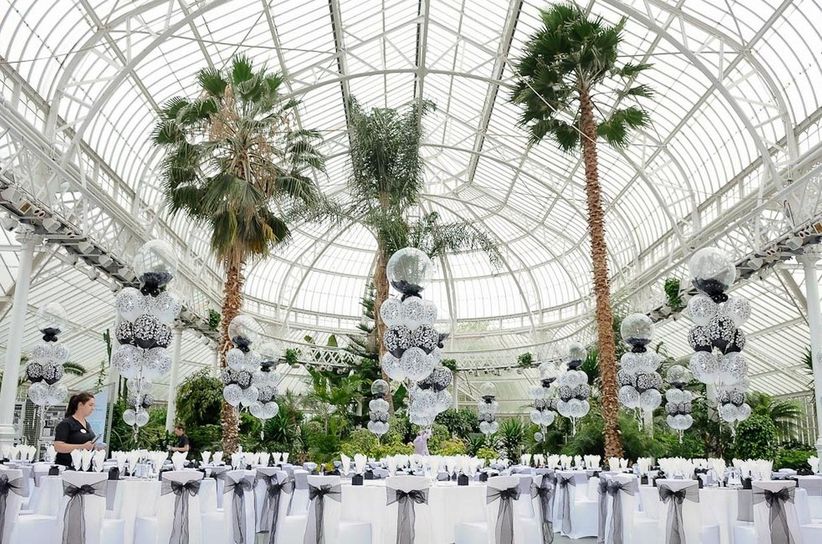 Tree table centrepieces
Make your winter wedding table centrepieces pop by using tree branches instead of standard floral arrangements.
Ornaments
Ornaments are a winter wedding decor must so hang a few around your venue! They don't have to be red and white or Christmassy –match them to your wedding decor and colour palette so that everything ties together.
Wintery wedding portraits
Put the winter wonderland outside to good use by using it as the backdrop for your wedding portraits. Remember to bring extra shoes and maybe a jacket for these - you could be snapping pics for a while and you don't want to freeze! Pro tip: get that bridal glow with our tips on how to get your best ever winter skin.
Candles galore
Add as many candles as you can to your altar, on your reception tables and around your ceremony and reception venues. Their glowing warmth will really make your decor shine.
Winter wedding cake
Can't decide on a wedding cake design? We suggest going with a snowy white confection topped with pine cones and wintery blooms. These add-ons can even be made of fondant or sugar if you want every inch of your confection to be edible. Bonus: get inspired by one of these fabulous winter wedding cakes!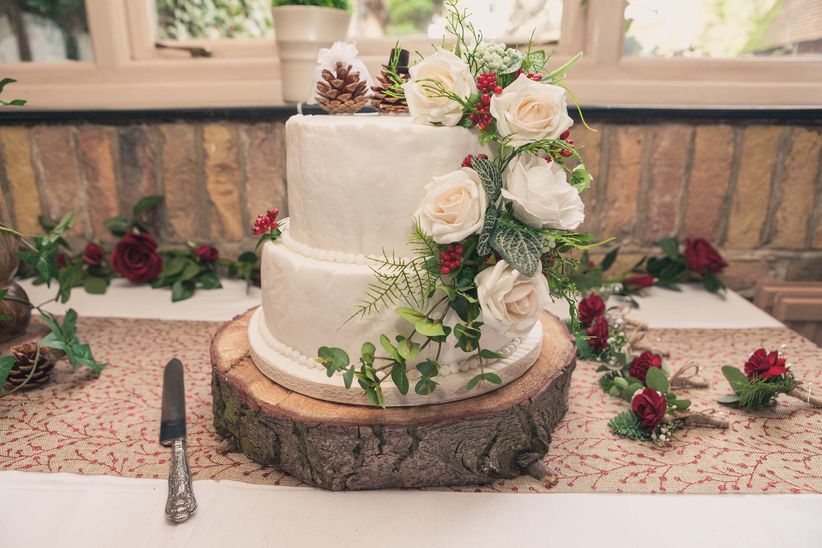 Family-style wedding breakfast
Instead of going for a plated dinner or food stations for your wedding breakfast, get your guests talking and toasting by asking them to share each dish amongst themselves. This style of catering will give off those cosy Christmas dinner or Sunday roast vibes.
Outdoor lounge
If you're hosting your wedding on a day where the weather is set to be nice, make a lounge area outdoors (yes, outdoor lounge areas can be awesome in the winter months, too). Remember to stock it with extra blankets just in case the temperature drops.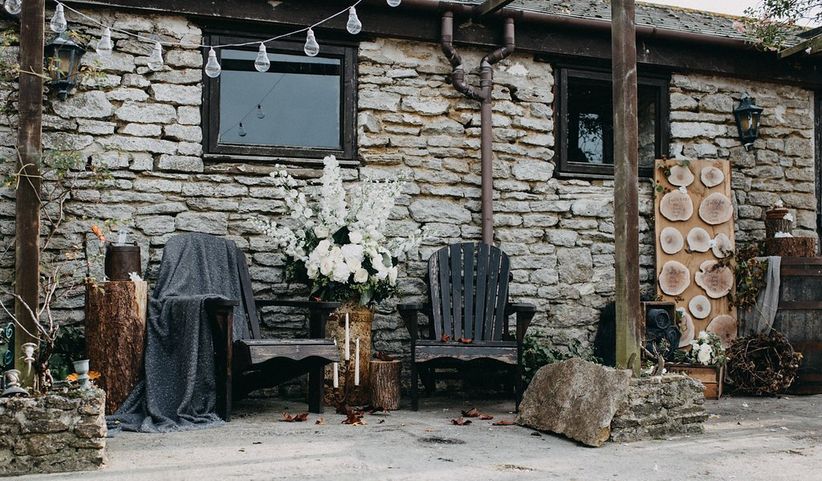 S'more station
Create a s'more station in your reception venue complete with a fire pit, roasting sticks and all the fixings. This is guaranteed to be a fun winter wedding idea for guests of all ages.
Snowflake garlands
Bring the outdoors in by hanging snowflake garlands around your venue. P.S. this is an awesome DIY project that you and your wedding VIPs can craft together.
Twinkling lights
Even if your wedding isn't over the holidays, give it some festive style by decorating trees inside or outside your venue with some twinkling fairy lights.
Find more winter wedding ideas and inspiration in our Real Weddings section »
Photo editing by Monica Lorraine and Diane Hall.