Whether you're planning a Christmas wedding or an early year celebration, winter weddings have an undeniable air of magic about them! Winter wedding flowers play a key part in creating the ambience on your day and can complete your winter wedding dress look. When it comes to your flowers, the choices are truly endless at this time of year, with the option to add rich, warm tones or cool colours to complement frosty days. Whatever you have in mind you'll find plenty of inspiration in our handy winter wedding flower guide!
Read on for our winter wedding flower guide.
December wedding flowers
While the frosts may truly have settled on the ground and the nights feel longer than ever, there are still flowers blooming as late in the year as December. Winter Camellias are a particularly great choice for December weddings, the sturdy yet delicate looking winter flowers look stunningly romantic in bridal bouquets.
Nothing says Christmas quite like Poinsettias and so they're the ideal pick for festive weddings! The rich red flowers work perfectly alone and are readily available in the UK in December. The blooms can be weaved into table wreaths and centrepieces and will contrast beautifully against a white wedding dress.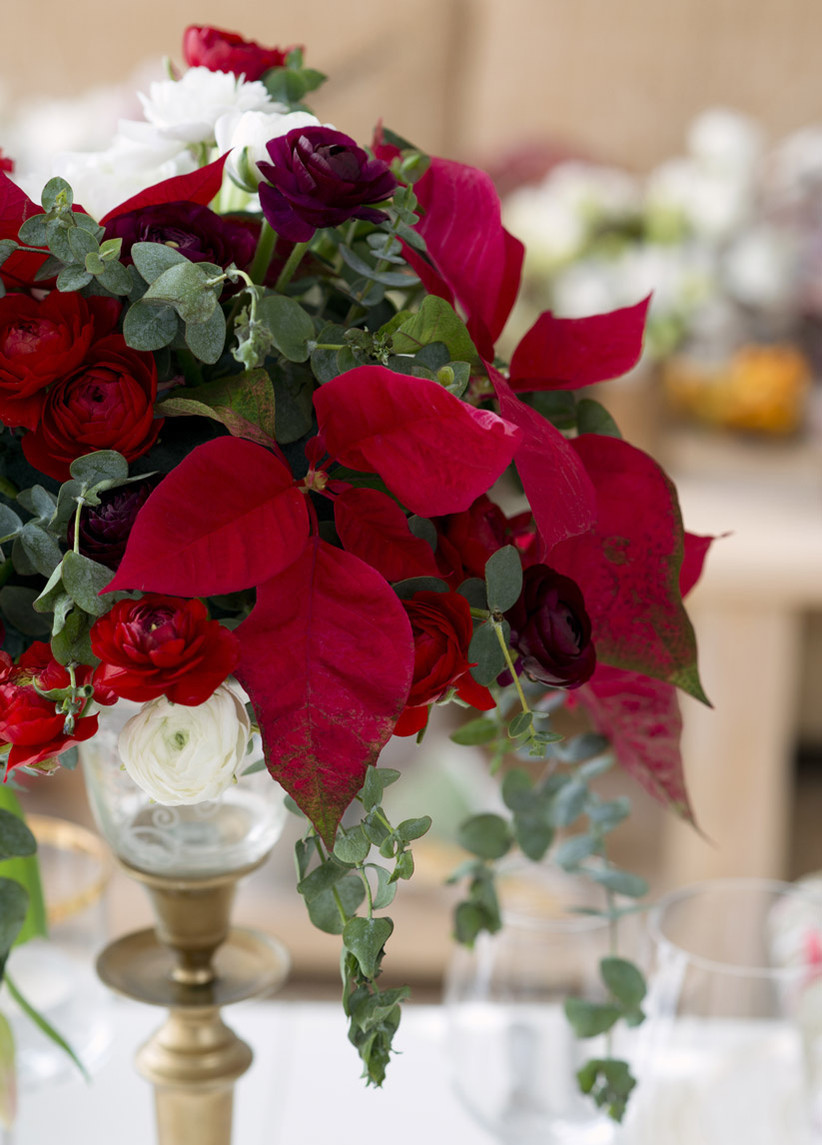 Top tip: If you're on a tight budget or you're not really sure where to start, then let your florist know the overall feel you're after and they'll be able to pull together something that gives the desired effect.
January wedding flowers
January tends to be the chilliest time of the year here in the UK but don't fear if you're a new year bride, there are plenty of pretty blooms to choose from! Chrysanthemums are among our favourite winter wedding flowers thanks to their simple style and large heads that bulk up a bouquet. They are available in a range of warm shades as well as white, making them pretty versatile too.
Offering a slightly more contemporary January wedding flower option, Phalaenopsis Orchids are available during winter. The elegant flowers suit brides looking for a simple and sophisticated look either in all white or adding a splash of hot pink.
Top tip: Don't shy away from winter wedding flowers, florists can import all sorts of flowers for your day but we think embracing the season and the blooms available at that time of year is a great choice – plus it's much more wedding budget friendly too!
February wedding flowers
With February still feeling the cool snaps of weather, winter wedding flowers are key during this month. Anemones come in a variety of shades including deep purple and red but we're in love with the black-centred white varieties for winter wedding chic.
With many brides opting for cool whites or rich reds in the winter months, it can be tricky to find something that really stands out. Enter the Banksia Bottlebrush, a unique bloom that originated in Australia. The fluffy cylinders work perfectly alone or amongst seasonal foliage for a wild and rustic wedding look that is totally Instagram-worthy.
Top tip: If you're planning on red roses for your wedding in February, make sure you discuss this and put your order in nice and early with your florist!
Find your wedding florist on WeddingWire »