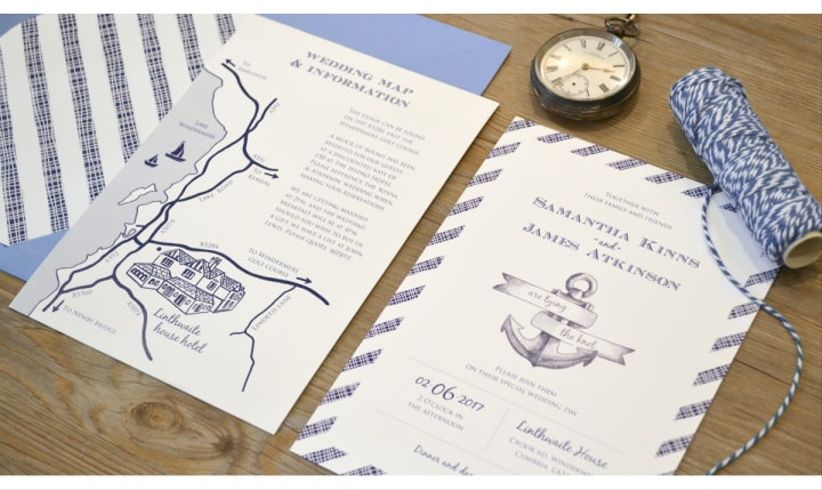 You've probably written your fair share of invitations in your life, but when it comes to wedding invitations, this is your first rodeo. From the name(s) of your host(s) to the url for your wedding website, we've broken down the pieces of info that are absolutely necessary. Remember, if you want to include more details, you can go ahead and throw in some extra enclosure cards.
Here's what you need to include on your wedding invitations.
The name(s) of the host(s)
Before you start listing the date, time and place of your wedding, you'll want to give your hosts some well deserved props. They're helping to plan and foot the bill for your wedding, so they're definitely worthy of a shout out on your invitations. Go with something sweet and simple, like "Mr. and Mrs. [insert last name here] invite you to celebrate the marriage of…" or "The families of [insert your names here] request the pleasure of your company". If multiple parties are hosting, you'll need to change the language a bit.
The happy couple
Your friends and relatives will want to know who's tying the knot, so make your and your partner's names are the focal point of your invitation. This is the perfect section to try out a fun new font or bold coloured text. If you want to follow the traditional invitation etiquette, the bride's name should come before the groom's, or, if you're a pair or brides or grooms, they should be listed alphabetically.
The wedding date
You'll want to include your wedding date right below your own names. This is one of the most important pieces of information, so make sure it really stands out. Include the day, month and even the year so that everyone books off the right date - you don't want anyone showing up 365 days early on accident.
The time
Obviously, you'll want to let your guests know when your wedding ceremony begins so that none of your friends or relatives show up late. If you're including details about your cocktail hour and/or reception on this card, you'll want to add the times for those events, too.
The wedding venue(s)
Your guests are going to need to know where to go on your wedding day, so don't forget to include the full address of your ceremony and reception venues (you can always include a separate enclosure with your reception details if your invites are looking a little cluttered). If they're tricky to get to, we suggest adding a map and including a Google map on your wedding website so that everyone punches the right coordinates into their GPS.
The dress code
Nobody wants to show up at a wedding over or under dressed, so make your dress code is super clear. You don't have to go so far as to include actual outfit suggestions, but you'll need to give them an idea of what to wear. If you're having a luxurious affair, simply write white tie or black tie. Going for something a little less red carpet? Try black tie optional or semi-formal. Don't mind if your guests show up in blazers and blue jeans? Call it casual.
The wedding website
The last detail you need to include on your wedding invitations may be the most important of all: the URL of your wedding website. This is where your guests can go to find even more information on your big day - from directions to your venue(s) to answers to FAQs. It'll also come in handy if their actual invite card goes missing before the big day. P.S. if your wedding invites already look a little full, you can always include an insert card with the URL, instead.
Find your wedding stationer and invitations on WeddingWire »