Bristol has a rich industrial past, so it should come as no surprise that the city is home to plenty of cool warehouse wedding venues. From a former tobacco factory to unique creative hubs to a chic hotel, this list of industrial wedding venues in Bristol has something for everyone. What ties them together? Exposed brick, edgy features and style that you just won't find in a ballroom, barn or banquet hall.
Here are a few dreamy industrial wedding venues in Bristol that you need to see.
Watershed
Watershed is a multimedia creative hub located on the city's historic waterside. Inside you'll find a bevvy of beautiful, industrial-style cinemas and studios that you can make use of for your ceremony and reception (it's completely licensed). Expect plenty of exposed brick, visible beam work and killer views of the river.
Paintworks
Paintworks has everything you could ever want and need for a trendy celebration: high ceilings, exposed brick, distressed wooden accents and a cool, modern vibe. The staff will help you put together an epic ceremony in its theatre and an equally awesome reception that takes over the entire space (it's actually one large open venue that can be divided into two rooms with a curtain). This wedding venue in Bristol is pretty much a blank canvas so far as decor is concerned, so you can really make it your own.
Tobacco Factory
The Tobacco Factory is a warehouse turned wedding venue tucked away in South Bristol. It was built in 1912 as a – you guessed it – tobacco factory but has been totally revamped. It now houses a cafe-bar, a restaurant, several meeting spaces and acts as a creative hub for many artsy organisations. Unfortunately, it's not licensed for ceremonies, but it's a great spot for receptions and wedding breakfasts. Two rooms are available: The Snug, a cosy little restaurant space, and the Grange Barge Hold Bar, which is a little edgier and more industrial in style.
The Station
If you're looking for a modern industrial spot to tie the knot, The Station may just be the wedding venue in Bristol for you. It has two gorgeous spaces available for weddings. The first is the Performance Space, which boasts massive windows, white walls and plenty of space for you to make your design dreams come true. The second is the Courtyard, which is ideal for summer weddings and flaunts exposed brick, red accents and concrete flooring.
The Forge
If you can't decide between a vintage wedding venue and an industrial-chic venue, look no further than The Forge. The space has exposed brick walls, peaked ceilings, large factory-style windows, distressed wood flooring and some serious rustic, old-school charm. It's ideal for more intimate events as its seating capacity is 50.
Avon Gorge Hotel by Hotel du Vin
Avon Gorge Hotel by Hotel du Vin is a standout wedding venue in Bristol that's the perfect combo of industrial, vintage and modern (truly something for everyone). It has several event spaces available, with exposed brick walls, farm-style doors, huge windows and chic, industrial trappings. P.S. you won't have to hunt for accommodations – you and your guests can simply stay the night in the hotel.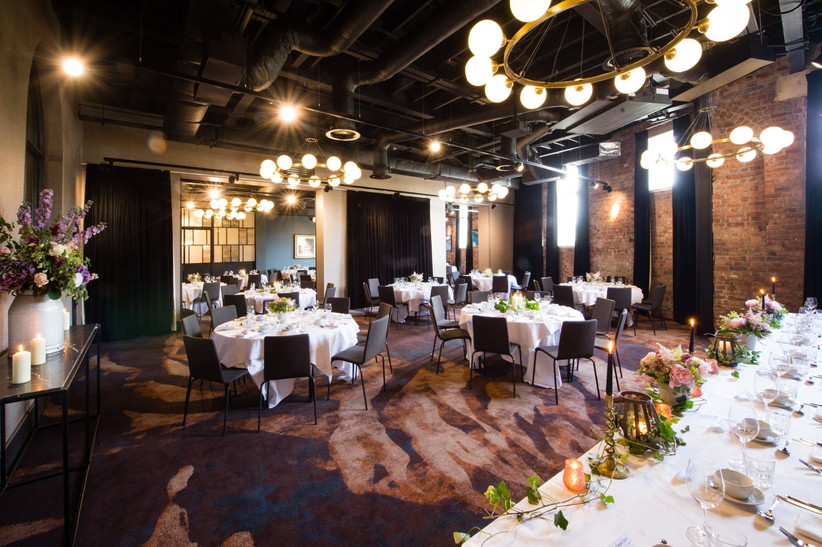 Find more wedding venues in Bristol on WeddingWire »