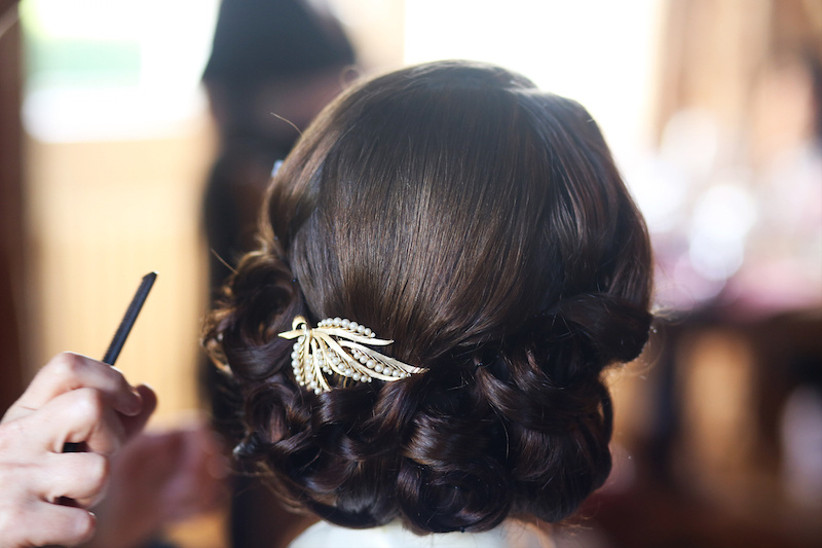 Your wedding hair will bring your entire bridal look together to make sure you're looking flawless from head to toe on your big day. If you've decided on a wedding updo, we've got you covered with six of the most gorgeous hair ups for any bride. Whether you're looking for an ethereal boho updo, or something a little more classic, these six hairstyles will give you all the inspiration you need to decide on a final look.
Here are our favourite wedding updos for every style of bride.
Embellished side bun
If you want to achieve a sleek, chic updo on your wedding day, then this is the style for you. This romantic side bun will add an effortlessly whimsical touch to your wedding look that'll make sure all eyes are on you ask you walk down the aisle.
Your hairdresser will start by creating loose, romantic waves in your hair, concentrating on the lower half and front sections of your hair. Next, they'll comb your hair to the side and secure it with a bobble. They'll then take sections of the hair and wrap it upwards, securing it into the bobble with grips before loosely securing the front sections into the bun. Finally, they'll add your chosen hair accessory to finish off this gorgeous wedding updo.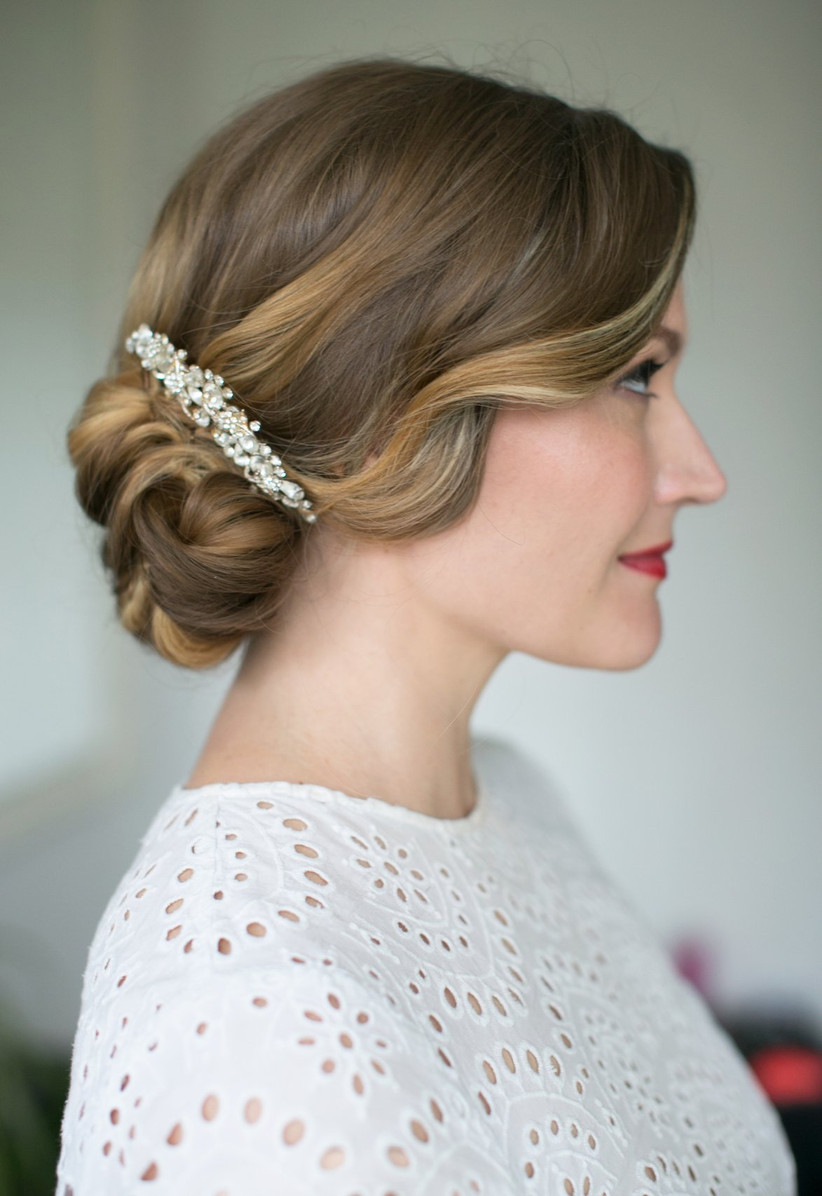 Boho Updo
Boho brides, this one's for you. This messy, curled wedding updo has a certain ethereal charm to it, making it the perfect style to bring your entire boho bridal look together.
Your wedding hairdresser will start by curling all of your hair, before teasing the hair to create some texture and ensure the hair stays in place. Next, they'll pin up the hair in sections, pulling out individual curls to create that messy, boho vibe.
Classic Chignon
Keep your wedding updo classic with this traditional chignon. The word 'chignon' comes from the French phrase 'chignon du cou', meaning nape of the neck, which is where this hairstyle sits. The charming chignon is perfect for traditional brides.
Chignons are usually achieved by pinning the hair at the nape of the neck, however, there are many variations of the style. From the retro-style bouffant chignon to the side chignon, one of the most wonderful things about this wedding updo is its ability to be tailored to every bride.
Pin Curled Low Bun
This pin curled low bun hairstyle is the perfect updo for brides wanting something a little unusual, yet sophiticated. Similar to the chignon, this style sits at the nape of the neck with the hair twisted back away from the face.
Your wedding hairdresser will start by adding volume to the hair using a hairdryer and round brush, making sure the hair is sleek and free from flyaways. Next, they'll twist a large section of the hair into a low bun leaving out hair from the sides and underneath the hair. Next, they'll twist the front sections into the bun, securing them with a hair grip. Finally, they'll take the remaining sections of hair, twisting them up into the bun to create a gorgeous pin-curled look.
To really finish off this gorgeous look, we recommend adding a statement hair clip for an extra-glam touch.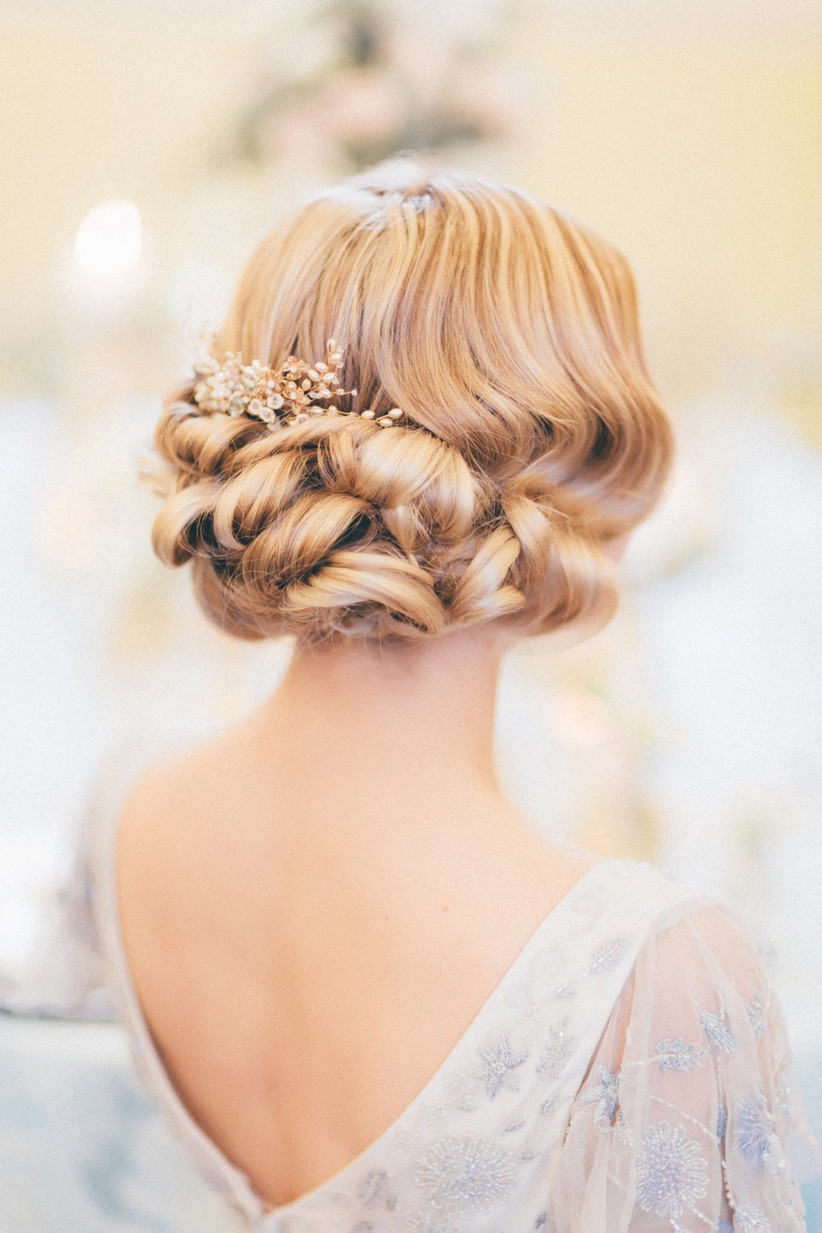 Messy Braid
If you're looking for a trendy Instagram-worthy wedding updo, then this is the hairstyle for you. This messy boho braid features lots of curls and twists to create a gorgeous, messy braid. For an extra-special touch, ask your wedding hairdresser to incorporate a couple of flowers into the braid for a gorgeous, free-spirited look.
If you opt to wear fresh flowers in your wedding updo, it's important to choose them wisely. Some flowers last much longer than others, so in order to keep your wedding hair flowers looking fresh and beautiful, choose long-lasting blooms such as roses, freesias, orchids or daisies.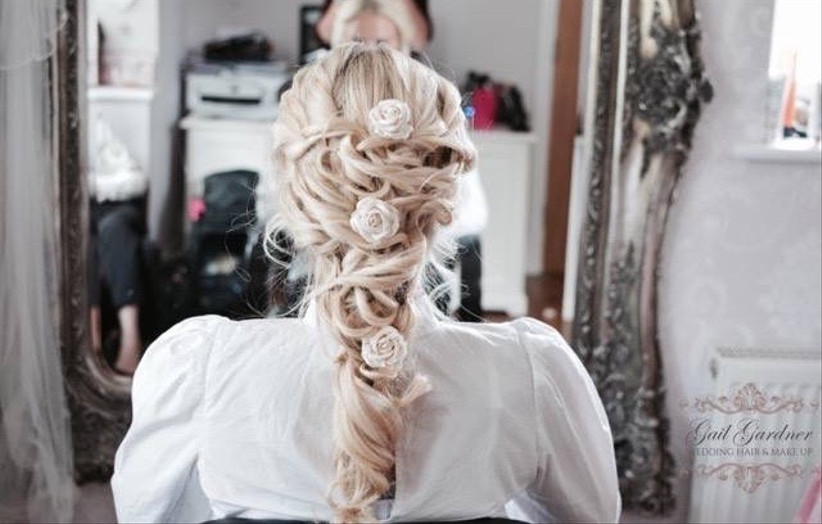 Barrel Curls
If you're looking to incorporate a veil into your wedding updo, then you can't go wrong with barrel curls. Simple but effective, this wedding hair will add an extra touch of glamour to your bridal look and is perfectly paired with a statement princess dress.
Your hairdresser will start by securing all of your hair into a medium-high ponytail, tailoring the front section according to your personal preference and face shape - some brides prefer to leave some hair at the front, whereas others prefer to have all of their hair off their face.
Next, your hairdresser will take sections of hair from the ponytail and fold them back on themselves to create a 'barrel', continuing until all of the hair has been secured. Finally, they'll add the finishing touches to your wedding hair – any accessories you may have chosen and the all-important veil – then you'll be ready to say 'I do'.
Find your wedding hairdresser on WeddingWire »