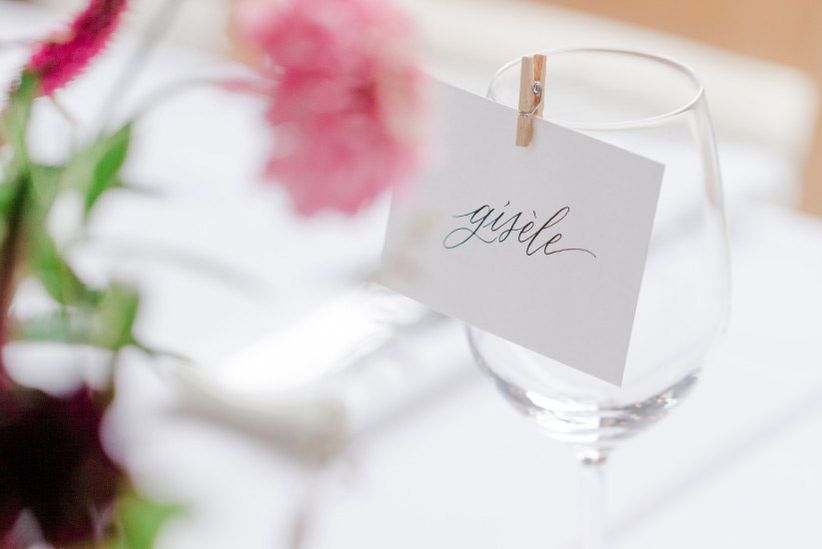 Wedding place cards may be the smallest pieces of wedding stationery on your list, but that doesn't mean they're not important. If you don't have a clue how to make yours, we're here to lend a helping hand. We've created this how-to guide to make drafting and crafting your wedding place cards a total breeze.
Here's how to make your wedding place cards.
Choose the base
The first thing you need to do is choose the base for your wedding place cards. While most couples stick to classic paper, that's definitely not the only option available. Things like leaves, mason jars and rocks can look super awesome when paired with the right wedding table centrepieces and place settings, so don't be afraid to try something a little different.
Select the font
The font is probably the most important part of the wedding place card. Of course, it should be pretty, but it should also be legible. If you want to go with flowery script or a more unique text style, you'll need to make sure all of your guests names look stunning (and readable) in it. An easy way to sort this out is to print out your guest list in the font of your choosing to see if it's compatible with all of your friends' and family members' names. Alternatively, you could hire a calligrapher for a polished and stylish look.
Pick the size
When it comes to wedding place cards, size matters. You want your guests to easily be able to find their seats, but you don't want the cards take away from the beautiful wedding reception tables you've put together. To ensure that everything looks flawless on your big day, we suggest creating a mock up table and trying different sizes to see what works best before placing any orders.
Get decorative with the details
If you're not a fan of the minimalist look, go ahead and add a few graphics or borders to your wedding place cards. Remember, you don't want them to be so busy that your guests can't make out their names, so be selective when choosing decorative details.
Hunt down the perfect holders
Want to go that extra mile and really amp up your tablescapes? Think about adding some unique holders to keep your cards in place. Anything from fruit to seashells to wine bottle corks can be repurposed here, so get creative. Keep in mind that if your wedding place cards don't need anything to keep them propped up, or just look awesome laying flat, you can skip the extra work and expense.
Find your wedding place cards and stationery on WeddingWire »