You're probably more than excited to start shopping for your wedding dress, but before you begin your hunt you need to get familiar with the basics. We've created this handy guide to wedding dress silhouettes to help you determine exactly what you're looking for. Remember, it's worth trying on a few different styles before you commit to one - you might be surprised at what works best on your body.
Here are the wedding dress silhouettes you need to know.
Ball Gown
If you want to feel like a princess on your big day, a ball gown is the way to go. This wedding dress silhouette is defined by a fitted bodice, cinched waist and full, voluminous skirt (complete with a petticoat made of layers upon layers of fabric). Top your look off with a crown or tiara and you're guaranteed to look like real royalty.
A-line
The A-line silhouette is similar to the shape of a ball gown, but isn't quite as pouffy. As the name implies, it mimics the shape of the letter A - with a fitted bodice and a flare at the waist. It's a timeless style that flatters just about every body type, so you really can't go wrong.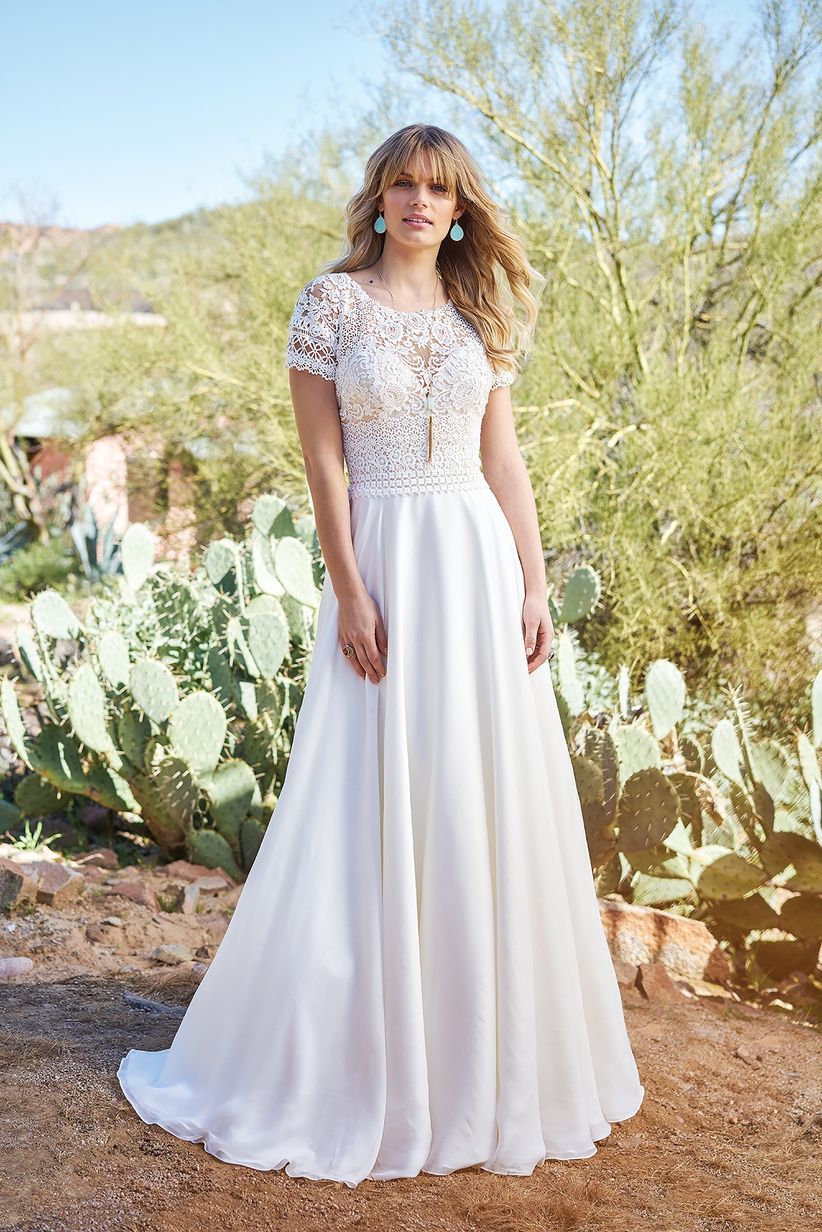 Empire
If you aren't the biggest fan of your stomach, skip the figure hugging gown and go for an empire silhouette. This style cinches in directly below the bride's bustline and flares out or hangs from there to the floor (or wherever the hemline ends). This is an awesome option if you want to really indulge on your wedding day because it'll hide any food babies.
Mermaid
If Ariel has always been your fave Disney princess, the mermaid cut might be the wedding dress silhouette for you. This style has a fitted bodice and flares out right at the bottom (below the bride's knees), giving you the illusion of a mermaid tail. It's super vampy and an awesome option for ladies who want to flaunt their figures.
Fit and flare
The fit and flare silhouette and mermaid silhouette are sisters, but not twins. While they both become wider at the bottom, the fit and flare silhouette begins to flare out from a higher point, just below the hips. This will show off a curvier frame or create the illusion of curves on a more rectangular frame, so it's a great option for all body types.
Mini
Don't want to cover your gorgeous bod in layers upon layers of tulle and taffeta? Well, good news, you don't have to! Plenty of designers are creating shorter silhouettes that will show off your stems and give you more freedom on the dance floor (no train to trip over!). Because this style is a little less traditional, you may be able to wear it to cocktail parties after your wedding, too!
Sheath
A sheath wedding dress silhouette is the perfect pick for a sleek and sophisticated lady. Instead of flaring out, this style is fitted and straight cut and often nipped in at the waistline. If you don't want any extra layers and are looking for something sweet and simple, this type of frock should be on your radar.
Tea-length
Want to give your look a bit of vintage flavour? Think about going with a tea-length dress. This style cuts off anywhere between the knee and the ankle, so it'll show a little bit of leg while still being more modest than a mini dress. We suggest pairing it with a chunky heel and birdcage veil to create a dreamy retro look.
Two piece
The two piece style is perfect for brides who want to show off their toned tummies or rock something a little less traditional on their big day. It's typically the top and skirt combo, but can also be a pant and blouse look, too. The awesome thing about this option is that you can usually get wear out of it after the wedding by pairing the top or bottom with something a little less formal for a night out.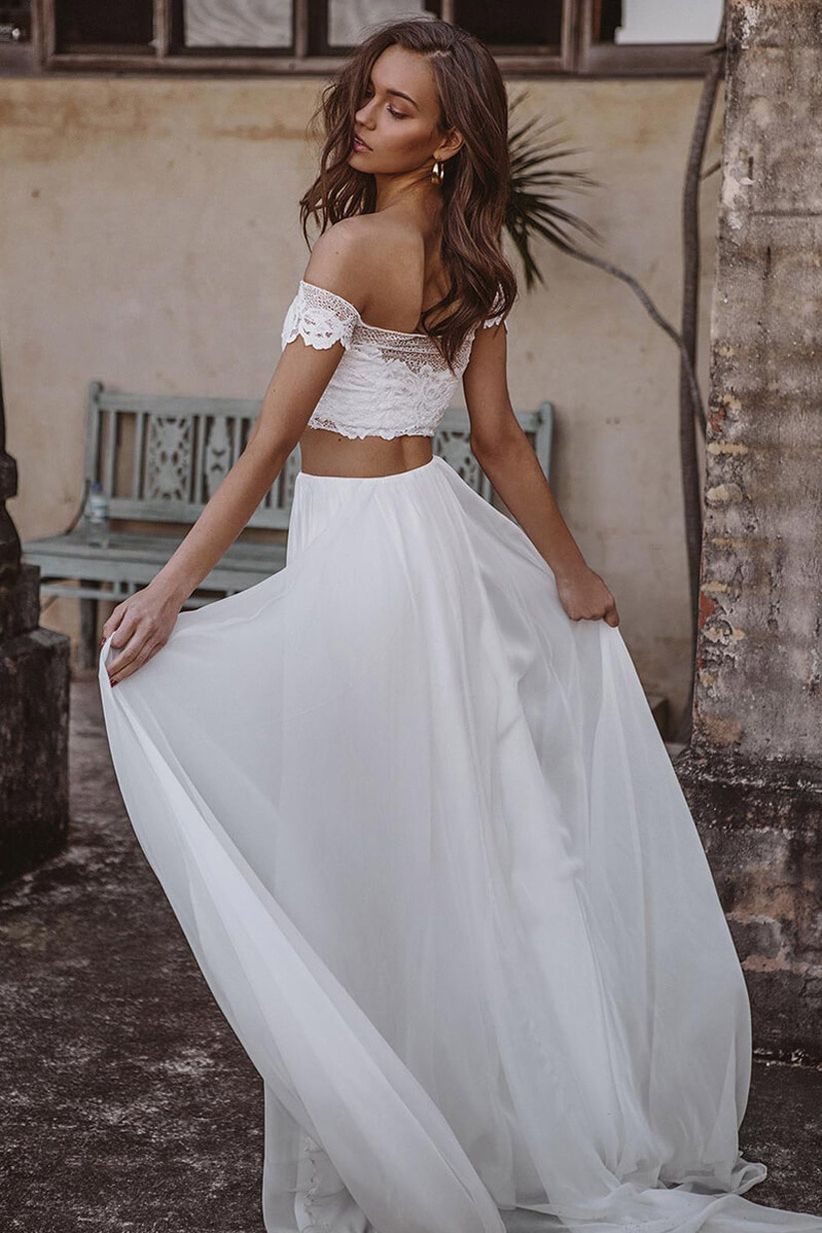 Browse our wedding dress galleries by silhouette, neckline and designer »