It's finally time to start shopping for your wedding dress! Whether you'd like to try a new style for your big day or you're unsure what style best flatters you, we've got you covered with this guide on wedding dress necklines. It's always helpful to know what will best suit your body shape and size, and it will help you rule out certain styles to help you better focus your search. So let's talk about necklines before you start shopping for your wedding dress!
Find the perfect wedding dress neckline with this complete guide.
Strapless
A classic bridal style, the strapless neckline is perfect for civil weddings, but can be paired with a matching lace jacket for a more conservative ceremony. It wraps around your front and back in a straight line, allowing for more detail in the dress or in your accessories. This is one of the most popular necklines for brides as it flatters any size or shape. It is also ideal if you have a smaller bust.
Halter neckline
This summery neckline comes together at the back of the neck, hugging the neck, leaving the back, shoulders and arms bare. Your makeup artist might want to touch up any imperfections you may have around these exposed areas to give you an even more flawless look. This is a great look for hiding a large chest because it holds it in and covers it.
Retro halter neckline
Because vintage-style weddings are all the rage we couldn't talk about necklines without mentioning the fashionable retro halter neckline. It's a mix between a sweetheart and a halter neckline; the best of both worlds to create a timeless, sweet and flattering bridal look. It's perfect for enhancing a small bustline.
Square neckline
This follows the line of the bust and creates a rectangular shape. Square necklines favour girls with a low waist and wide hips or a small waist, as it focuses attention on the bust, regardless of size. This neckline pairs well with an empire waist for a goddess bridal look.
Round or scoop neckline
The rounded shape of this neckline ends just at the beginning of the bust or higher. It accentuates the bustline and creates a youthful and comfortable look that is timeless. A scoop neckline is a softer look, perfectly paired with just about any dress silhouette.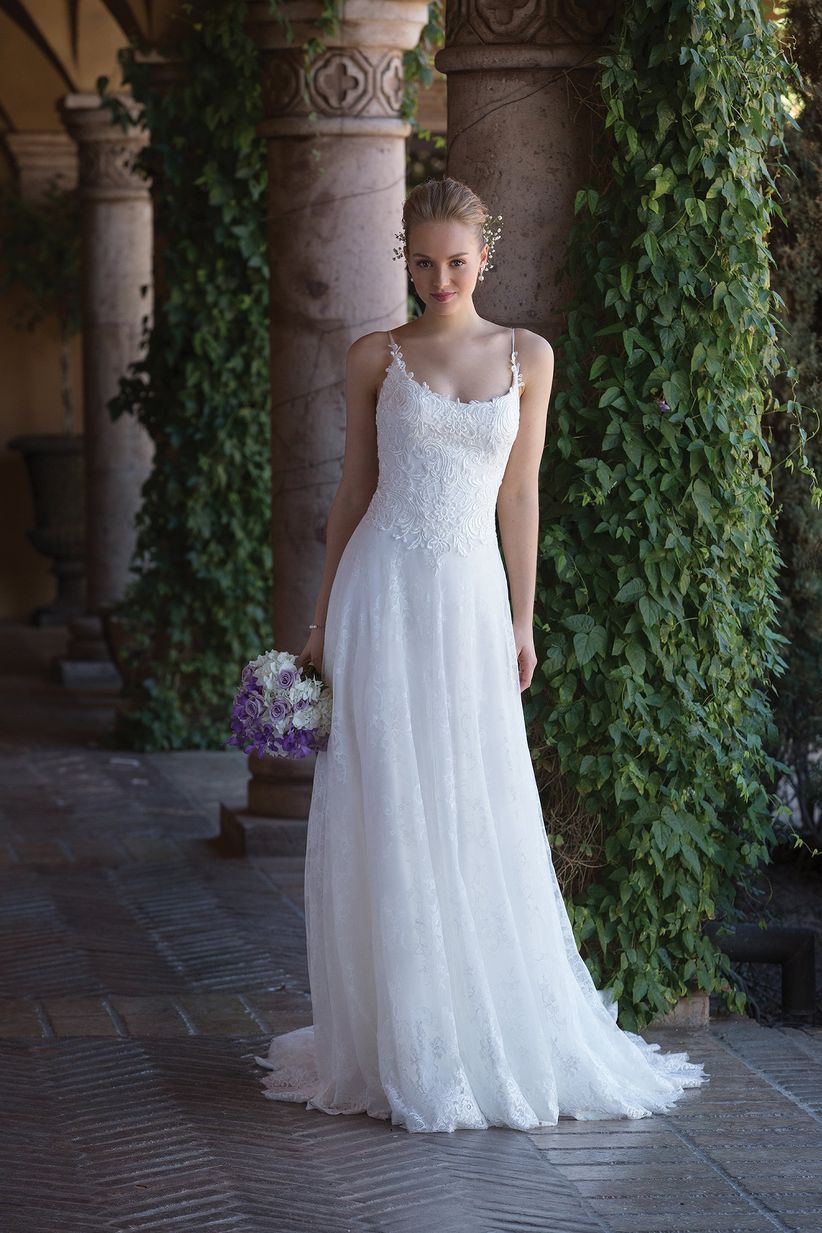 V-neckline
This is a very stylish and classy neckline. When worn without sleeves it shows off your shoulders, highlighting them with the curve of your chest, especially if you have a larger bust. This neckline refines and lengthens a wide or short neck. It's also very elegant and elongating with sleeves or cap sleeves.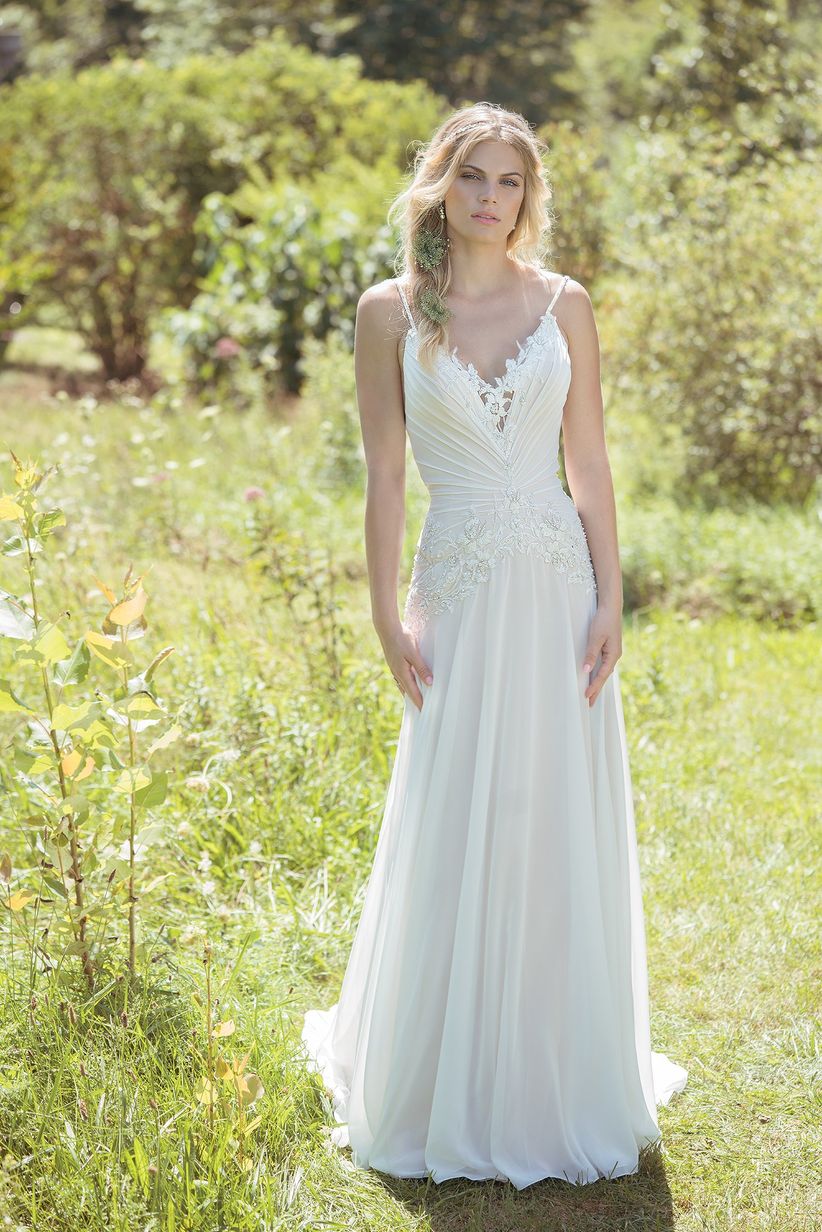 Surplice neckline
Very similar to a v-neckline, the surplice neckline gives the appearance of being wrapped to fit the body. It's also known as a faux wrap due to its cross-over style. It's very flattering for all brides, especially those wishing to accentuate their bustline.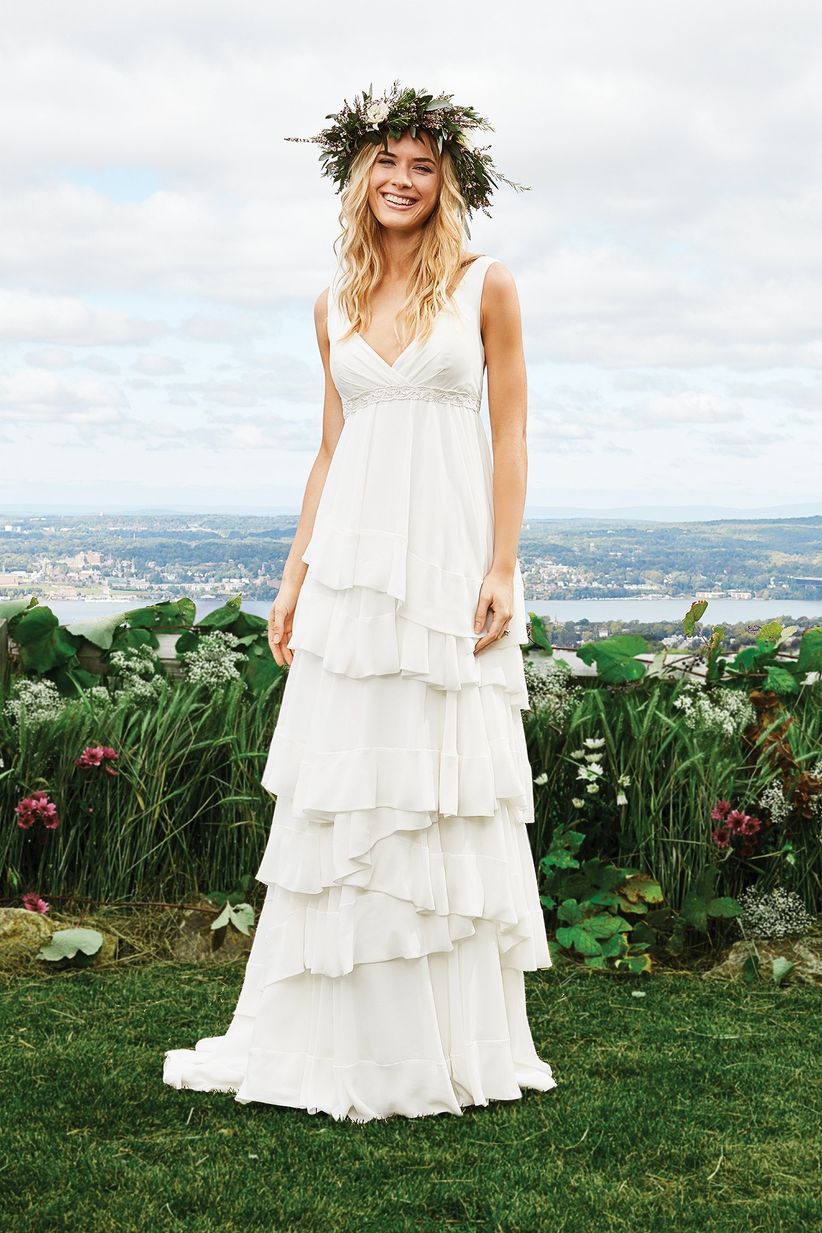 Off-the-shoulder neckline
This is a sexy and elegant neckline, exposing the upper chest, neck and back. The straps hug the shoulders with elastic bands or a fixed structure. When you try this on, dance and move around to make sure that it allows room to move. It may not be the most comfortable look, but it's certainly very stylish and flattering.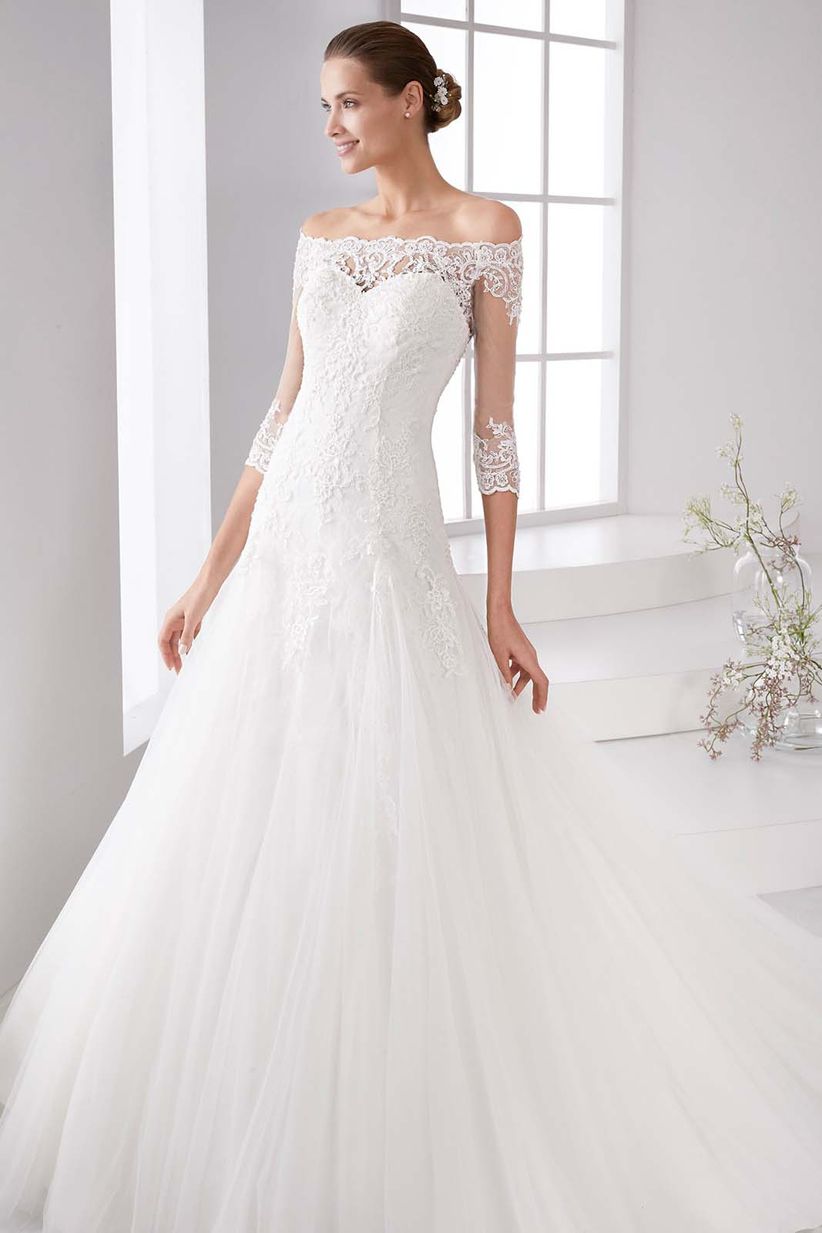 One-shoulder neckline
As its name implies, with this neckline, one shoulder is bare while the other is covered, either with draped fabric or with one long sleeve. It is a very fashion-forward, statement-making look for the fashionistas out there. It highlights your collar bone and the exposed shoulder.
Sweetheart neckline
This is perhaps the most romantic of necklines, I mean it has the word "heart" in the name. You can wear it with or without sleeves and the neckline forms the top of a heart, accentuating your neckline and bustline. This is not always the best option for very petite, short-necked, or heavier girls, but it's a matter of trying it on because it also depends on the silhouette of the dress.
High collar
Ideal for autumn and winter weddings, this neckline is very elegant and elongating; think Grace Kelly. The chest and back are covered with fabric, beading, or lace. You'll also find this style with illusion tattoo lace. This style suits slim brides with some curves. A high collar is ideal with an updo and long earrings to highlight a long neck.
Bateau neckline
This neckline, also known as a boatneck, draws a straight line from shoulder to shoulder in the front and back of the dress near the neck. It is conservative, elegant and even minimalist. It balances your figure and is beautiful with an a-line silhouette. To highlight this look, wear your hair up without a necklace and opt for some beautiful earrings instead.
Illusion neckline
Illusion tattoo lace wedding dresses are still hugely popular due to their flattering and fashionable quality. The very sheer layer that matches the skin tone with lace appliques creates a slimming and romantic look for any bride. And even though it's very fashion-forward, the lace gives it a very timeless quality. You'll often find this look with v-necklines, plunging necklines and sweetheart necklines.
Plunging neckline
A bold look for any bride that wants to draw a bit of extra attention, the plunging neckline elongates the torso, and can have a slimming effect in the chest. It's perfect if you have a smaller bust, but could be very revealing if you have a larger bust. If you want something more conservative or less revealing you could find this look with an illusion neckline.
Keyhole Neckline
A less common neckline, but one that's certainly worth mentioning, the keyhole neckline is perfect if you're looking for a subtle, yet stylish neckline that's not too revealing, but still beautiful and elegant. It's perfect for larger bustlines, as it gives just enough coverage without being too revealing. If the keyhole neckline has lots of detail, it's best to opt for earrings instead of a necklace.
Looking for more wedding dress inspiration? Browse our wedding dress galleries by silhouette, neckline and designer. »