Once you've decided on your wedding theme you can start finding inspiration and ideas to create the ceremony and banquet of your dreams. One detail that can really make an impact is the wedding chair decorations. From simple ribbons and pint-sized floral arrangements to shimmery chair covers and sheer sashes, you've got plenty of options when it comes to dressing up your seating.
Here are some of our favourite wedding chair decoration ideas.
Sparkly contrast
Add a touch of shimmer to a rustic wedding with sparkly, sheer, draped chair covers.
Ribbons
Decorate your chairs with lengths of ribbons in assorted colours for a whimsical style.
Something blue
Give your wedding a touch of luck and purity with these dramatic royal blue chair bows.
Bright blooms
The brightly coloured flowers complement the classic red velvet chairs for cheerful and vibrant ceremony decor.
Playful idea
This is a clever reception chair decoration idea for game lovers or used in conjunction with other vintage props.
Combined textures
Elevate classic white chair covers by combining two ribbons, in different colours and textures, such as satin and lace.
Lace it up
A large lace bow and some sprigs of lavender adds a feminine touch to your wedding chairs.
Rustic flowers
This earth-toned floral wedding chair decoration contrasts perfectly with the tight-fitting chair covers.
All dressed up
Make wooden fold-up chairs a little more chic with draped white fabric and some sprigs of gypsophila flowers.
Burlap on burlap
Looking for unusual wedding chair decorations for your rustic wedding? Combine burlap chair covers with a lighter toned burlap tied around.
Shabby chic
A combination of lace and burlap dresses up distressed wooden chairs for stunning shabby chic style.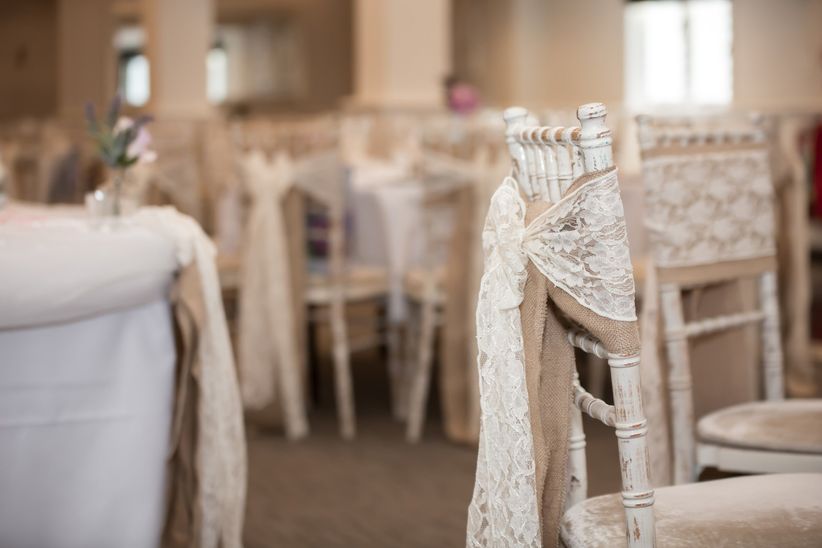 Sheer glamour
This is the perfect wedding chair decoration idea for a glamorous wedding - a sheer, white draped cover gathered with a gemstone clasp.
Blush pink satin bow
This blush pink, shimmery bow is perfect for a feminine, classic wedding style.
Opalescent effect
Combine light gold satin with purple-blue organza ribbon for a unique wedding colour combination.
Ruffles
These unique, quirky ruffles add a touch of elegance that will even match a ruffle wedding cake.
Crafty idea
Give each chair a little love with heart wreaths. You could even personalise each wedding chair decoration and gift them to guests as wedding favours.
Floral arrangements
These classic bistro chairs get a wedding makeover with bridal bouquet aisle markers.

A little foliage
These worn, rustic chairs are complemented by just a bit of natural foliage. It's an effortless, romantic look.
A touch of lace
This combination of burlap, a little lace and two small flowers creates a lovely, delicate rustic look.
Jars of flowers
Hang jars of flowers on the sides of your chairs for aisle markers then repurpose them as wedding table decorations at the banquet.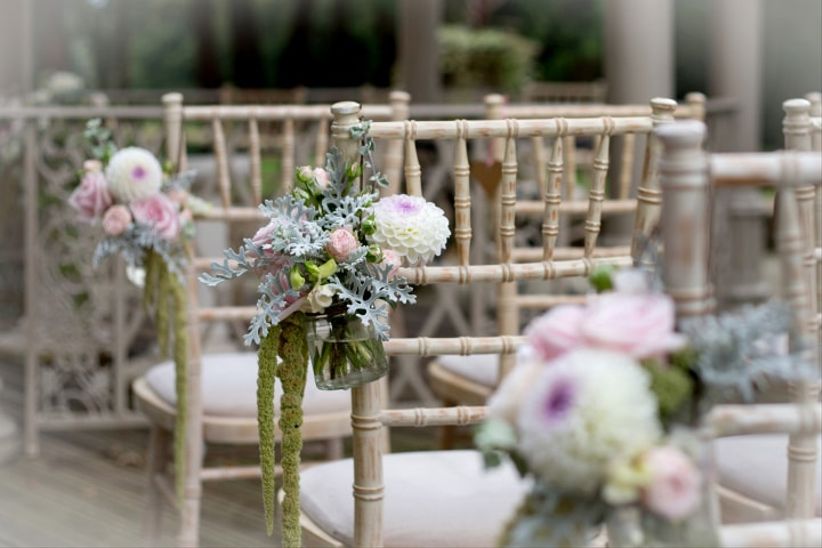 Find more wedding chair decorations and wedding flowers on WeddingWire »