It's time to talk food! When putting together your wedding breakfast menu there are a few things you need to remember. We've rounded up all the essentials here so that your wedding meal keeps your guests happy, full, fuelled and ready to take the night by storm.
Here are a few things to remember when putting together your wedding breakfast menu.
Use your theme as inspo
Don't know where to start? Focus in on your wedding theme. If you're having a black tie affair, consider serving some fancier hor d'oeuvres and mains. Or, perhaps you're having your reception in the countryside? Think about doing a farm-to-table family-style dinner. It's easy to weave your theme into your menu! Note: juxtaposition is cool too! So, if you wanna serve tacos in a grand ballroom, we say go for it.
Don't go 100% gourmet
Gourmet dishes are sure to impress the food snobs at your wedding, but there's a good chance they'll intimidate a few people, too. So, does this mean you should skip serving the eats your foodie hearts love? No! If you absolutely adore escargot, go ahead and add it to your wedding breakfast menu - but balance them out with a few more basic options. You don't want anyone going hungry!
Options are a must
Speaking of options, they're pretty much essential. Make sure you have food that'll please everyone, even those with dietary restrictions and food allergies. If you've already drafted your wedding breakfast menu, this doesn't mean you have to go back to the drawing board and create an entire new menu. Simply add a few extra dishes to your buffet spread, a few extra canapes and/or an alternative main for your plated dinner.
Portions should be substantial
A cute little tower of vegetables might look great in photos, but will it really fill anyone up? Answer: no. While you want your dishes to be aesthetically pleasing, don't forget about their actual job (to keep your guests fuelled). While a petite starter and itty bitty cocktail eats are A-OK, you want to make sure the mains are robust enough to keep your guests energized for the night ahead. Pro tip: if you're opting for cocktail style catering for your entire wedding breakfast menu, order extra so that everyone gets their fair share.
Rent (or buy) the right utensils
Now, you may have read this and thought, "obviously, I know that", but you'll want to check that you actually have all the utensils you'll need. For example, if you've decided to serve sushi, you'll want to have plenty of chopsticks on hand, but you'll also want to order forks and knives. Not everyone knows how to wield a pair and you don't want to leave anyone up a creek without a paddle. P.S. if you're going for trendier flatware, like bamboo forks and knives, make sure they actually work with the dishes you're serving. They may look awesome, but they make not cut through a heartier piece of meat.
Pacing is key
Your wedding day is going to be a long one, and your guests will need to refuel every now and again. Instead of making them wait until dinner, ensure that everyone stays hanger-free by serving a few nibbles at your drinks reception. If you plan on partying until the crack of dawn, you should also consider creating a late night food menu filled with simple snacks (no need for gourmet eats here!). These will give your nearest and dearest the energy to dance, mix and mingle into the wee hours of the morning.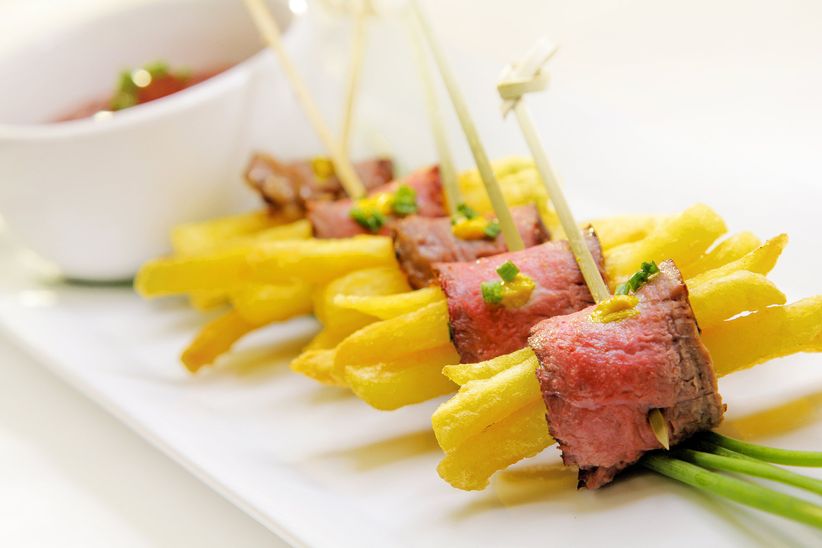 Find your wedding venue and wedding caterer on WeddingWire »