Flowers are pretty and bunting is beautiful, but if you want to add a playful element to your venue, we suggest bringing on the wedding balloons. Yes, you probably had them at your birthday parties growing up, but there are tons of way to take out the kiddie element and make balloons into stylish decor worthy of your wedding. If you're on the hunt for wedding balloon ideas that'll catch eyes and look awesome both IRL and in photos, these are sure to do the trick.
Here are some steal-worthy wedding balloon ideas.
Engagement photo
Want to amp up your engagement photos with some props? Balloons are an easy, portable and inexpensive option that'll make your pictures look extra dreamy. Classic white is a fan favourite, but if you want to make your pics a touch more whimsical go with bolder hues or a whole rainbow of balloons.
Altar
If you're not head-over-heels for arches and arbours, go with a balloon-covered altar. This a project you can tackle without too much trouble, but if you're looking for a larger than life balloon backdrop, you may want to leave it to the pros (there are plenty in our decor supplier listings section).
Ring bearer prop
Take your ring bearer's accessory game to the next level with this wedding balloon idea. Have them hold a balloon with a cute message, like this one. You can do the same for your flower girls if you're really into the idea, there's really no such thing as too many balloons.
Entranceway
Make your wedding venue entrance something to marvel at by covering it with balloons big and small. You can even work flowers and other beautiful baubles into the mix to create a more dynamic installation.
Reception decor
Instead of covering your wedding reception venue with beautiful blooms and garlands of greenery, add a bevvy of balloons. This wedding balloon idea packs a punch visually and is a lot cheaper than fresh flowers.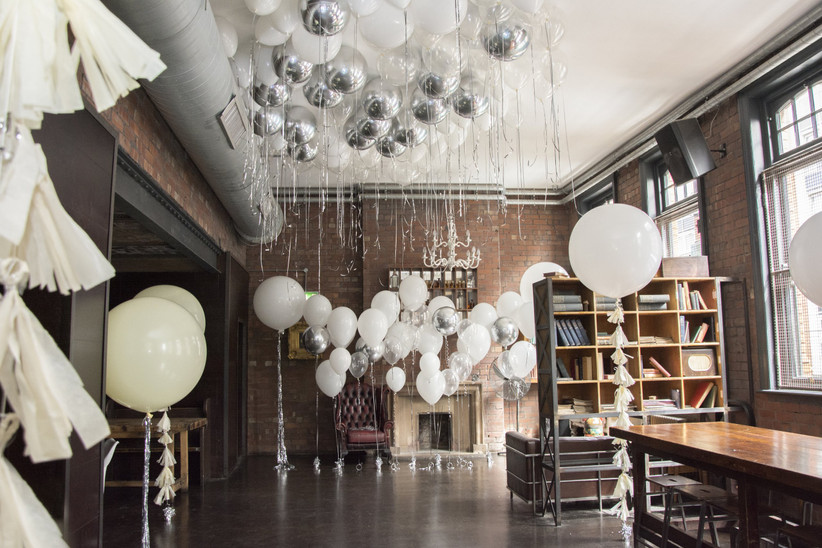 Table centrepieces
Skip the traditional wedding table centrepieces and use balloons as table decor. You can even have them serve double duty by printing your table names or numbers on them.
Wedding portraits
Make your wedding portraits a little more fun by using balloons as props. You can totally steal them from your centrepieces or from around your venue, but if you want special monogrammed ones for your pics, go ahead and get some bespoke balloons.
Props
Whether you're in need of props for your photo booth or just want to make your dance floor a bit more colourful, balloons are a tried and true option. They look super cute in photos and will brighten up your space without pushing you beyond your budget.
Entertainment
Hire a balloon artist to entertain your guests and make some cool, one-of-a-kind wedding favours. Both kids and adults are guaranteed to love it.
Dessert table
Make your dessert table set up even sweeter by adding a cool wedding balloon backdrop. You could go with plain, 'ol helium balloons or write out a phrase or word, like this couple.
First dance
Add an exploding balloon filled with baby balloons and confetti or a giant net filled with regular-sized balloons over your dancefloor and release them during your first dance. This wedding balloon idea will make the moment that much more memorable (not to mention photogenic).
Games
Make your party even more fun by working some games, like limbo, into your wedding reception timeline. We suggest skipping the classic broomstick and using a goofy balloon prop, like this one, instead.
Find wedding balloon suppliers on WeddingWire »