You've probably spent a good amount of time gathering inspo from Pinterest already, but if you need a few more vintage wedding ideas, we've got you covered. We've rounded up our favourite old fashioned decor, dessert and design bits to help you plan an amazing retro affair. From postcard invitations to throwback photos, here are a few things worth considering.
Here are 21 steal-worthy vintage wedding ideas.
Vintage venue
Hold your wedding at a stunning heritage building for serious vintage vibes. Whether it's an old theatre, music hall or hotel, there are many wedding venues licensed to play host to both your ceremony and reception.

Postcard invitations
People rarely use snail mail anymore, so harken back to the days when postcards were more popular by using them as your wedding invitations. While you could use actual postcards, we suggest asking your stationer to create something custom just for you.
Rustic programmes (currently Rustic programme)
Use kraft paper and twine to give your wedding programmes a vintage look. Bonus points if you embellish them with pressed flowers or a fun retro graphic.
Unstructured bouquet
Forget about super manicured arrangements, unstructured wedding bouquets are where it's at for vintage weddings.
Hair flowers
Amp up your wedding hairdo by adding in a few blooms that match your bouquet.
Burlap accents
A bit of burlap goes a long way - it's one of our most versatile vintage wedding ideas. Use it to decorate your chairs, as aisle markers or table runners for a real vintage look.
Crates
Crates aren't just for rustic weddings - they work great for vintage affairs, too. Fill them with flowers, favours or whatever your heart desires.
Throwback photos
Even if your wedding doesn't fall on a Thursday, embrace those #TBT vibes by displaying old photos of you, your spouse and your families.
Postcard station
If you went with a postcard theme for your stationery, use it for your guest book, too. Stock up on retro postcards and ask your guests to fill them out with loving messages for you and your spouse.
Messages in a bottle
This is another solid guest book option that'll give your wedding reception a vintage feel. Find a giant jug and ask your guests to fill it with adorable messages. It makes for an awesome keepsake and, if you want, you can repurpose it later.
Pick 'n' mix sweets
Vintage pick 'n' mix sweets will make your wedding guests feel like kids again. Don't forget to purchase both sweet and sour options so that everyone can find something that they love.
Cookie jars
Want to add an extra dose of nostalgia to your dessert table? Add some cookies jars filled to the brim with your favourite biscuits.
Vintage food truck
Looking for a creative way to serve food at your wedding reception? Go with a vintage food truck! It'll make the dining experience a little more fun and will match perfectly with your theme.
Serve Good Old British cocktails
Have your bartender shake up classic cocktails such as a Mint Julep, Pimm's Cup, Bramble and Gin Fizz.
Mirror seating chart
Here's an easy DIY vintage wedding idea. Head to your local charity shop or antique market to find an antique mirror for your seating chart display. Honestly, the more gaudy it is, the better.
Gold details
Rose gold and copper may be the fan favourite metallics of the 21st century, but back in the day everyone was into yellow gold. Use it for your flatware, vases and other decorative elements to add some vintage flair.
Speech bingo
Forget about modern games like Mad Libs and Heads Up, bingo is where it's at. Create custom speech bingo cards so that your guests can play along while you give your toast(s). Bonus: this will ensure that everyone pays attention.
Maraschino cherries
Every old school diner tops sundaes and milkshakes with maraschino cherries, so follow their lead and use them on your wedding desserts. If you absolutely love them, you can add them to your signature cocktails, too.
Jarred favours
Jars are the perfect packaging for vintage wedding favours, and you can fill them with just about anything - seeds, mints, even homemade jams and preserves.
Paper tags
Use personalised kraft paper tags to finish off your favours. If you want to go the extra mile and really embrace the vintage theme, stamp them with your guests names.
Old Suitcases
Suitcases are a versatile vintage wedding idea that can be used to dress up your venue in several ways: as a card box, to display bottles on your bar or to hold your wedding favours.
Tea time pastries
Give your dessert table some old timey Alice and Wonderland vibes by stacking it with tea time pastries and cakes. Don't forget to stock up on antique patterned plates for serving.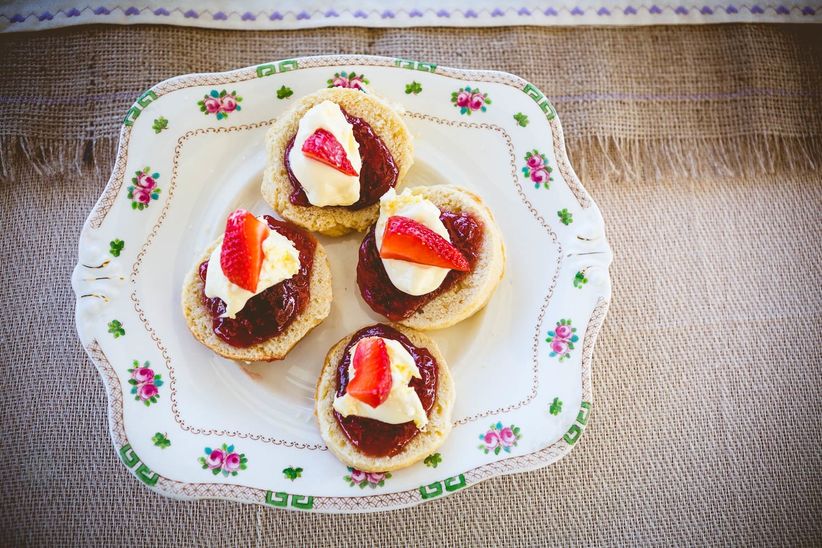 Naked cake
Instead of burying your cake in thick layers of frosting and fondant, show off what's inside by going with a naked design. Top it with fresh flowers, berries and an adorable old fashioned topper and you'll be left with an absolute masterpiece.
Scrabble labels
Instead of plain 'ol paper labels, use Scrabble tiles to tell your guests what's what. They'll add an element of vintage playfulness to anything you use them for.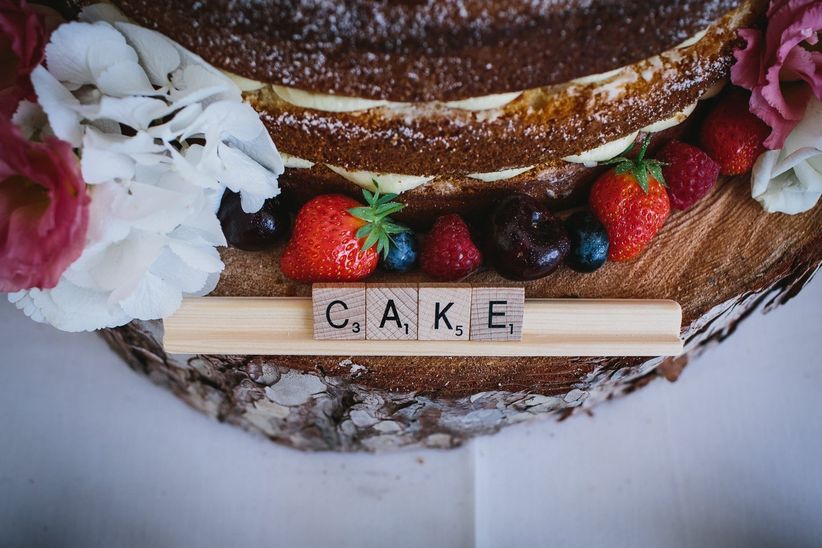 Find more vintage wedding ideas and inspiration in our Real Weddings section!
Photo editing by Monica Lorraine.