Giving out wedding favours is one of the many ways you'll treat to your guests on your big day. If you can't decide exactly what type of pint-sized presents to gift your nearest and dearest with, we've hashed out the most popular options for you in this article. Of course, if you have a completely original idea that won't blow your budget, we suggest rolling with that!
Here are a few tried and true types of wedding favours.
Plants
Just about everyone is filling their flats with house plants these days, so who wouldn't appreciate another to add to their collection? Cacti and succulents are adorable, easy to take care of options and can double as decor for your tables. If you don't think everyone on your guest list is equipped to become a plant parent just yet, you could offer up small tins of seeds so that they can plant their own when they're ready.
Home goods
Candles, soaps, tea towels, sachets and other small home goods also make for great wedding favours. Not only will they look awesome displayed in your venue, but there's a good chance they won't gather dust in your friends and relatives' homes - they'll actually get put to use! Just make sure they work for everyone, for example, if you're opting for candles go with a neutral or scent-free option.
Donations
Looking to give back on your big day? Give your guests charitable wedding favours instead of actual gifts. You'll want to make signage or print off little cards that let everyone know about the good deed they're doing. P.S. if you really want to go the extra mile, you can ask that people donate to a specific organization in lieu of wedding gifts (just remember to include all the details on your wedding website).
Snacks
There's a good chance that your guests are going to have the urge to dive into the hotel mini bar for snacks after your reception (especially if they've indulged in a few cocktails). Help them save a few bucks by giving them a snack to-go. Popular options include DIY cookies, bags of pick 'n' mix and artisanal treats from local shops.
Drinks
Boozy beverages are another option that your guests are bound to put to use after your big day. Small bottles of wine, single cans of craft beer or single-ounce servings of your favourite liquor are all amazing options. Looking to make them a touch more wedding-worthy? Decorate the bottle necks with bows or add a personalized tag or label.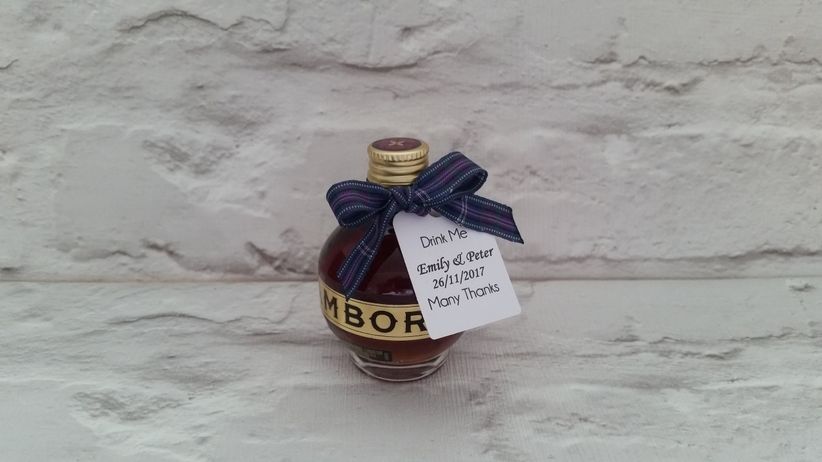 Find your wedding favours on WeddingWire »