You are bound to have seen these DIY wedding decorations as you scroll through Instagram and Pinterest. Tissue paper pom poms are pretty, elegant, cheerful and affordable. If you are looking for DIY wedding ideas to decorate your reception venue, then we're here to help with step by step instructions on how to make tissue paper pom poms. So for cheap wedding decorations that are sure to impress, gather up your bridesmaids for an afternoon of bonding and pom pom making.
Here is a tutorial for how to make tissue paper pom poms.
You will need:
8 sheets of tissue paper per pom pom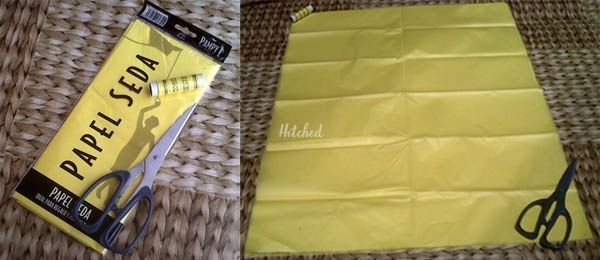 Step by step instructions:
Pile all eight sheets of tissue paper, one on top of the other and place them on a table or flat surface.
Fold them, starting at one of the narrow ends in the form of a fan or accordion. The folds should be about two or three fingers wide.
Once folded, join the two ends in order to find the centre. Take a piece of thread and tie it around the centre, leaving a long enough piece to hang the pom pom from the ceiling. Depending on the style you're going for, instead of using thread, you can use wire, coloured ribbon, twine or any other material that will be secure.
So that the pom poms look even prettier, cut the edges so that they are rounded or triangular, whatever effect you like the most.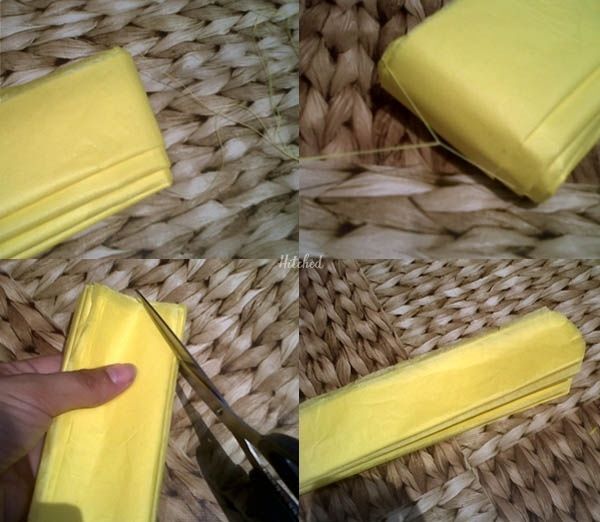 Now it is time for the most delicate stage, opening the pom pom. Gently separate each of the tissue paper layers.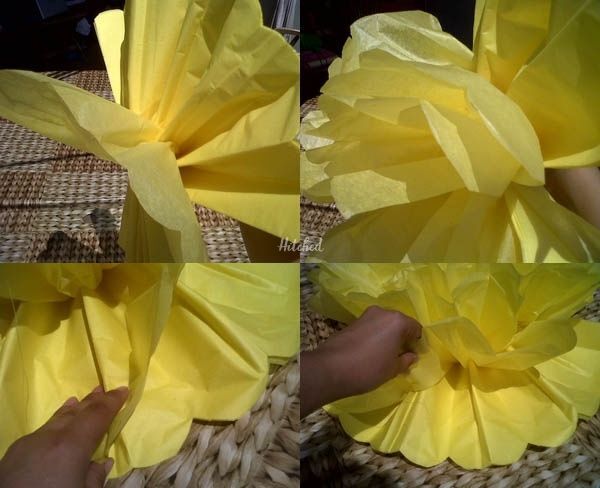 Once opened, you can hang it using the piece of thread or twine that remians for this purpose.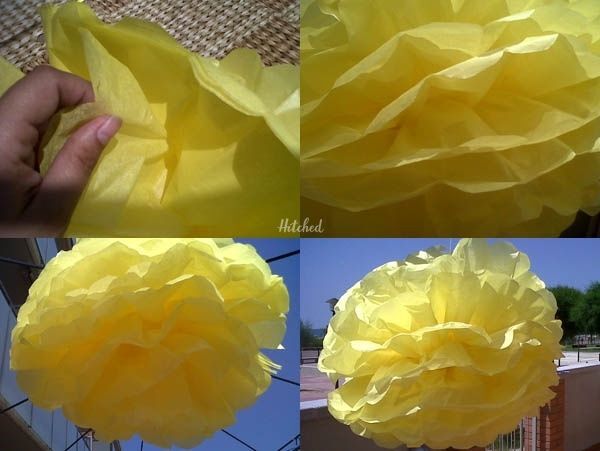 Tips and tricks:
The pom poms are very delicate. So they don't get damaged, they should be hung up straight away. If you leave them on the floor or against any other surface, they well get squished. If you're making them ahead of time, transport them to your wedding venue unopened and fluff them up on site.
Be sure to allow plenty of perparation time. While they are easy to make, the process is quite time consuming.
You can make different sizes and colours of tissue paper pom poms to match your wedding colour scheme. To create a multi-tone pom pom, use sheets of different colours. Choose complementary colours for a festive look or shades of the same colour for more of an ombre effect.
Combine tissue paper pom poms with pre-made paper lanterns or other hanging decorations for an interesting mixture of colours and textures (as pictured above). It will also save you a bit of time.
If you love the idea, but don't want to DIY it, ask a wedding decorator to make them for you or head over to Etsy to shop for pre-made tissue paper pom poms that you just need to fluff up.
Tutorial by Bodas Deluxe. Find more wedding decoration ideas on WeddingWire »