When you start planning your wedding, you'll start searching for the perfect venue where the magic will take place. Once you've got your wedding venue and the date reserved, you'll probably start browsing through wedding ideas. Once you have a clear idea of the style of wedding you want then it's time to start searching for the perfect wedding invitations to announce your big day to all your loved ones.
There are endless ways to create your own wedding theme. Just when we think we've seen it all, we are shocked again at a new wedding theme. So, it's a good idea to start thinking of wedding decoration ideas now.
Make it personal
We love weddings that have their own personalised theme. Just like your wedding dress represents your personal style and his wedding shoes show off his fashion sense, your wedding theme represents your combined styles, passions, personalities and even humour.
1. Nature lover
We had to put this as number one, because it's just so romantic. If you are having an outdoors wedding and especially if you'll be near some trees or nature, this is a wonderful wedding theme. You can create a magical forest, decorating your ceremony and reception with lots of natural foliage and wild flowers. This is also a more economical choice. It also makes sense to go the eco-friendly route if you're having a nature lover theme.
Choose seed paper instead of throwing rice or confetti. Use recycled paper for great diy wedding invitations. Give your guests little potted plants for wedding favours. And if you are getting married in the evening you can make the ambience even more magical with fairy lights glowing in the trees.
2. Abstract colour wedding theme
Splashes of colour can make your wedding pop with life and joy. For this theme, imagine your venue like a white blank canvas. You may not want a flower power rainbow theme, so make it classy by choosing white tablecloth and napkins, white dishes, white chairs, and then add colourful wedding table decorations. This will focus the attention on the beautiful centrepieces.
Make sure the rest of the decor is subtle and clean so that the theme isn't too busy. Your wedding invitations should also reflect this theme. We also recommend maintaining a white background but with splashes of colour. You can add a pop of colour by wearing coloured shoes under your white dress and add lots of colourful blooms to all the wedding bouquets.
3. Carnival wedding theme
This is for all you who consider yourself young at heart. Your guests will be so thrilled by your carnival-themed wedding. Plus, you'll share a lot of laughs. Choose games that are large enough for everyone to play together. Make the invitations represent this fun theme.
You can decide on a particular game that you both like and feature it in your personalised wedding invitations. Don't forget the wedding favours. You can give miniature versions of games you both enjoy to all your wedding guests. That will surely give them something to talk about.
4. Seasonal wedding theme
Take advantage of the season you are getting married to inspire your wedding decorations. While many couples decide to marry in spring and summer, we personally love autumn. Not only do autumn weddings tend to be more economical, we love this season for weddings because the leaves start to turn brick red and mustard yellow.
Pumpkins and pinecones are lovely decorations and tables filled with candles warm your guests' hearts. So think about the season, if it's summer, maybe a tropical vibe will set the stage for your wedding. You don't have to go for a typical beach theme; there are many ways the season can inspire your wedding theme.
5. Poetic wedding theme
If you both love poetry or reading, why not base your wedding theme on your passion? Start off by including a poem in your wedding invitations. For the ceremony go for handwritten, romantic wedding vows. You could even have your favourite love poems read for your wedding ceremony. For the banquet, name your reception tables with short quotes by famous couples from history, and give your guests personalised wedding favours by picking out second hand books for each guest. This is a really fun idea that lets you really enjoy coming up with new ideas to include poetry and love phrases all throughout your wedding.
6. The lantern wedding
If you love a good candlelight dinner, why not make your wedding a giant candlelit dinner? It seems quite simple, but really a wedding theme needn't be so complicated. Focus your wedding decoration on candles. Minimise the amount of flowers and add more foliage that will let the focus be on the candlelight.
Your ceremony aisle could be lined with covered lanterns for example. And before going into the wedding banquet your guests could be given tiny lanterns with tea candles as wedding favours. Then when they reach their table the will see that they must hang the lantern above their table, thus lighting up your wedding. This is a unique idea for personalised candles wedding favours. We saw this work beautifully at one wedding, but there are many ways you can personalise this theme to suite your own budget and taste.
7. Artistic style
If you yourselves are artists or love art and music, this one is for you. There are lots of art galleries that let you celebrate your wedding. Find one that has artwork you love and you probably won't even have to do much decorating. To really make it your own, hire some great musicians to complete the artistic ambience for your wedding.
While hiring a band can be costly, since you need to hire several people, you can opt for a solo singer for the ceremony, a guitarist for the reception and a pianist for the banquet, as an example. If you know someone who makes art you admire, you can ask him/her to decorate your banquet hall with their artwork or have them create unique centrepieces. If you are artistic, we're sure you'll come up with something truly unique for your wedding theme.
8. Bistro style
If you want something more low-key, this might be the ticket. Think of a bed and breakfast with a quaint interior that will allow you to decorate it with little vases and jars of wild flowers, traditional candlesticks and decorative cushions for comfortable yet stylish seating. Then take into consideration the catering. You can opt for small bites, such as tapas, cut sandwiches, dips and shots of cold soup. This bistro style can become more of a brunch or teatime style. This creates a very cosy and close environment. We imagine this theme for a small, intimate wedding.
9. Movie style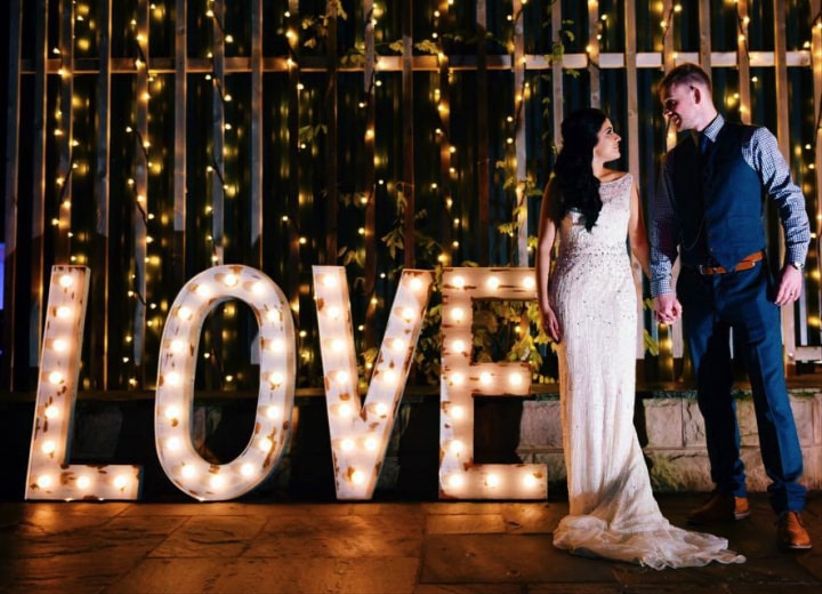 If you're big into movies, then you can have fun and make it the central inspiration for your wedding theme. You can hint towards your favourite movies by naming your banquet tables after them or you can go all the way and model your wedding after a movie or TV show you both love.
We've seen Star Wars themed weddings and we bet you have too. If that's not your thing, you can tone it down and pick personalised wedding cake toppers, wedding favours, and wedding invitations instead. There are many great ways to create a wedding theme based on a movie.
10. Nostalgic wedding
Your parents and grandparents will probably love this theme. These tend to be weddings filled with photos and are great icebreakers that give guests something to talk about during your wedding. During the reception you can have a table with old pictures framed of your parents and grandparents on their wedding day.
You can also ask them to tell you their favourite piece of advice for a successful marriage and frame that piece of advice to include on your "nostalgic table" as well. Then you can ask your friends to bring to the wedding any photos they have with you so that you can hang them up along a wall during the reception. Or you could have them glue the photo in your guestbook along with a message about their favourite memory with you. This theme can make your wedding one to remember for sure.
Start brainstorming
Now that we've shared our favourite 10 wedding theme ideas, we'd like to help you brainstorm an idea of your own. The best thing is to individually write down all your ideas, this way you don't influence each other's ideas. Then, write down all of your passions, hobbies and pastimes, which you enjoy together.
Make sure to also take note of colours, materials and textures you would like to see in your wedding. With that, you can share what you've both come up with and combine your ideas to create a truly unique wedding theme that is unique to you. Save photos of weddings that inspire you so that you can show them to your wedding decorator. Remember to think about these items when you are coming up with your unique wedding theme:
The stationery: invitations, place cards, seating cards, seating chart, table names, ceremony programmes, menu cards
The wedding favours for your guests
Your wedding cake
The lighting, such as candles or fairy lights
The table centrepieces
The chair covers, table cloths, napkins, utensils and dishes
The wedding flowers and your wedding bouquet
Create your own theme
Now you are ready to create your own unique wedding theme that will make your day unforgettable and 100% unique to both of you. We'd love to hear your own wedding ideas. Remember that there are many aspects you may not have thought of personalising, such as the bridesmaid dresses or the funny wedding speeches. Have fun planning your unique wedding and share any of your wedding theme ideas with us.