Before you even set foot in a jewellery store, there are a few things you need to know about engagement rings. This is probably the most important and expensive piece of bling you'll ever buy, so you'll want to be well informed before you make any big decisions. We've broken down the engagement ring bit by bit to help make you a kickass ring shopper (or designer).
This is the anatomy of an engagement ring.
CUT
This is the first C of the "Four Cs" of diamonds. It refers to the shape of the stone and how much light it lets in. Keep in mind that this doesn't just apply to glimmering transparent stones. Just about any precious, semi precious or synthetic stone can be cut in these shapes. These are the most popular:
Round: Circular stone
Princess: Square stone with sharp corners
Cushion: Square/rectangular stone with rounded corners
Emerald: Rectangular stone with step cuts
Oval: Long, circular stone
Pear: Stone that mimics the shape of a teardrop
Asscher: Square stone with step cuts
Radiant: Square/rectangular stone with trimmed corners
Marquise: Oval stone with a sharpened top and bottom
Heart: Stone that mimics the shape of a heart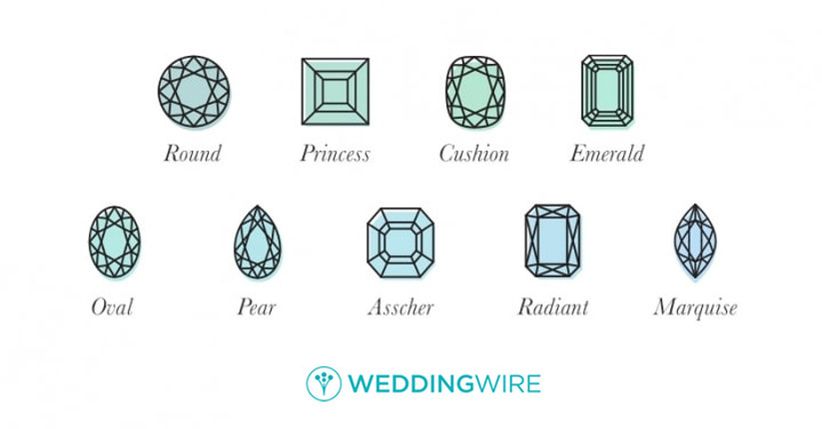 COLOUR
When choosing a diamond, colour matters. The less colour a stone has, the higher quality it is. So, if you're looking for something on the luxurious end of the spectrum, you'll want to find a diamond that's basically transparent. Remember, you don't need to use a diamond in your engagement ring, but we'll get into more detail on that later on.
CLARITY
Practically perfect diamonds have very few to zero inclusions or blemishes. These stones fall into the Fl-IF category and are, in Beyoncé's words, flawless. Don't worry if you can't afford this calibre of stone (they're really pricey) - a few minor polish lines or burns won't ruin your ring's overall look. Here's a quick guide to diamond clarity to help you out:
I1-I3: Imperfect
SI1-SI2: Slight inclusions/blemishes
VS1-VS2: Very slight inclusions/blemishes
VVS1-VVS2: Virtually unnoticeable inclusions/blemishes
Fl-IF: Flawless
CARAT WEIGHT
The last of the "Four Cs" is carat weight. This refers to unit of weight of the diamond itself, not its size. You can find plenty of large stones with low carat weights and plenty of small stones with high carat weights. The higher the carat weight the more expensive the stone, so you'll want to consult your jeweller about what fits into your budget before you start looking.
STONE
Diamonds may be the traditional choice, but they're not the only option out there. Nowadays, people are getting more adventurous with their stone selections, so don't be afraid to try something different. Here are a few precious and semi precious options that would look absolutely stunning on your partner's ring finger:
Amethyst: Purple (semi precious stone)
Morganite: Rose gold (semi precious stone)
Moissanite: Diamond dupe (synthetic stone)
Garnet: Deep red (semi precious stone)
Topaz: Commonly blue, yellow, brown or red (semi precious stone)
Opal: Pearly white (semi precious stone)
Onyx: Black (semi precious stone)
Sapphire: Deep blue (precious stone)
Emerald: Deep green (precious stone)
Ruby: Bold red (precious stone)
METAL
While white and yellow gold remain fan favourites, other types of metal are growing increasingly popular for engagement rings. Whether you're in the market for something a touch more durable or want a trendier, coloured band, there's something out there for you. Here's a lowdown on the most-used metals for engagement rings:
Platinum: This is the most expensive metal on the market for bands, so you'll want to avoid it if you're keeping your purse strings tight. It's a silvery-white colour and is extremely durable.
White Gold: White gold looks like platinum, but is a little friendlier to your wallet. Because it is typically quite soft, white gold bands are normally plated with rhodium to increase durability. It may need to be replated at some point down the road.
Yellow Gold: You're probably quite familiar with this yellowy shade of gold. Since 24-karat gold is usually too soft on its own, it's mixed with other metals to make a more durable ring (bringing its karat value down slightly).
Rose Gold: If your S.O. hopped on the "millennial pink" bandwagon and shows no sign of getting off, a rose gold band is worth considering. It's the rosé of rings and is created by mixing copper and gold together. Because copper is involved, it's more durable than gold and white gold.
Palladium: Like the idea of a platinum, but can't fit it into your budget? Palladium is your best bet. It looks very similar but is a touch less durable (still stronger than gold, though).
Titanium: It's natural colour is a silvery grey that is slightly darker than sterling silver and white gold. However, titanium can be coloured - so you can pick just about any hue for your band. It's lightweight and durable, but cannot be resized.
Tungsten: Tungsten is available in black, grey and white and is very strong and durable. You'll want to make sure you know your partner's exact ring size if you're going with this metal - it cannot be resized.
SETTING
Once you've chosen the perfect stone(s), metal and setting, it's time to put it all together. Some settings are sleek and simple, while others are bold and extravagant. You'll want to keep your partner's personal style in mind when choosing the setting, as it can be a real make or break. Here are the most popular options:
Channel: The band is covered with a row of small stone, the top and bottom edges of the band are visible.
Pave: The band is covered with a row of small stones, no metal is visible.
Halo: The centre stone is encircled by a halo of smaller stones.
Split Shank: The band starts as one, but splits halfway around to look like two bands running parallel to one another with the stone in between.
3-Stone: The centre stone is flanked by two (usually smaller) stones.
Prong: Small metal claws (usually about four) hold the centre stone in place.
Bezel: Instead of prongs, a band of metal encircles the centre stone, holding it in place.
Flush: The stone is set right into the band - no prongs necessary. This option is a fan favourite of men as it tends to be more understated.
Twisted: Multiple bands are woven together to hold the stone in place. This setting involve prongs or be prong-less.
Tension: A prong-free setting that uses the tension of the band to hold the stone in place.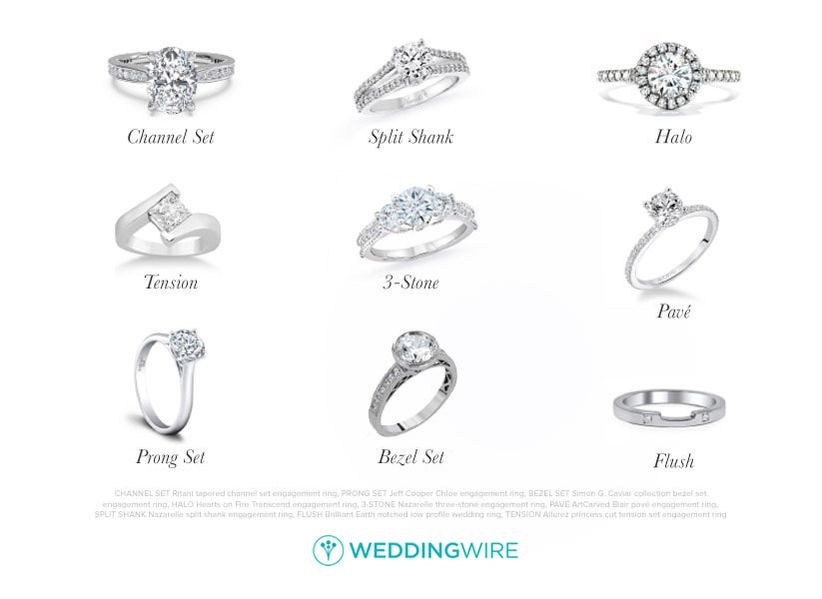 Find engagement rings and wedding bands on WeddingWire »