If you're hosting your big day somewhere between June and August, you're probably hunting for some summer wedding ideas. Well, look no further! We've collected the best design, decor and food ideas for the season to help you out. Scroll through this list and you'll probably have a few summery bits to add to your wedding checklist.
Here are 22 steal-worthy summer wedding ideas.
Floral invitations
By the time summer rolls around, gardens will be in full bloom. Give a nod to Mother Nature's greatest gifts by using graphics of your favourite flowers on your invitations and other wedding stationery.
Bright bridesmaid dresses
'Tis the season for bolder, brighter hues! Ask your bridesmaids to sport colourful sun dresses that match your colour palette. If you can't pick just one colour, go ahead and do some mixing and matching or choose a floral print.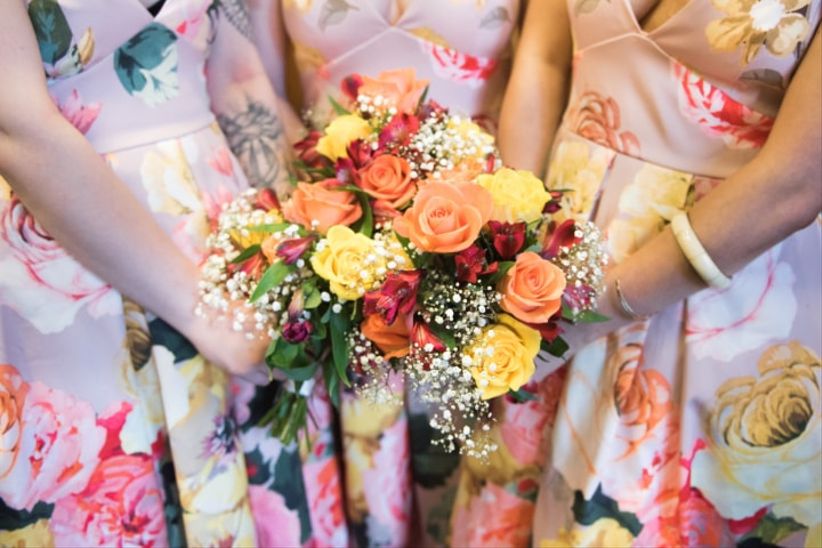 Patterned bow tie
The ladies don't get to have all the fun when it comes to wedding attire. Spruce up your groom and groomsmen ensembles with floral patterned bow ties, like this one.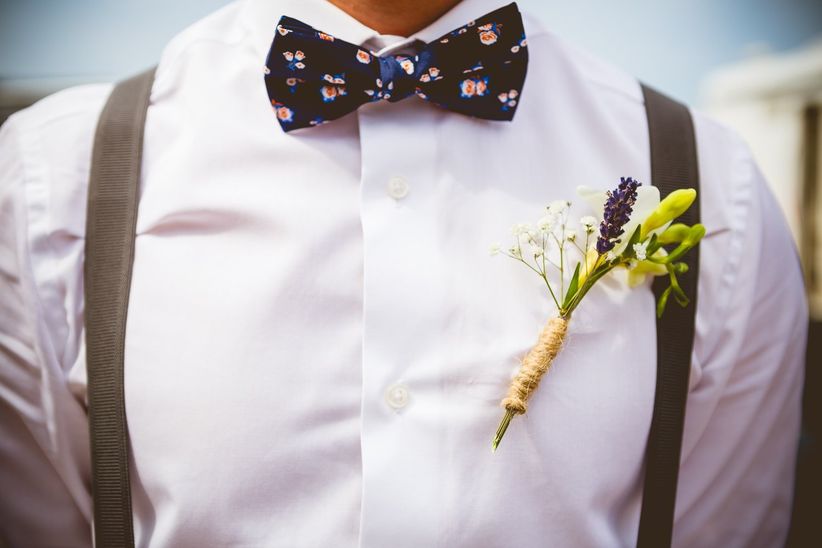 Fresh flats
Summer weddings typically happen in the great outdoors, so you probably don't want to be sporting heels (those will just end up digging into the grass or sand). Instead, opt for a pair of stylish flats. They're waaaay more comfortable for dancing than sky-high stilettos, so your feet will thank you.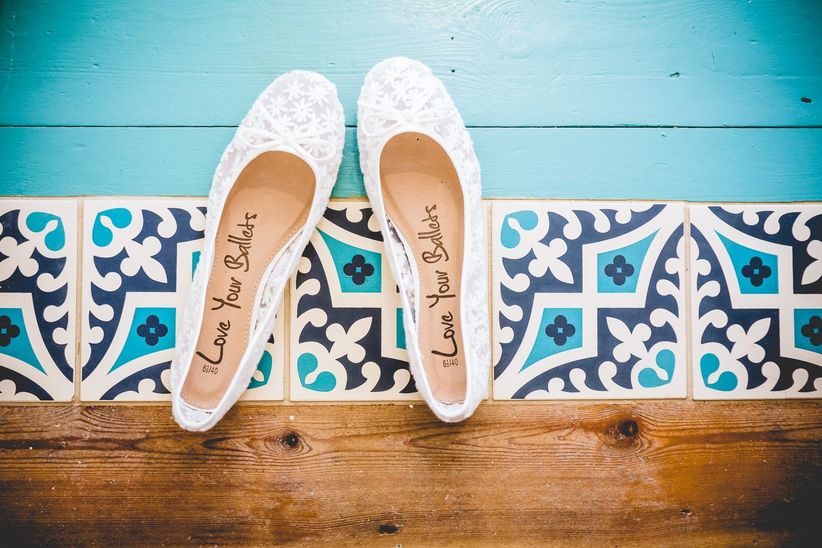 Pop of colour
Shake your wedding looks up with some pops of colour. You could use a fun necklace, patterned shoes, an interesting tie, a colourful dress sash or something completely out-of-the-box. Basically, the world is your oyster.
Outdoor ceremony
Book a wedding venue with an outdoor spot for your ceremony. Just make sure you have a plan B, like a tent or indoor space, in case of rain.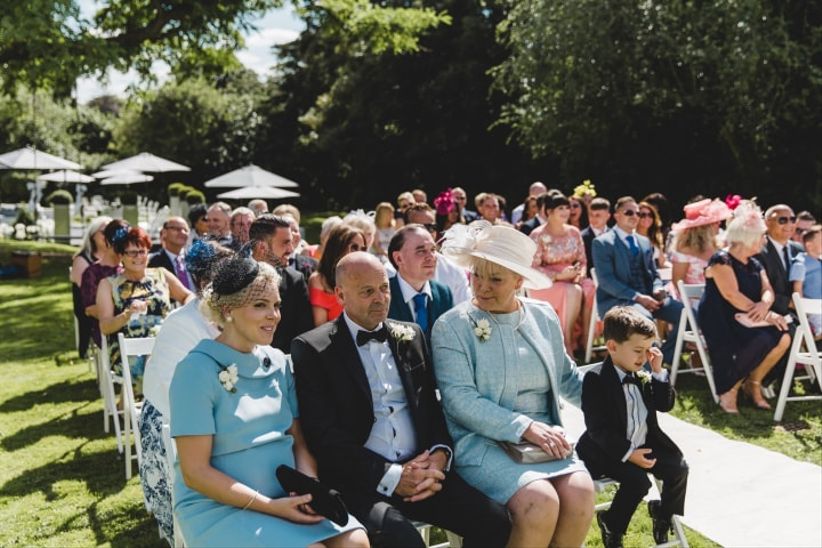 Convertible
Hire a convertible car so you can drive between venues with the wind in your hair. Be sure to decorate it and add a cute sign on the back!
Rain or shine
Be prepared for a summer shower or the sun's rays on your wedding day with some white umbrellas. Not only will they protect you from the elements, they make adorable props for your wedding photos.
Vibrant bouquet
Make your bridal bouquet a little more summery by filling it with multi-coloured flowers. We suggest going the extra mile and tying it up with a boldly-hued bouquet wrap or ribbons, too.
Ribbons
Speaking of ribbons, they're great for decorating your ceremony and reception spaces. You can hang them from ceilings, tie them to chairs or use them at your altar to add an extra festive touch.
Flowers galore
Celebrate all the gorgeous flowers that are in bloom by giving them the spotlight at your wedding. Fill your reception tables with extra large centrepieces, go overboard with your bouquet and add fun floral touches wherever you can.
Summer cocktails
Nothing says summer like an outdoor wedding drinks reception with Pimm's and lemonade, iced teas and fruity cocktails, so add them to your wedding bar menu.
Fresh foliage
Looking for DIY summer wedding ideas? Don't underestimate the power of greenery! Yes, flowers are amazing, but foliage can also be used to amp up your space (and it's usually a heck of a lot cheaper).
Flamingos
If any type of bird represents summer, it's the flamingo. Use its image on your stationery or figurines of it around your venue to add some playfulness to your decor.
Seasonal eats
Ask your caterer for a wedding menu featuring ingredients that are in season. Not only will it taste fresh and delicious, it might save you a few quid, too.
Picnic tables
If you're looking for a summer wedding idea more on the casual side, we suggest using picnic tables at your wedding reception. They suit the season perfectly and will make the your dinner feel easy, breezy and relaxed.
Fruity table names
Give a nod to everyone's favourite fresh snack by naming your tables after different kinds of fruit. If that's not your thing, trees, flowers and birds are great summery options, too.
Berry fresh
Here's another summer wedding idea for fruit lovers: treat your guests to a delicious, seasonal dessert like this tian of summer berries.
Flower-topped wedding cake
Give your wedding cake a bit of flower power by topping it with fresh or fondant blooms. Your guests will definitely snap a few photos with their phones before you slice into it.

Cool treat
Here's a cool summer wedding idea! Hire an ice cream van to roll in and offer your wedding guests an afternoon or late-night snack.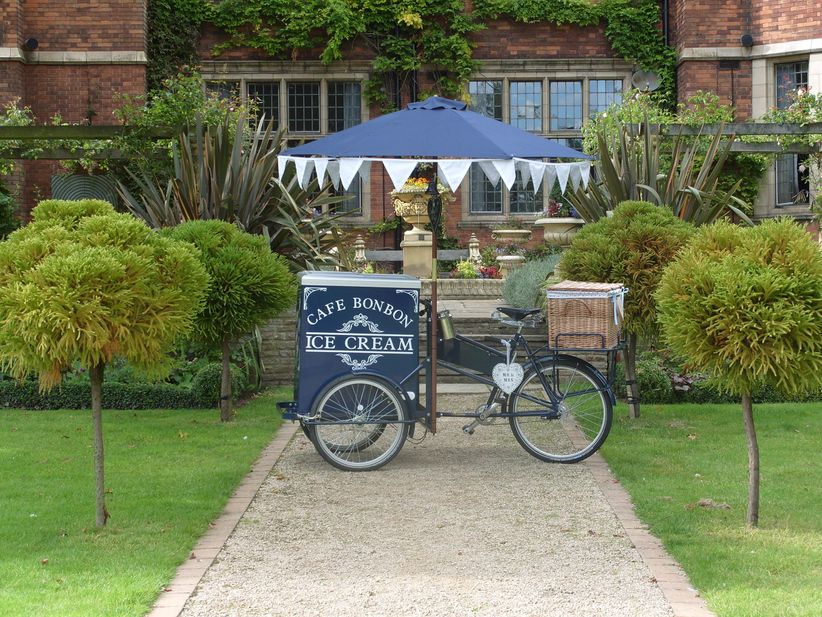 Outdoor entertainment
Create an outdoor wedding photo booth complete with props so that your guests can hold onto the fun memories of your big day! Amp things up even more with some wedding games, too!
Fairy lights
Make your venue glow with a few strands of fairy lights. These work indoors and outdoors and are the perfect addition to your summer wedding decor.
Find more summer wedding ideas and inspiration in our Real Weddings section »
Photo editing by Monica Lorraine and Diane Hall.