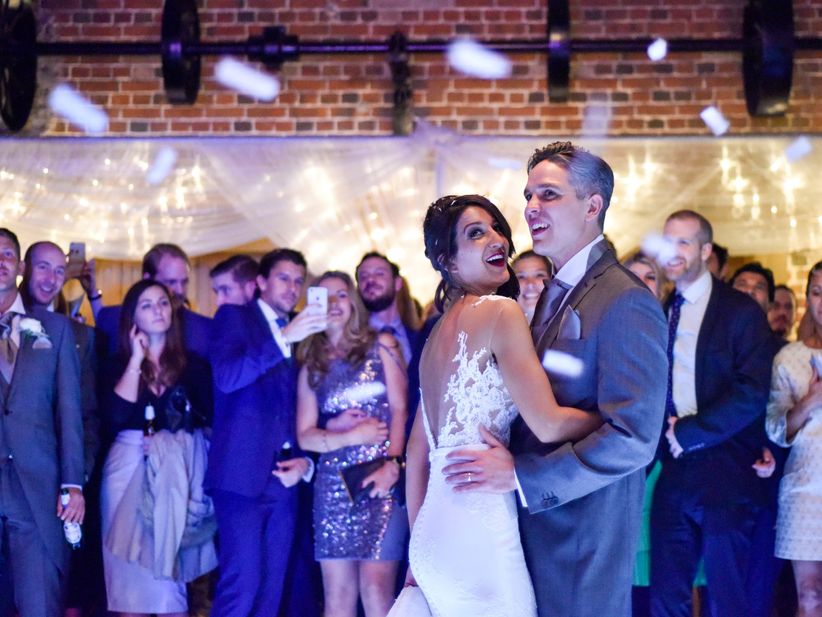 Once you've hashed out what to play at your ceremony, it's time to move onto your wedding reception songs. From the moment you walk into the room to the time you leave, you'll want to have music pumping (that's a lot of songs to queue up). While every wedding has its own unique soundtrack, the types of songs stay the same. We've created a list of all the essentials to ensure that none of your wedding's major moments go without music.
Here are the types of wedding reception songs you'll need.
Grand entrance song
You don't want to sneak into your reception unannounced! Once all your guests have been seated, dim the lights and pump up the jams - it's time for you and your wedding party to enter the room. Make your arrival one for the books by dancing into your venue to a song that captures just how happy you are; Justice's "D.A.N.C.E", Beyoncé's "Love on Top" and The Beatles' "Twist and Shout" are all excellent options. P.S. if you want something a touch less dramatic, you can always saunter in to a slow song, instead.
First dance song
Your first dance song is arguably the most important piece of wedding music you'll choose. While most couples opt for a slow song, you definitely don't have to. If you're seasoned pros and want to tango, paso doble or quickstep to a fast-paced tune, go right ahead. Naturally, the song you choose should suit the style of dance you want to do, so plan accordingly. If you're going the traditional slow dance route, try something like Nat King Cole's "Unforgettable", Michael Bublé's take on "God Only Knows" or Ed Sheeran's "Perfect". If you want to try something more upbeat, why not go with a Billboard chart-topper like Maroon 5's "Sugar"?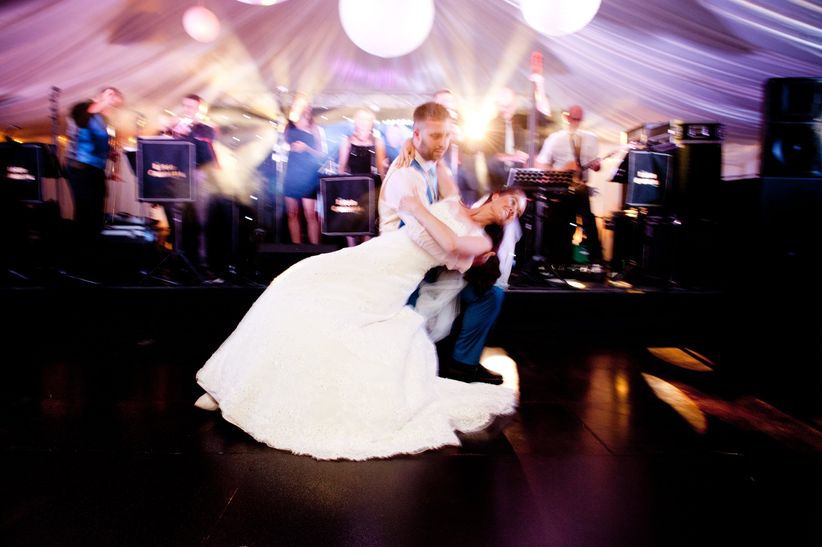 Songs to play during dinner
Even though you've expertly chosen who is sitting where at your reception, there may be some gaps in conversation (it's okay, it's totally normal). Now, during these pauses you don't want to hear cutlery clanking or chairs being pushed in and out, so keep the wedding reception songs going. We suggest stacking your dinner playlist with easy listening tunes and/or instrumentals like Frank Sinatra's "The Very Thought of You", Al Green's "I Want to Hold Your Hand" and just about anything by Yiruma and Ludovico Einaudi. Keep in mind that anything too loud or upbeat might have your guests sneaking onto the dance floor before the main course is served.
Father-daughter & mother-son dance song(s)
While you and your partner will probably spend most of the evening glued to each other, you'll want to let go for two or three minutes to share a dance with your 'rents. If you want, you can separate the mother-son and father-daughter dances to give each duo their own special song, or, share one. Like the first dance song, some people usually go with slower tunes, but if you and your mom or dad want to shimmy and shake to an upbeat song, nobody's gonna stop you. Need a little inspo? Louis Armstrong's "Wonderful World" and Taylor Swift's "The Best Day" work wonders.
Songs to play when your guests hit the dance floor
Once the plates have been cleared, it's time for the real fun to begin. Get your guests onto the dance floor (or at least tapping their feet) by putting on your favourite party playlist - you probably already have one or two of these tucked away on Spotify or iTunes. Remember to choose wedding reception songs that span genres, musical styles and song speeds so that there's something for everyone.
Cake cutting song
After you've burned off some of those dinner calories with a bit of dancing, it's time to indulge in a slice of cake (or two, we're not judging). Now, cutting your cake may not take the entire length of a song, but that doesn't mean you should mute the dance music for this special moment. Many couples choose on-theme tracks like "Sugar, Sugar" by The Archies to mark the occasion.
Bouquet toss song
Now it's time for the bride to steal the spotlight! You'll want the perfect track for when she tosses her bouquet into the crowd of waiting ladies, and lucky for you, there's plenty to choose from. Songs like Beyoncé's "Single Ladies", Dusty Springfield's "Wishin' and Hopin'" and "Ladies Night" by Kool and the Gang suit the theme of this moment flawlessly.
Garter toss song
The steamiest moment of the reception has arrived - the garter toss. This event deserves a sexy track like Justin Timberlake's "Sexyback" or Hot Chocolate's "You Sexy Thing". Yes, these are a little bit cheesy, but sometimes you just have to roll with it.
Last dance song
The night is almost over, but before your suppliers start packing away your linens and floral arrangements, you'll want to share one last dance with your friends and family. Make sure you go out with a bang, not a fizzle by choosing a wedding reception song that'll get everyone up and out of their seats. Daft Punk's "One More Time", Outkast's "Hey Ya!" and "First Time" By Ellie Goulding and Kygo are all solid choices.
Find wedding musicians and DJs on WeddingWire»