Choosing a wedding venue is one of the first tasks on your wedmin to-do list and one of the most exciting. There are so many things to consider when it comes to selecting the perfect place to celebrate your nuptials; some may be dreaming of country wedding barns while others may be lusting after a chic city affair. If you're in the latter camp, we strongly recommend considering rooftop wedding venues in London for serious wow-factor and fabulous wedding photo backdrops. From riverside views to buzzing city-centre locations, there's something for every couple in the capital.
Check out our round-up of the most amazing rooftop wedding venues in London.
Angler Roof Terrace, EC2M 2AF
If you're looking for a hotel, restaurant and terrace all in one luxury rooftop wedding venue in London, then the Angler Roof Terrace at the South Place Hotel is for you. The hotel is licensed for civil ceremonies and has a number of modern event spaces to accommodate everything from intimate weddings to larger guest counts.
The Angler restaurant (pictured below) and its adjoining west-facing rooftop terrace with a retractable roof (pictured above) are ideal for your ceremony, standing reception or seated wedding breakfast. Not only will you enjoy designer decor and city views, but you and your guests will also get to indulge in a Michelin-starred meal by Executive Chef, Gary Foulkes showcasing sustainable seafood, seasonal local produce and an extensive wine list.
Capacity: 90 for a wedding breakfast and 200 standing guests.
The Trafalgar St James, SW1A 2TS
With canopy covered seating, outdoor heaters and blankets, this rooftop gem is the perfect pick for winter weddings as well as summer celebrations. The Trafalgar St James cosy and chic rooftop bar is ideal for couples looking for a stylish and modern reception.
Boasting breath-taking views of the city and individually crafted cocktails paired with a laidback yet delicious menu of popular favourites, you'll love this rooftop wedding venue in South London.
Capacity: The Rooftop has a capacity for 80 guests seated and 180 standing.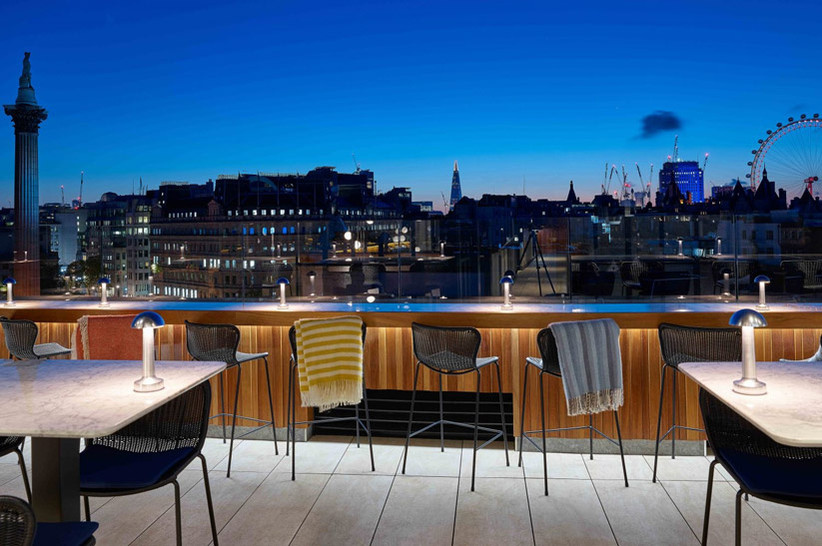 Savage Garden, EC3N 4AF (approved)
Savage Garden has a number of event spaces available for wedding receptions (it's not licensed for ceremonies) including The Wildside with a retractable roof, Ferus a private dining space with floor to ceiling windows and the opulent Main Bar.
Unbeatable views of Tower Bridge and the Tower of London make this a fantastic backdrop for your wedding photography as well as a great talking point for guests. Once you're done soaking up the views you can enjoy unique sharing dishes and show-stopping cocktails quite unlike any you've tasted before.
Capacity: The Wildside can accommodate 120 guests, Ferus can seat 40 for a dinner and the Main Bar has a capacity of 250 for a standing reception.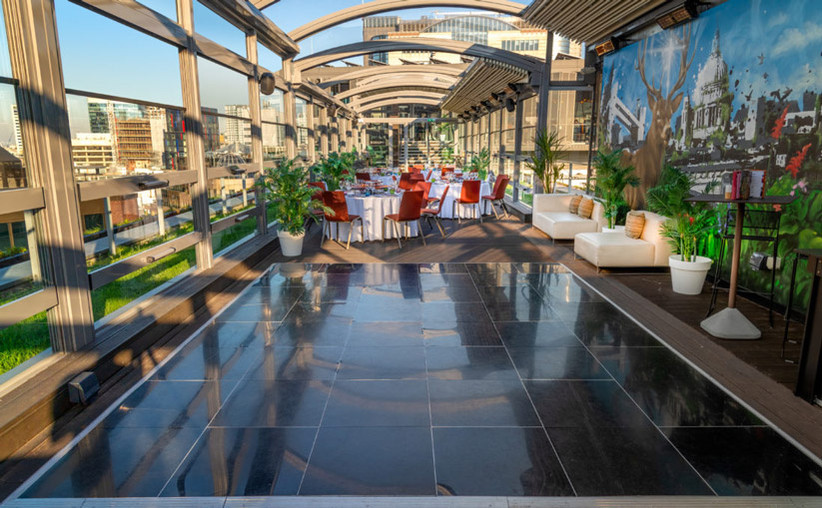 Aviary, EC2A 1DX
Situated high above the bustling city below on the 10th floor of the Montcalm Royal London House Hotel, Aviary is one of the most iconic rooftop wedding venues in London. For the cooler months, we recommend booking the chic Glass Box, a space that allows you to take in every inch of the spectacular views without facing the elements.
The Palm Terrace is a fabulous party space with unbeatable views of the city. Chic modern furniture and glass balconies add to the impressive ambience at the Aviary.
Capacity: The Glass Box can fit 60 standing and The Palm Terrace has capacity for 100 standing guests.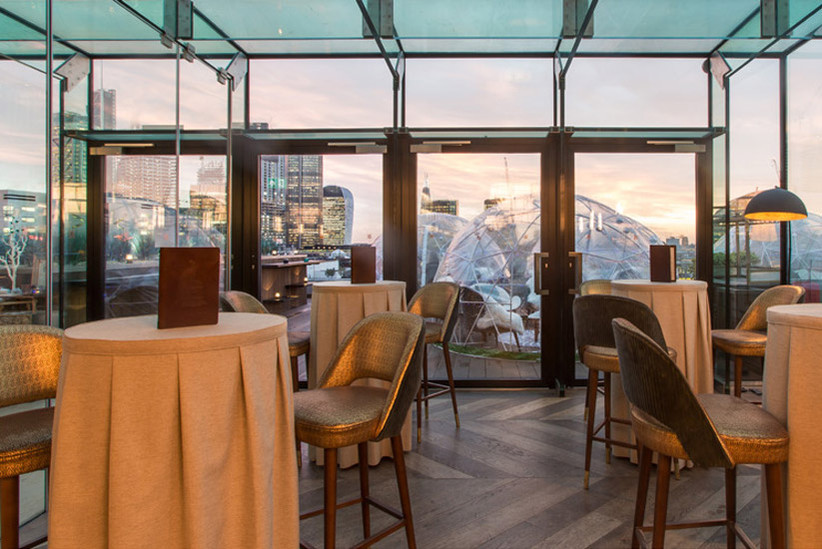 City Garden Bar, EC3M 8AF
Perched 155 metres above ground level, with a space spanning three storeys, City Garden Bar is one of the most impressive wedding venues in London. Situated inside the iconic Walkie Talkie building, City Garden Bar makes for an unforgettable celebration.
With only 26 dates available to book a year, this is a seriously exclusive space and you'll need to book well in advance. But it's totally worth it; with space for 700 guests you can host the party to end all parties here – it's one the largest wedding venues in London!
Capacity: Exclusive hire: dining 200-300 guests and 300 – 700 standing. Non-exclusive hire: 60-150 dining and 100-300 standing.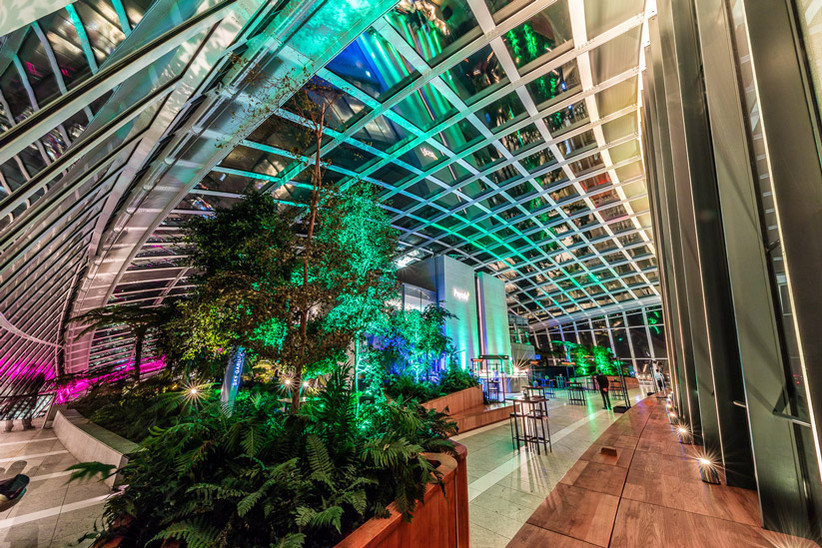 Century Club, W1D 6LQ
Century Club boasts the largest roof terrace in London's vibrant Soho. With views over the bright lights of the nearby theatre district and the skyline, your guests will love toasting your marriage in one of the most stylish wedding venues in London.
When it comes to tucking into a celebratory meal, guests will also find themselves spoilt, with a range of dishes made with the freshest seasonal ingredients. Inspired by family feasting and togetherness, Century Club is a great pick for intimate events with a friendly feel.
Capacity: 60 standing guests.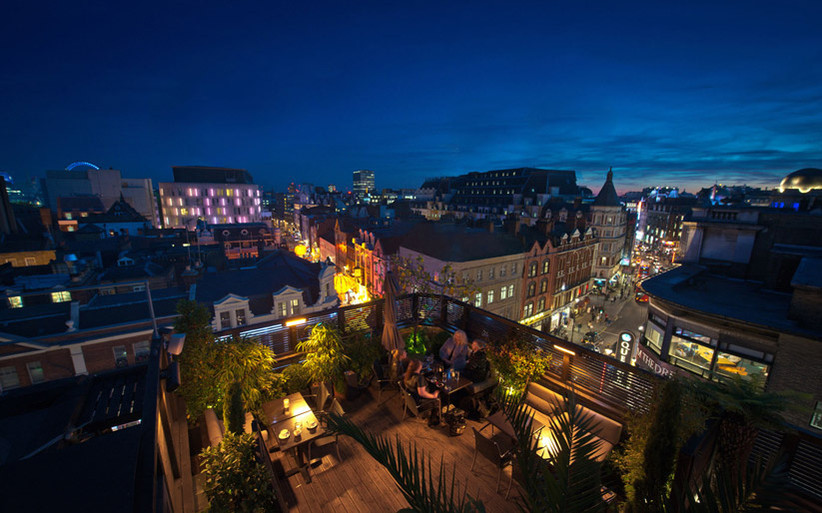 The Deck, SE1 9PX (approved)
Give your day a theatrical spin at The Deck, the rooftop space at the iconic National Theatre. The fully licensed venue allows you to spend all day here; marry inside the industrial style event space before enjoying a drink or two on the terrace.
For rooftop dining, you can open up the floor to ceiling windows to create an entirely open space or keep them closed on colder days – either way you can enjoy some of London's best views. As a working theatre, the events team can also bring in sound and lighting to enhance the ambience of your special day.
Capacity: 100 guests for a ceremony, 100 for a wedding breakfast and 200 standing guests.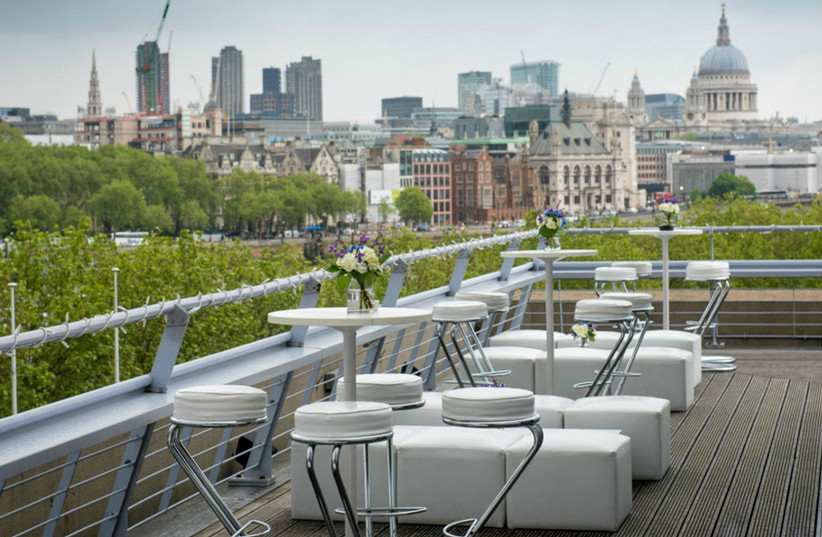 Find more wedding venues in London on WeddingWire »