Image: The Gibsons Photography
Once you've purchased a shiny new engagement ring for your S.O., it's time to start planning your marriage proposal. One of the first things you'll want to take care of is the "where". Lucky for you, Glasgow has no shortage of picturesque places to propose. From a beautiful conservatory brimming with tropical plants to an Art Deco restaurant with an aphrodisiac-stacked menu, there are plenty of romantic spots worth considering.
Here are a few romantic places to propose in Glasgow.
Glasgow Botanic Gardens
Want to give your proposal some serious tropical vibes? Skip booking a pricey plane trip halfway across the world and head to the Glasgow Botanic Gardens, instead. You'll find sprawling grounds brimming with flora and fauna as well as a beautiful glass house (The Kibble Palace) filled with exotic specimens and stunning marble statues.
Glasgow University
Whether you met at uni or not, this school is a beautiful place to pop the question. Founded in 1481, it's one of the oldest universities in the English speaking world (so your engagement will literally go down in history). Its interior gives off some serious Hogwart's vibes and its grounds are perfectly manicured, giving you plenty of spots to propose.
Champagne Central
If there was ever a time to splurge on the finer things in life, it's your marrriage proposal. Champagne Central boasts extravagant decor and an equally luxurious menu (offering more than just bubbly). After they say yes, treat yourselves to a bottle of Veuve Clicquot, Dom Perignon or Laurent Perrier and cheers to the amazing life you have ahead of you with a glass of champagne.
Glasgow Film Theatre
Too cool for dinner and a movie at your local cinema? Take your proposal date to the next level by checking out an independent film at the Glasgow Film Theatre. You probably don't want to interrupt the showing, so wait until after the theatre has emptied post-credits to pop the question or book a private screening complete with a personalised on-screen message. P.S. the cinema theme could easily find its way into your engagements photos or the wedding decor for your big day.
Principal Blythswood Square Hotel
A marriage proposal is the perfect excuse for the ultimate romantic getaway, so ditch your flat for a few days and book a staycation in the luxurious Principal Blythswood Square Hotel. It has every amenity you could ever want, including an amazing spa and a stunning penthouse suite (if you really want to go all out).
The Mitchell Library
If you and your partner are total bookworms, The Mitchell Library is a picture perfect place to propose. The massive public reference library is packed with literary gems and is quite the photogenic space (both inside and out). If you don't want an audience for your big moment, drop down on one knee in the stacks instead of the centre of the main floor.
Kelvingrove Park
Kelvingrove Park is a Victorian-style green space that sits on the edge of, you guessed it, the River Kelvin. It sprawls across 85 acres of land, so you should have no trouble finding a secluded place to propose. We suggest going for a romantic stroll or picnic beforehand to set the mood.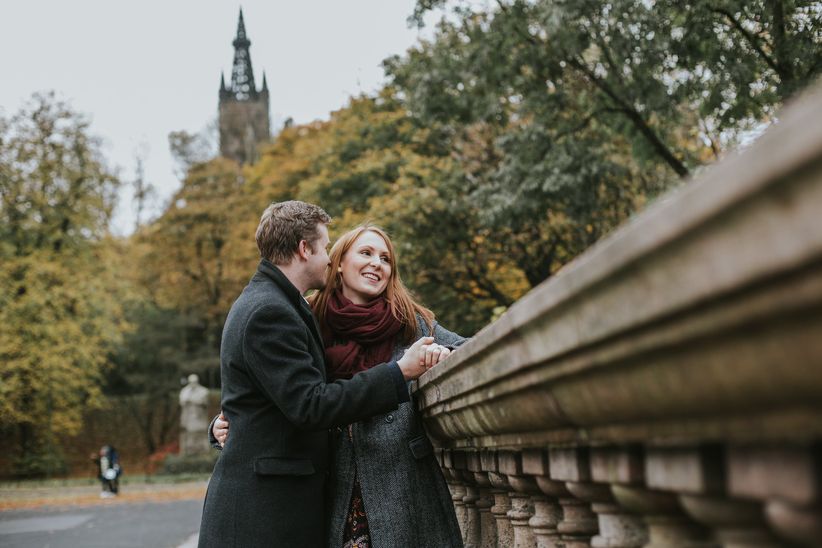 Kelvingrove Art Gallery and Museum
If the two of you spend your weekends gallery hopping and discussing fine art and history over coffee, this venue is probably right up your street. It's filled with thought provoking pieces from around the world, making it the perfect backdrop for globe trotters, historians and everyone in between. P.S. as you probably already know, it's located within Kelvingrove Park, so you can get the best of both worlds.
Clyde Cruises
Looking for a truly unique place to propose? Forget about galleries and gardens - sail away from the mainland and ask your partner to take your relationship to the next level on the River Clyde. Clyde Cruises offers a few packages, like the Prosecco Afternoon Tea cruise, that'd make for the perfect pre-proposal date.
Rogano
If you're going to make your perfect proposal a dinner date, you'll want something a little fancier than Five Guys or Subway. Head to this popular Art Deco eatery and order some aphrodisiacs and champagne at the Oyster Bar before popping the question. You and your partner will leave with full hearts and stomachs, too.
Find engagement rings and wedding bands on WeddingWire »