If you're looking to amp up the fun factor of your big day, think about adding a few outdoor wedding games to the mix. From croquet to ring toss to Giant Jenga, there's no shortage of options. Whether you want something cheap and cheerful or an elaborate rental with lots of bits and pieces, you'll find something that fits the bill on this list.
Here are a few outdoor wedding games we're totally obsessed with.
Croquet
So far as outdoor wedding games are concerned, croquet is probably the fan favourite. Setting up a course will give your wedding reception a little bit of Alice in Wonderland flair and is sure to get guests mixing and mingling.
Giant Chess
Want your guests to put their minds to work? Set up a giant chess game outdoors. Bonus: you can totally use the pieces and the board as props for your wedding portraits, you and your partner will take the places of king and queen (obvi).
Can (or Bottle) Knockdown
This classic fair game is an easy DIY wedding idea that's perfect for couples who are on a budget. For this outdoor wedding game, all you need is a few cans or bottles and an object for throwing (an old baseball or tennis ball will do the trick). We suggest painting your props to match your wedding colours so that they tie into their surroundings.
Ring Toss
Ring toss is another fair favourite that won't disappoint. Simply set some rings and pegs and let your guests figure out the rest.
Volleyball
If you're hosting a beach wedding or have a giant yard space to work with, set up a volleyball court so that your guests can practice their blocks, bump passes, spikes and jump serves.
Sack Race
Ensure that your friends and family have a hopping good time by working a sack race into your wedding reception timeline. You'll want to gather sacks of all sizes so that guests big and small can take part.
Table Football
You probably won't have enough room to set up a full-size football pitch, but you can rent a foosball table so that your guests can go hand to hand in a mini-match.
Archery
If you've got the space, set up a field where your guests can do a little target practice. You can use arrows with suction cups instead of arrowheads if you're hosting children or are concerned about the combination of sharp objects and intoxicated guests.
Limbo
This unusual wedding entertainment idea is a great way to coax your guests onto the dancefloor, but can be used as a fun outdoor wedding game, too. You can go for a more elaborate setup, or simply supply your guests with a broom handle and a killer soundtrack.
Beer Pong
Your uni years may be long gone, but that doesn't mean you can't bring some of your fun party games back for a night of drinking and debauchery. Beer pong and flip cup will get your adult guests into that party spirit in no time.
Mini Golf
Bring your love of golf to your wedding by setting up a miniature course where your guests can putt to their heart's content. You definitely don't need a full green for this, just a small patch of grass and a few obstacles.
Connect Four
Supersize this beloved table game and bring it to the great outdoors. It can be played as a two-player match or a few guests can split evenly into teams to make it even more fun.
Giant Jenga
Jenga is another tabletop favourite that's taken the wedding world by storm. If you're playing it in the great outdoors, use large planks of wood, instead of finger-length bricks. The tower coming down is a lot more dramatic when it's half your height.
Tug of War
If you've got a rope, you've got a game! Ask your guests to split off into two teams for an epic battle of arm strength. Remember, you'll want the sides about evenly matched, so don't put all the kids on one side.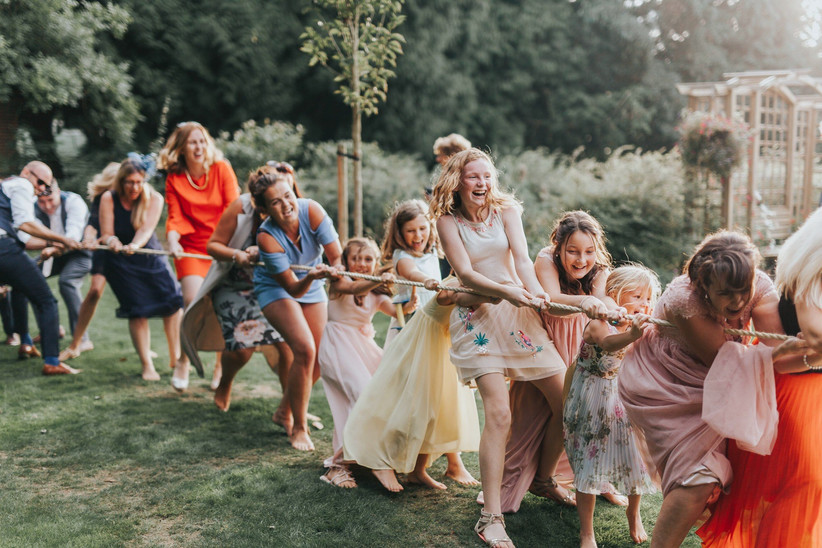 Find more wedding entertainment ideas on WeddingWire »