If you want your nuptials to be a real party, why not host a New Year's Eve wedding? From confetti to champagne to feathers, there's so much you can do for a New Year's Eve wedding theme. We've rounded up a few of our favourite ideas to help you plan an epic celebration.
Here are a few steal-worthy New Year's Eve wedding ideas.
Art Deco invitations
If you're hosting a glitzy New Year's Eve wedding meets party, your wedding invitations should be nothing short of glamourous. We suggest opting for a chic and sleek art deco design to make your wedding stationery really shine.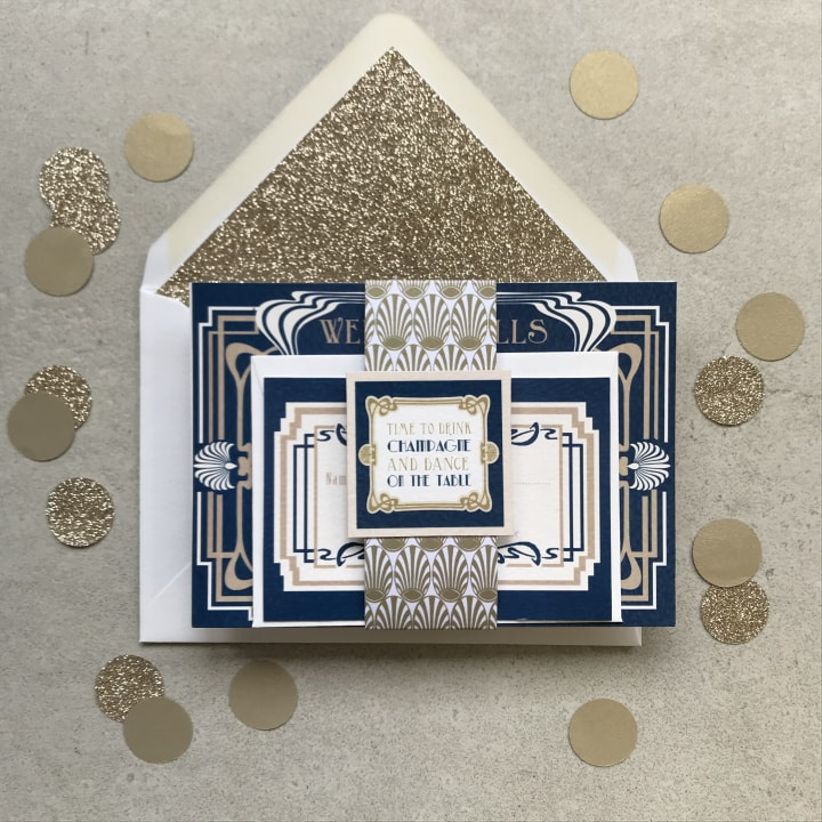 Gold wedding shoes
Your stationery shouldn't be the only thing that sparkles! Complete your look with a pair of shiny gold wedding shoes, like this glittering pair. P.S. You may want to pack a pair of bedazzled sneakers so that you can slip into some comfortable wedding shoes at your reception.
Cocktail-style catering
Don't want to interrupt those party vibes by asking your guests to sit down for a plated meal? Cocktail-style catering is the way to go (and you'll want to keep the food coming 'til midnight and maybe beyond).
Glittering tablecloths
Once you've figured out what to feed your guests, it's time to figure out what to put on your tables. Make them New Year's Eve wedding ready by dressing them up in sequin-clad linens. If you don't want to get super spendy here, you can save the more luxurious ones for your star tables (like your dessert display and top table or sweetheart table) and leave the rest of them bare or with white tablecloths.
Champagne tower
Class up your wedding bar with a sky-high champagne tower. Don't forget to ask your photographer to snap a picture of you and your S.O. pouring drinks.
Clock decor
Since it's New Year's Eve everyone will have their eyes on the clock. We recommend working a few into your decor - mounting them on walls, working them into your centrepieces, using one as an altar backdrop - so that people pay attention to your wedding, not their watches.
Feather centrepieces
Don't want to go the traditional route with your New Year's Eve wedding reception decorations? Instead of using flowers and greenery for wedding centrepieces, opt for dramatic feather filled displays. These will save you money and look extra festive.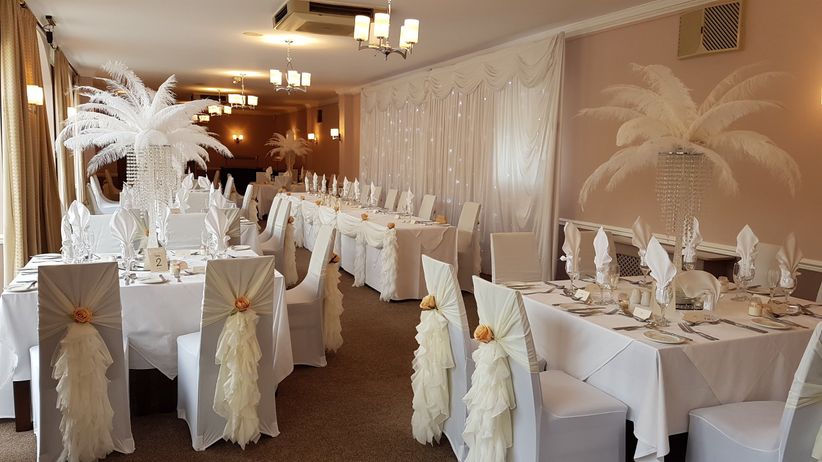 Metallic wedding cake
Make your wedding cake pop by adding a metallic tier or painting the whole thing with sparkles and glitter. Seriously, nothing is too OTT for a New Year's Eve wedding.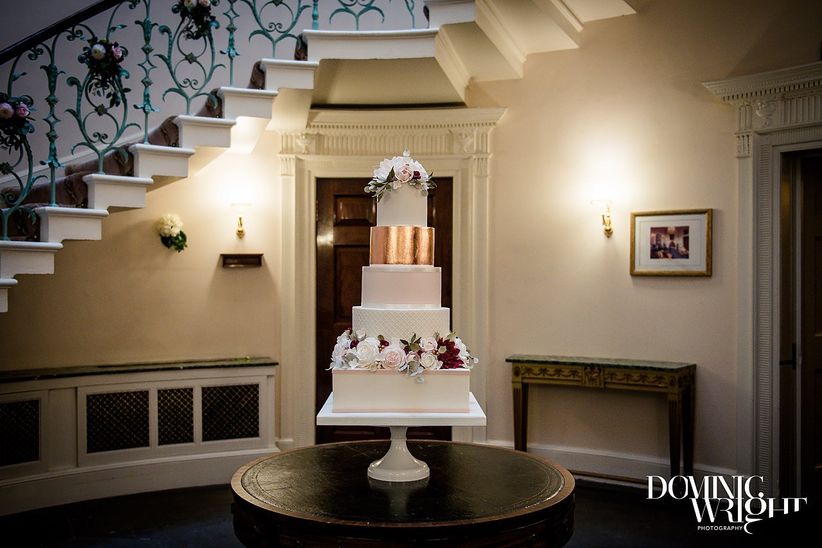 Disco ball
Add a disco ball to your decor so that your dancefloor really shines!
Props
Supply your guests with fun party props like hats, boas and inflatable instruments. These are guaranteed to be a hit both on the dancefloor and in your photobooth.
Photobooth
Speaking of wedding photo booths, you totally need one for your reception. You can make it a little more NYE-worthy by adding a metallic or sequin backdrop (just make sure it blends well with the rest of your decor).
Balloons
What's a party without balloons? Pack your reception space with dozens that match your colour scheme (gold, white and black are always a hit for New Year's Eve).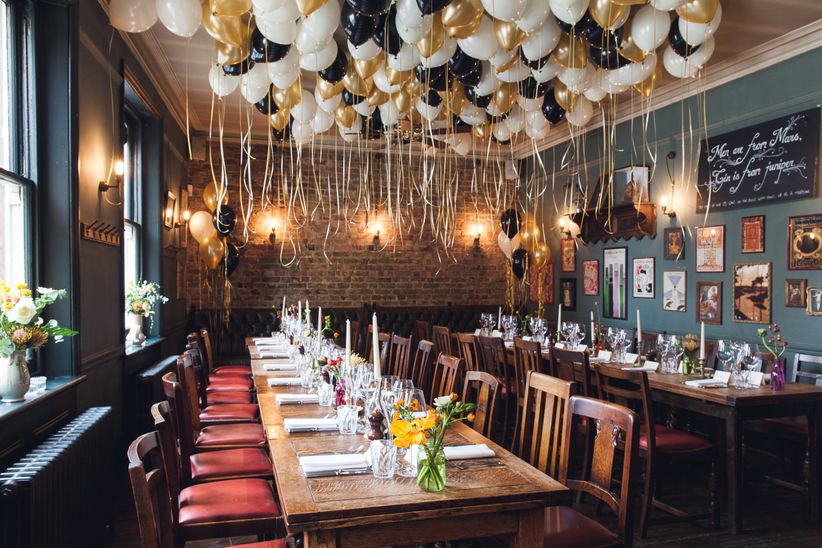 Glitter bar
Give your guests the opportunity to get a little more glam at your New Year's Eve wedding by putting up a glitter bar in your venue.
Shots
Since you want your wedding reception to be a real party, you'll want to have some fun shots ready to go, too!
Sparklers
Still don't have enough sparkle going on for your liking? When night falls, give your guests sparklers to play with (or as wedding favours when they leave).
Confetti
Ring in the new year by showering you and your guests with confetti when the clock strikes midnight.
Fireworks
End your New Year's Eve wedding with a bang by coordinating a fireworks display for the end of the night.
Find more wedding ideas and inspiration in our Real Weddings section!