Looking for some original London hen party ideas? We've got you covered. Now, as you probably know, hen dos are all about fun and games, so don't take it too seriously, but do keep the bride in mind when putting together the event. From perfume making parties and spa days to cocktail bars and restaurants, you're sure to find something on this list that suits your guest of honour perfectly.
Here are 10 London hen party ideas for every type of bride.
Perfume mixology class for the beauty queen
If the bride-to-be is has spent hours scouring Space NK for the perfect nude lippy and/or has just about every Lisa Eldridge video saved in her tabs, you should probably consider throwing her a beauty themed hen do. The Perfume Studio will help you host a private workshop where everyone will get to step into Jo Malone's shoes and create their own signature scents. Not only will this be an amazing time for you and the rest of your pals, it may help the bride-to-be come up with her dream wedding perfume, too.
Cocktail masterclass for the party animal
If your best friend never strays far from G&Ts, it may be time to teach her something new about cocktails. Consider hosting a night of mixing, muddling, stirring and shaking with a seasoned pro at Revolution, so that she can upgrade to something a little fancier. Crafting drinks isn't all you'll be doing, though - the staff here will put together fun drinking games for you, too, making this London hen party idea exciting. If you think you'll need a bit of sustenance with your boozy bevvies, or plan on hitting the clubs right after your lesson, you can opt for a dinner package, as well.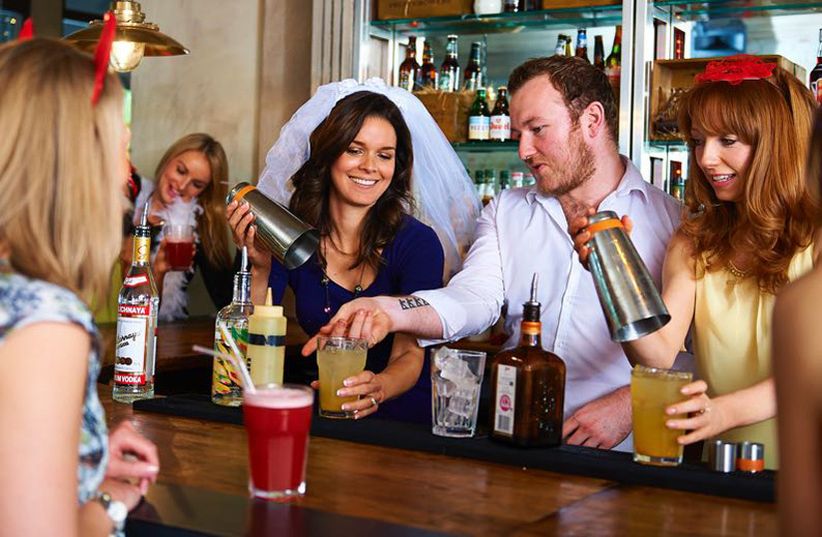 Michelin star dining experience for the foodie
Give the bride-to-be the gift of an amazing meal by hosting a dinner party in London at Bob Bob Ricard. The iconic Soho eatery has received praise for both its design and menu, so you'll be giving her a treat for her eyes and her tastebuds. Its private dining room can accommodate anywhere from 9 to 16 guests for a hen night and mimics the look of the Royal Dining Carriage, so it's definitely more luxurious than a table at Five Guys.
Life drawing class for the budding artist
Round up your squad and get ready to channel your inner Picassos, Renoirs and Matisses, because it's time for a bit of arts and crafts (well, just art really). Hens with Pens is a life drawing class is the perfect blend of fun and sexy - of course, a cheeky nude model has to be involved - making it perfect for hen parties (but a tad tamer than a male strip show). You'll get to don berets and moustaches, listen to swing music and hone your artistic style (or at the very least make a lol-worthy masterpiece).
Spa day for the zen bride
Think your friend could use a timeout from wedding planning? A spa day might be the perfect London hen party idea for your group. Cowshed Primrose Hill can host up to 20 guests in its ultra zen Regents Park Road shop, allowing you to bring together all of her besties for some rest and relaxation. Spend the day getting pampered with manis, pedis, massages and facials (two per person) and indulging in champagne and canapes.
Bowling party for the good timer
Bloomsbury Bowling is a bowling alley meets karaoke bar meets American-style diner – the perfect London hen party idea for the gal who wants to do it all. After indulging in pizza and burgers (now's not the time to be thinking of wedding diets and bridal boot camps) you can test out your Adele impressions in a private room and then hit the lanes to attempt to score a few strikes. P.S. It's also equipped with a fully stocked bar, so you can get a bit boozy, too! Looking for something even quirkier? Check out Ballie Ballerson in Shoreditch. This ball pit cocktail bar with one million balls, drinks and eats is the ultimate adult playground with lots of group packages to choose from including a boozy brunch and private pit hire.
Pole dance class for the dancing queen
Let your bestie say her sweet goodbyes to unmarried life with a cheeky bit of dancing. No, this isn't your regular salsa or hip hop dance class - it's saucier than that. At Polepeople, you'll learn the basics of pole dancing, plus some impressive tricks and poses. You can even get creative and choose a song to choreograph a routine for everyone on your hen party guest list to learn. Bonus: pole dancing is a killer workout, so the bride-to-be can probably have a few extra drinks the night of her party.
Private capsule on the London Eye for the city girl
If the guest of honour is London born and bred, she's probably been on the London Eye one or two times for the unparalleled views of central London's world-famous landmarks. But you can make her experience a little different this time around. Book a private capsule and get the full VIP treatment for her last hurrah, complete with a champagne reception and a three-course meal. This is a pretty costly option, so if you're looking for something a bit more budget-friendly, you could book a private capsule ride sans dinner, instead.
Luxury treehouse getaway for the nature lover
Want to turn the hen party into a mini holiday? Chewton Glen is totally worth the two-hour drive to the countryside. You and a few of the bride-to-be's nearest and dearest can book the biggest treehouse on offer (it sleeps eight) and have a luxury escape in the woods for a few days. It has everything you'll need to make your hen weekend one for the books: a huge terrace overlooking the forest, private outdoor hot tubs, beautiful bedrooms and lounge areas and a spectacular view. Everyone's fave social media sweethearts, Alfie Deyes and Zoe Sugg, are regulars here, so it's blogger/vlogger approved.
Tipsy afternoon tea for the sophisticate
If you want to give the bride-to-be a super sophisticated single life send-off, the Sanderson Hotel is the place to go. While the hotel does serve a traditional afternoon tea, we suggest taking things to the next level and indulging in the Mad Hatter's Tipsy Evening Tea. You and your squad will be treated to alcohol infused cakes and cocktails, making things a little more fun.
Create a London hen party hashtag with our Hashtag Generator »