London is filled with Victorian hotels and vintage townhouses, but if you want something a bit trendier for your big day, why not go with a warehouse wedding venue? Exposed bricks and beams, rustic flooring and factory-style windows are what give these spots a unique and wedding worthy edge. From an old leather factory to a reservoir centre, this city has a few hidden gems that are worth scouting.
Here are 10 industrial chic wedding warehouse venues in London.
Studio Spaces
Studio Spaces is the epitome of warehouse chic. Inside you'll find a collection of beautiful industrial-style event rooms kitted out with glossy concrete floors, exposed pipes and brick walls. The building, which doubles as a fashion and film studio, is a real chameleon, so you can easily add your own splash of personality with decor and florals. It's got a 7,000 square foot space, making it the perfect option for couples planning a large celebration.
The Brewery
Though it stopped producing beer in the '70s, The Brewery's still a place where people go to drink and be merry for events. Its arched entranceway, cobbled courtyard, exposed bricks walls all make it a stunning space to say your vows (and/or party after your "I dos"). It also employs an on-site planner who will help you hash out all the details for your big day, so you won't have to seek one out on your own. Depending on which space you choose, it can host anywhere from 40 to 1,000 of your friends and relatives, so feel free to add a few extra names to your guest list.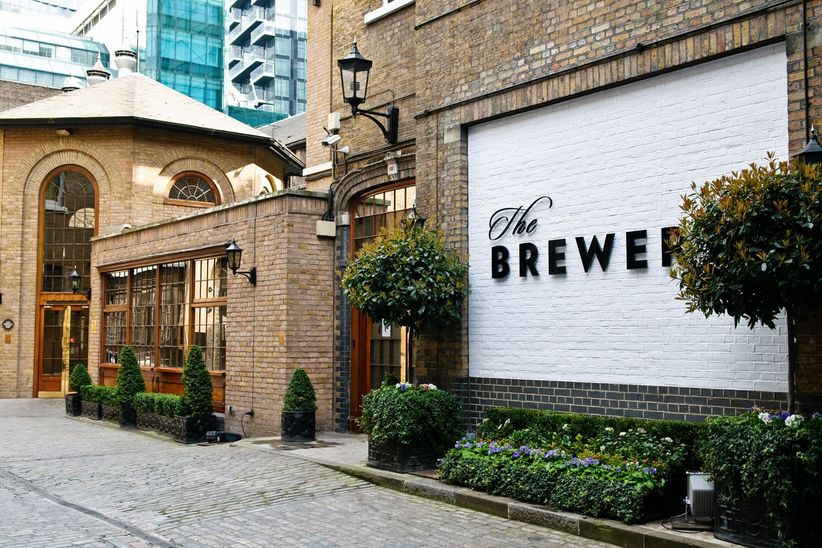 The Happenstance
Foodies, rejoice! If you can't decide between a restaurant venue and warehouse venue for your big day, The Happenstance is the wedding destination for you. Decked out in industrial chic trappings, this place has the beauty of a warehouse and an amazing modern European Menu (your guests stomachs won't be rumbling after your meal, that's for sure). The space is large enough to host up to 350 guests, so feel free to add a few extra plus ones. P.S. If you want another restaurant option, Hixter Bankside is worth checking out, too.
MC Motors
If you want to embrace the rustic warehouse vibes, MC Motors should definitely be on your venue scouting list. It is equipped with a skylighted roof (hello, natural light), naturally distressed walls, vintage props, and plenty of exposed brick and iron. For seated events, it can accommodate up to 200 people and for reception style events, it taps out at 350 guests.
West Reservoir
Want something with a bit of a nautical edge? The West Reservoir is the warehouse wedding venue you've been looking for. The space, which doubles as a sailing centre, has everything you could want in an industrial-style venue: exposed bricks, beams, concrete floors and plenty of natural light. It also boasts an amazing view of the waterfront, so you're guaranteed some amazing wedding photos. It can accommodate 150 guests for a standing reception or 130 guests for a seated dinner. Image: Malaika Donkor
Dalston Heights
Dalston Heights has come a long way since its days as a cardboard box factory. It now functions as a full-blown event venue, but still maintains splashes of its original character. The space is a little less grungy than many warehouse venues, painted all white from floor to pitched ceiling, with small patches of red brick showing through. For your wedding you'll get to make use of its vast array of props, giving you plenty of design inspo to work with. It can accommodate 200 people for a seated celebration or 250 for a standing reception.
Shoreditch Studios
Shoreditch Studios is a railway arch wedding venue with some serious personality. It's outfitted with modern amenities but has maintained its distinct industrial vibe. The space boasts victorian masonry, high ceilings, a spiral staircase, a stunning courtyard and a mezzanine lounge - making it more than wedding worthy. It can accommodate both intimate weddings and larger celebrations of up to 200 guests.
Loft Studios
In the market for a light and airy warehouse wedding venue? Look no further than Loft Studios. This space flaunts exposed beams and bricks, high vaulted ceilings, white walls, rustic oak floors, massive windows and not one, but two, secluded courtyards. It has an on-site event team that will help you figure out all the fine details of your big day and make sure your wedding goes off without a hitch. The space can fit up to 1200 people, but has smaller studios available for more intimate affairs.
Lumiére London
This space is perfect for couples who want something on the sleeker side, as its four event rooms look more like trendy Brooklyn lofts than dilapidated warehouse spaces. Glossy floors, freshly painted walls and trendy, eclectic decor make this one a must-see. Its maximum capacity is 120 guests, so you'll want to be mindful when crafting your list.
Tanner Warehouse
This former leather warehouse has really glowed up over the years. Its interior has a sort of mixed and matched feel, with concrete and chevron wood flooring, distressed white walls and a modern built-in bar/kitchen. Its team will help you put together the wedding of your dreams from start to finish, making the planning process a little bit easier. Concerned about capacity? The venue can host 450 people for a standing reception or 150 guests for a seated event.
Find more London wedding warehouse venues on WeddingWire »