Weddings come in all shapes and sizes and while a grand affair is right for some couples, something a little more intimate is best for others. If you're planning a wedding for £10,000 then you probably fall into the latter camp (the average UK wedding costs roughly £15,000 according to our Global Wedding Report). With a tighter budget, you'll need to invite fewer guests and cut certain non-essentials, but it doesn't mean your wedding will be anything short of fabulous. With our top tips, you can plan a dream wedding without breaking the bank.
Here's how to plan a wedding for £10,000.
Ceremony
While prices will vary based on your location, getting hitched in a church is the most expensive ceremony option with fees averaging at a costly £500. Churches will also often charge for extras such as an organist to play your hymns and someone to ring the bells.
Civil ceremonies are certainly the thriftier option with a ceremony in the registry office coming in at £46 and £86 for the registrar to come to a licensed venue of your choice. If you're planning a wedding for £10,000 then we'd definitely recommend making an early saving and booking a civil ceremony.
Wedding venue
Your wedding venue will use up most of your wedding budget and we recommend tracking down a suitable venue that offers all-inclusive packages to get the most for your money. Many restaurants and hotels offer venue hire, food and drink and even décor within a single package, making it easy for you to manage your wedding budget. Ask your venue to give you the full price including VAT from the beginning so that you're not left with any nasty surprises closer to the day.
It's also a great idea to look at venues that may be offering last-minute deals or cheaper packages over the winter months. Trust us, after looking at these gorgeous winter wedding cakes, you'll fall in love with the idea of an off-season wedding!
Bridal fashion
No bride should feel anything less than amazing on her big day and, thanks to the great British high street, we don't think any bride will. High street wedding dresses are becoming increasingly popular and offer a luxe look for far less than you'd pay in a bridal boutique, so we definitely think brides planning a wedding for £10,000 should hit the local shopping centre. Make a day of it and have lunch and bubbles with the girls to ensure it still feels like an extra special trip.
If you've always dreamt of that bridal boutique experience (we totally wouldn't blame you), then head to a few local boutiques and ask if they have any samples available to buy – you'll be amazed at how many stores do! Many boutiques also sell bridesmaid and flower girl dresses and it's always worth asking if they will offer a discount on bridal party wear when you purchase your dress.
Alternatively, vintage fairs and stores can be goldmines when it comes to wedding dresses. If you love the idea of your dress being your something old, why not choose a second-hand gown? Just don't forget to team it with a vintage bridal makeup look.
Shown here, from left to right: Monsoon, Phase Eight at John Lewis and Monsoon.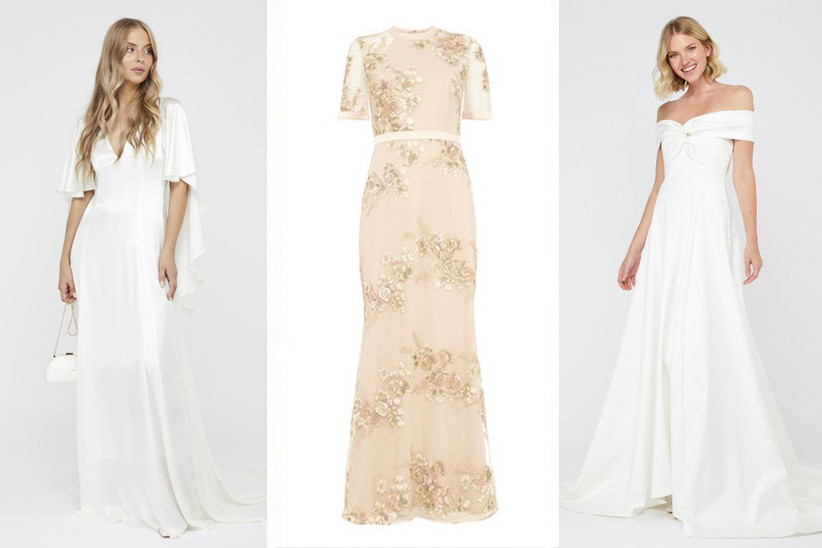 Groomswear
A high street groom suit is a great option for couples planning a wedding for £10,000; these days the shops are packed with hundreds of choices for all styles and budgets. If you're looking for something more traditional, such as a morning suit, look into hiring and get a top-notch outfit for a fraction of the price.
Hair and makeup
To make your money go further, it's worth considering doing your own makeup. Thankfully these days we have access to hundreds of online makeup tutorials (not to mention our essential guide to wedding makeup!) and so it's never been easier to pick up pro tips. To get an even more in-depth tutorial, head to your local beauty counters and ask them to demo products you're not sure about – brands will often give makeovers and offer a discount on products.
Alternatively, if you know a friend or family member is a total whizz with the beauty blender, why not ask them to do the honours on your big day? You can work on the look together ahead of the day, ensuring you both feel comfortable and confident.
When it comes to hair, we would recommend splashing out some of the budget on a professional. Wedding hair updos can be seriously tricky and when you start adding hair accessories and veils into the mix, things can get stressful very quickly! Treat yourself to a morning at the salon or have someone come to you and simply sit back and let them work their magic.
Décor
Wedding flowers often eat up large amounts of the wedding budget and so it's important to be realistic about what you can afford. Sticking with plenty of foliage and seasonal blooms that don't need to be imported into the country is the best way to save on flowers.
Wedding balloons are a budget-friendly and on-trend wedding décor choice and flower alternative. Balloons can be crafted into arches, suspended from the ceiling or used as place names – the only limit is your imagination! Paper lanterns are another stylish option.
Wedding cake
The wedding cake not only acts as the centrepiece of your wedding reception, but it also forms part of a symbolic wedding tradition, so it's important to have one. Supermarkets such as Waitrose and Marks & Spencer offer stunning cakes for a fraction of the price of a custom-made creation and many bakers will offer simple one-tier and naked cakes for around the £150 mark. Add some berries or fresh flowers yourself to give your cake a luxe feel for less.
Wedding stationery
The best way to save money on stationery is to create a wedding website and send invites via email, linking to the website. Keep information and updates on the website and choose a design template that matches closely with your wedding theme to give guests a hint of what's to come!
For on-the-day stationery, get crafty and create a table plan yourself. Buy plain place name cards and have the bridal party member with the nicest writing complete the names.
Entertainment
A wedding DJ is likely to be cheaper than a live band and a DJ will often throw in extras such as lighting and effects, so it's worth considering this as a wedding disco option. You can also create your own Spotify playlist (or check out one of ours!) and simply plug into your venue's sound system and dance the night away to your favourite tunes!
Get organized with WeddingWire's FREE wedding planning tools »