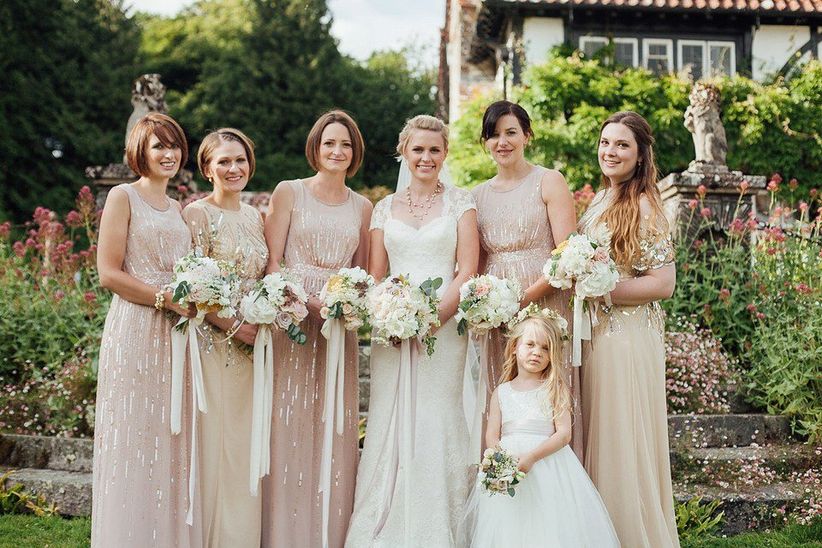 Your wedding dress is probably your number one priority, but don't forget about your girl squad's ensembles! You want them to be looking and feeling their best on your big day, so put a bit of time and effort selecting their outfits. With so many cuts, colours and styles to choose from, it can be a pretty overwhelming task, but don't stress, we're here to help! Use this guide as your compass and you should have no trouble coming up with some killer looks for your BFFs.
Here's how to choose your bridesmaid dresses.
Make yourself a roadmap
From tight fitting minis to flowing maxis to stylish jumpsuits, you're pretty spoilt for choice. While having options is definitely a good thing, there is such a thing as too many. Before you start scouring websites and store catalogs, make yourself a list of non-negotiables. This could include things like colour (one that matches or complements the rest of your wedding decor), length, neckline or overall style. This will help narrow your search and keep you track.
Keep an open mind
While you should have an idea of what you want, you shouldn't be too picky. Why? Because your dream dress may not fit one or more of your 'maids perfectly. Things like height and body type can really change how an outfit looks, and there's a good chance your #1 choice will not be flattering on every girl. However, this doesn't mean you have to opt for mix and match dresses (though that is an awesome option). Simply change bits and pieces of your desired dress to fit each bridesmaid (i.e. offer a few different length or neckline options in the same style and colour).
Do your research
Before you head out on your grand adventure, browse our bridesmaid dress galleries and make a list of shops that carry styles you love. Remember, you don't have to stick strictly to bridal salons. Stores like Selfridges, ASOS and Topshop have amazing wedding-worthy options, too. If you go into one store and you don't see anything that catches your eye, don't call it quits. Finding bridesmaids dresses can be tough and it usually takes a bit of searching to find the right ones.
Make money a priority
You don't want your wedding to leave your 'maids with massive credit card debt, so pay attention to price tags! Like bridalwear, bridesmaids dresses can get pretty darn expensive, so you'll want to ask your BFFs what they can afford before you start pulling gowns. Keep in mind that high street options can be just as stunning as high end frocks, but you may have to spend a little more time hunting them down.
Don't forget about accessories
The right jewellery and accessories can take a meh outfit and turn it into a showstopping ensemble! If you think your bridesmaids dresses are a little on the basic side, jazz them up with some fun pumps or bold jewellery. If you've gone for bolder outfits, tone them down with nude slingbacks and simple studs.
Find bridesmaid dress inspiration in our galleries »