Ready to make a wedding guest book? We've created this step-by-step guide so that you end up with a keepsake you love. From choosing the right vessel for all those sweet messages to purchasing the right writing tools, this article will fill you in on all the things you need to know.
Here's how to make a wedding guest book.
Don't be afraid to go off the beaten trail
First things first, you've got to lay the foundation and figure out what is going to hold all of your guests congratulatory messages. While many couples go with a lined or blank page book, that's definitely not you're only option. Just about anything - from records to furniture to polaroids - can be the base when you make a wedding guest book.
Make sure there's space
Some of your wedding guests will want to write you lengthy messages while others will keep their congratulatory notes short and sweet, and you'll want to have room for all of it. If you're not going the traditional route and choosing a book, when you make a wedding guest book you'll need to make sure there's enough space on your desired base for everyone to leave well wishes. For example, if you're hosting a wedding with hundreds of guests, you'll probably need something a touch larger than a single LP.
Make it personal
Your wedding guest book is a keepsake you'll hold onto for the rest of your life, so you probably want it to be a bit more personal than a plain 'ol book. If you are going the traditional route with a paper wedding guest book, get it monogrammed or add photos of yourselves to the cover and interior. If you're going for something more original, like a bench, think about getting it engraved with your initials and wedding date. Remember, you'll want it on display for years to come, so make it stylish enough to show off in your home.
Stock up on pens and markers
Your guests will need the right tools to write out their messages, so make sure you have a solid supply of pens and markers on hand. Keep in mind that certain objects call for certain writing tools, so be mindful. For example, a standard black pen probably won't do too much for a book with dark pages, so you may need to stock up on metallic Sharpies or brightly coloured gel pens.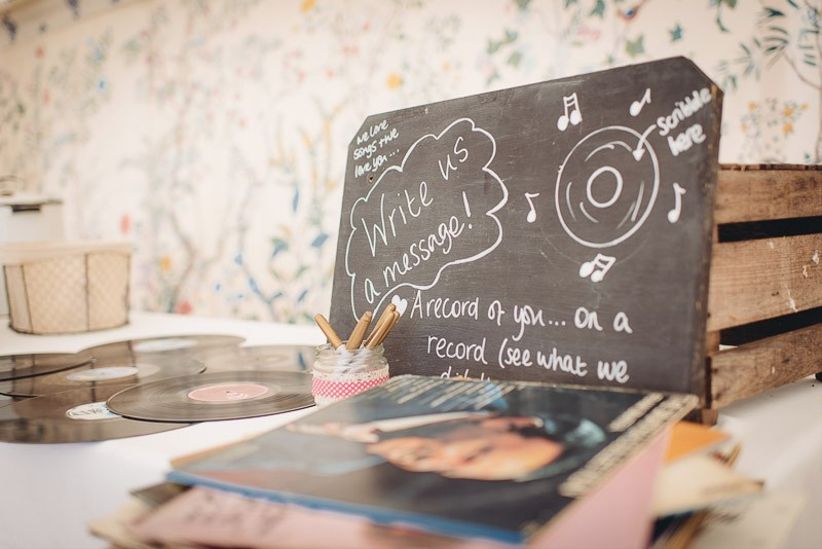 Looking for more ideas to make a wedding guest book? Browse our Real Wedding galleries on WeddingWire. »