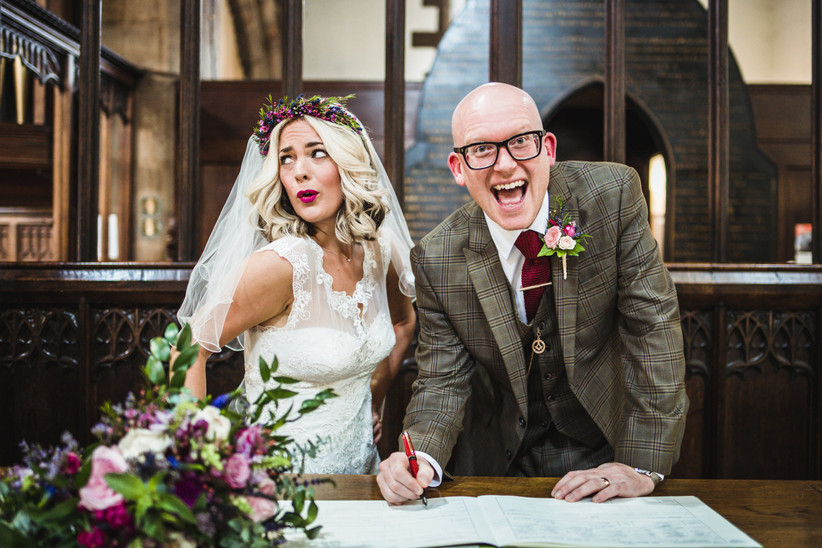 From choosing your wedding dress to finalising your wedding playlist and wedding flowers, planning the biggest day of your life is pretty exciting. When it comes to the legalities on how to get married in the UK though, things can get complicated and, we're not going to lie, a little less exciting. To make sure you're totally clued up and can get back to the best bits of wedmin as soon as possible, we've answered all of your questions, right here.
Here's how to get married in the UK.
Who can legally get married in the UK?
Any two people over the age of 18, or 16 with permission from a parent or guardian, can marry in the UK as long as they are not closely related. If you or your partner is a foreign national, you may need this additional legal paperwork.
What type of wedding ceremony can we have?
You can have a religious ceremony or a civil ceremony. Same sex couples can form a civil partnership (read about gay marriages to find out more).
A religious ceremony must take place at a registered religious building. Your marriage needs to be registered by an authorised person, such as a religious minister. Currently, same-sex couples can get married in a religious building if it has been registered for the marriage of same-sex couples but cannot get married in an Anglican church.
In England and Wales, a civil ceremony takes place at a register office or a licensed wedding venue (approved by the local council). A registrar must carry out, or be present at, your ceremony and you must exchange vows.
The rules are different when it comes to getting married in Scotland or Northern Ireland.
How much does getting married in the UK cost?
A civil ceremony starts at around £120, but it is dependent on your local registry office or chosen licensed wedding venue. This cost includes £47 for the registrar at a register office and £35 per person to give notice of your marriage. For weekend services of a registrar at a venue of your choosing, you can spend up to around £400.
The cost of a registrar at a registered religious building is £86. Religious service costs are determined by the individual places of worship and there are often extra charges for things like bell ringers and having the organ played.
Can you get married in any location?
Sadly, no – but there are plenty of options!
A wedding venue in England and Wales must be licensed for your ceremony to be legal. The venue must be fully approved and be a permanent structure, ruling marquees and tipis out. You may have a non-legal blessing in another location, but you will need a civil or church ceremony before it's official.
Can we get married outside in the UK?
Under shelter, yes! There are a wide variety of wedding venues in England and Wales offering permanent outdoor structures under which you can legally marry. To find out all of the ins and outs, check out our article on getting married outdoors in the UK.
What time of day can I get married?
Whenever you like! The law has changed over time, meaning there are no limits on this. Do check with your venue or celebrant though, they may have limits of their own!
Do we need to tell anyone in advance if we intend to get married in the UK?
To get married in the UK you must give notice first. You can do this up to a year before your wedding date, but no later than 16 days before the big day.
If you're marrying in church, your vicar will read the banns, notifying the congregation of your intention to marry.
How do I get married in a church?
Luckily, in 2008 the rules changed so that you no longer have to stick with your local parish, you can now marry at any church with the permission of the vicar. You may need to visit the church on a number of occasions and attend a preparation for marriage session to do this.
Do I need guests present?
You only need two witnesses to get married in the UK, so long guest lists are certainly not necessary!
Can we write our own vows?
Yes! Although you'll need to include declarations that you can get from your local council. Find out how to write your wedding vows to get started.
Can we choose any wedding readings?
You can't include any wedding readings with religious references in a civil ceremony, you must also check your choices with your registrar ahead of the day.
Churches usually require you to have at least one religious wedding reading included in your ceremony, you will also need to check your choices with your vicar.
To find out more about how to get married in the UK, visit the government website.
Find your wedding venue and suppliers on WeddingWire »