Planning a wedding is a process that requires lots of attention to detail. You'll carefully select all your wedding suppliers and then you'll find the perfect wedding dress. If you've picked out your dress and have decided on a bridal hairstyle, you're ready to start thinking about the bridal accessories. This is one of the most fun parts of wedding planning, so take note.
Believe it or not, but it's important to put some careful thought into what kind of bridal accessory you'll pick to adorn your beautiful bridal hairstyle. Not every accessory will fit with every hairstyle, wedding dress or bride. So below we've detailed all the factors you should consider when picking your bridal hair accessories.
Your personal style
If you tend to go out wearing flashy accessories, then it's only fitting for you to do so for your wedding, whereas if you tend to wear very few accessories, keep this in mind when selecting your bridal accessories as well. On your wedding, you should keep in mind your own personal style so that your bridal style makes sense for you. Years from now, you'll look back at your wedding photos. So, whether you want something that's trendy this year or something that will always be in style, when picking your accessories, ask yourself, "will I love this 10 years from now?"
The style of your wedding
Consider the style and theme of your wedding, as well as the location. Your accessories should match your wedding just as much as your wedding decorations should. So, if you're having a rustic open-air wedding, some fresh flowers will work beautifully in your hair. On the other hand, if you're having a city wedding in a grand hotel, something with shine and glamour is a fitting choice.
Your wedding dress
Your wedding dress is important to consider when picking your bridal hair accessory. It's all about maintaining a balance. For example, if your dress has a lot of detail or is very grand and impacting visually, then it's a good idea to keep your accessories low-key and simple. On the other hand, if you have a sleek, modern, simple wedding dress with few details, this gives you the freedom to pick just about any accessory. When you have a simple dress, it's like having a blank canvas, so you can play around with different accessories and jewellery. Another aspect of your wedding dress to consider is whether or not you'll wear a bridal veil. If so, keep in mind that the veil will need to be fastened to your hair, so talk to your hairdresser about this so that you can pick the right accessory that won't get caught in your veil.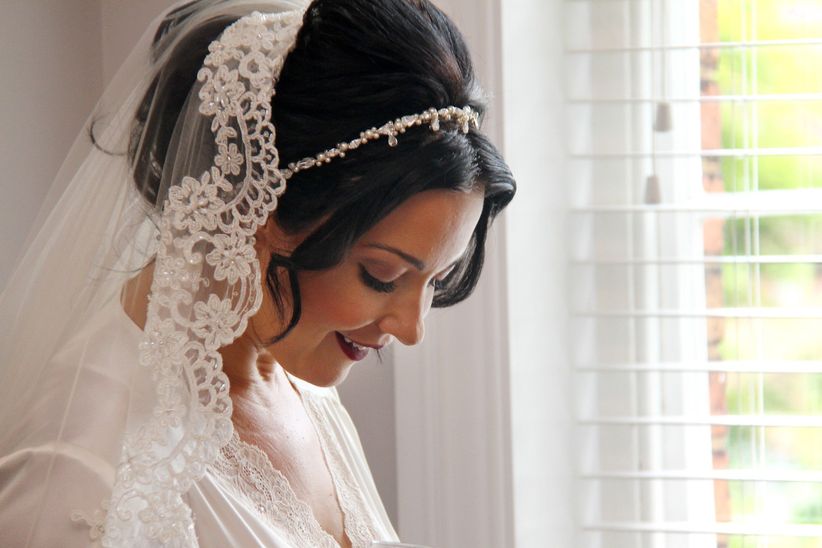 Your hair type
This is probably the most important thing to consider when picking your bridal hair accessories. Your hair type is an important factor, as it can influence the effectiveness of the hair accessory. Whether you have a full head of thick hair or very thin hair to work with, not all accessories will work the same way with your hair. Make sure to consult your hairdresser before buying the accessory. Their advice will be invaluable in helping you select the right accessory that will stay put throughout your entire wedding.


Your hairstyle
The style you choose greatly influences what kind of accessories you can wear or that work best. There are endless bridal hairstyles to choose from, so you should select your hairstyle before selecting your accessories. You may decide to wear your hair down, half up, all up or something in between and there are accessories that will work best for each bridal hairdo.
The rest of your accessories
Keep in mind that you'll probably wear other accessories or jewellery, and they should all match and there should be a balance among them. If you've picked a statement necklace or flashy earrings, then it's best to pick something simpler for your hair, thus creating a balance. It could also be a good idea to consider how your bridal bouquet will be. If you're choosing to wear fresh flowers in your hair, consider using some of the same flowers or colours. They don't need to be the exactly the same, but they should be the same style.
After carefully considering these factors, you may even decide not to wear any accessories in your hair at all. As long as you stay true to your style, your wedding style and hair type, you'll make the right decision and look spectacular on your wedding. Share with us your bridal accessories; we'd love to see them.