First things first, accept right now that you won't be able to make everyone happy. In fact, keep this in mind throughout your wedding planning. Of course you want your guests to be comfortable, sitting next to people they like, or at least people they know. We're going to try and make your life easier with these 6 tips to organise the tables at your banquet.
1. Final headcount
Months ago perhaps you thought, "great!, everyone is sitting in the perfect spot, everyone will be happy". But as your wedding date nears, schedules change, people get sick, people suddenly are able to make it to your wedding, and now you don't even recognise your beautiful, perfect seating plan. To avoid this, keep in touch with your guests as much as possible so that you have time to make changes. The week before your wedding we recommend that you make a final call to confirm uncertain guests. This way you'll avoid last minute surprises and you'll have time to modify the seating plan.
2. The WeddingWire.co.uk Table Planner
Our Table Planner is a tool that our brides swear by. Control everything from your mobile, computer or tablet:
From day one you can create a list of all your guests with their information, such as contact details and keep track of their status (invited, confirmed, not attending, etc).
Easily add all the tables and their shape (square, rectangle or round) to your banquet hall and simply drag and drop your guests into their seats.
Modify your guest list and seating plan at any given moment. It automatically saves, so you won't have to worry about constantly saving your changes.
Download your seating plan as a PDF and have it on hand to show your caterer, the venue, even the photographer. They will appreciate just how organised you are!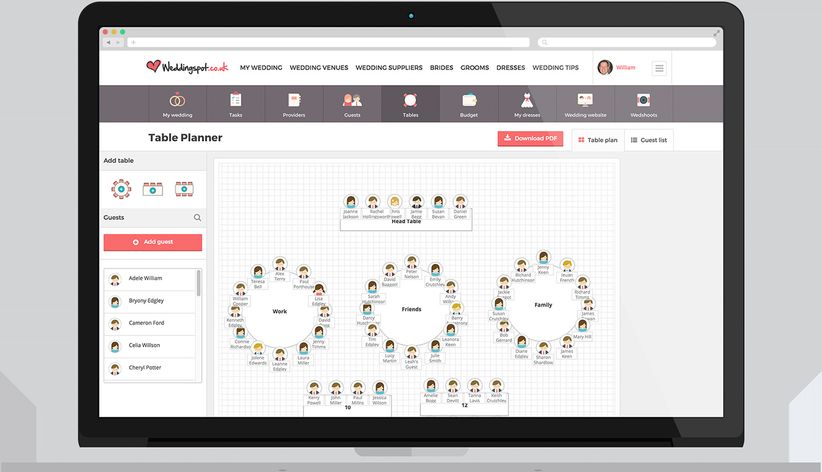 3. Who sits where
If you are not sure where to place everyone, let's start with your table. Will you sit alone or will you sit with family?
If you sit with family, usually it will be with your parents on your sides and perhaps the priest or celebrant if you choose. Not only your table, but also your seats should be facing all the guests. This way everyone can see you and you don't give anyone your back. For this reason, it's often recommended not to seat anyone on the other side of your table (with their backs to everyone). An open C shape is best so that everyone at your table faces the rest of the tables.
As for the rest of the tables, logically you would seat the rest of your close family in adjacent tables, following the rest of the family, and then all your closest friends. Unfortunately not everyone can be close by, so usually acquaintances are farther away from the bride and groom's table.
Let this serve as a general guide to help you decide the table arrangement, but it is completely up to how you want to seat your guests, so don't feel pressured to only do it a certain way.
4. Avoid tables filled with strangers
It might seem like an easy decision to just seat all the "extra" people at one table together "so that they can mingle", but this is not the best option. Try to put yourselves in their shoes and think about whom they would get along with. This requires a bit of thought, but they will really appreciate it and have more fun at your wedding.
5. Kids table
If you're inviting kids to the wedding, you should think about where they'll sit. If they are less than 3 years old they'll sit with their parents (remember to ask the venue for highchairs). If you have a group of children older than 3 then you can seat them at a fun kid's table so they can have as much fun as the adults at your wedding. If they are very young, you'll want to hire a professional babysitter (or even someone who will entertain them during the wedding). Parents will thank you.
6. Round tables
The shape of your tables matters. Round tables encourage better conversation among guests because everyone is facing inward, towards each other. Ask your caterer or the venue if they have round tables. Also ask if they have extensions so that you can take advantage of the space and have larger or smaller round tables depending on the number of guests at each table.
As a side note, make sure that your centrepieces don't block everyone's view of one another. When you choose your centrepieces, test them by sitting on both sides of a table and seeing if there is good visibility or if the centrepiece is bothersome.