If you and your partner prefer the wizarding world to reality, why not host your celebration somewhere truly magical? While you won't be able to apparate to an actual mystical destination, several Harry Potter filming locations in the UK double as wedding venues and are the perfect pick for muggles like you. From Hogwarts to the zoo where Harry Potter first spoke Parseltongue, there are a handful of awesome spots to consider.
Here are a few Harry Potter filming locations that double as wedding venues.
Alnwick Castle
Unfortunately, Hogwarts School of Witchcraft and Wizardry doesn't exist IRL, but Alnwick Castle is the next best thing. This Harry Potter filming location was used to portray the famed magical institution in both Harry Potter and the Philosopher's Stone and Harry Potter and the Chamber of Secrets. On your big day, you can make use of its grand Guest Hall and Hulne Abbey. The former can be used for both receptions and ceremonies while the latter can only be used for ceremonies (though you can make use of the grounds for the rest of your event). At most, it can accommodate 200 guests, so it's great for midsize to large events.
Oxford University
The cloisters at New College and the large oak tree were used to portray Hogwarts School of Witchcraft and Wizardry, but in a later film (Harry Potter and the Goblet of Fire, to be exact). While you can't hire New College for a wedding, Oxford University has about twenty function spaces available and can accommodate both intimate and extravagant, large-scale weddings, giving you options when it comes to creating your wedding guest list. If you're hunting for a castle-like wedding venue, it should definitely be on your radar.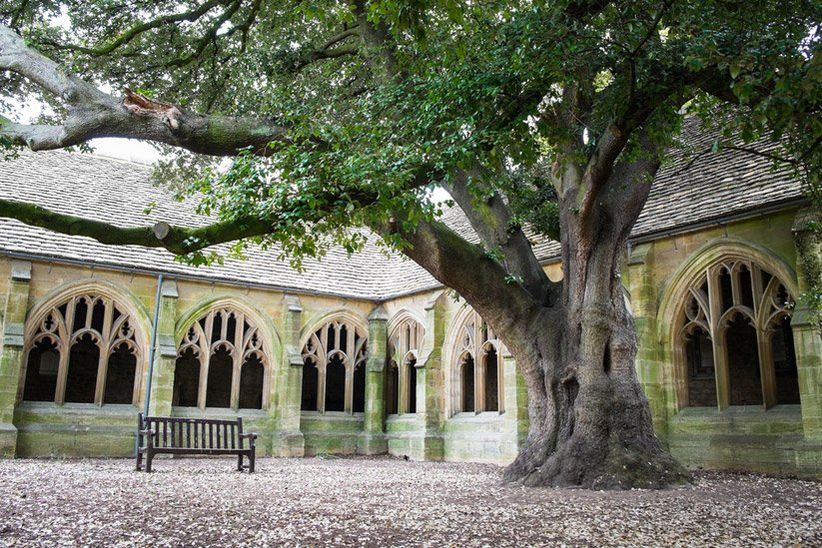 ZSL London Zoo
Remember the scene in Harry Potter and the Philosopher's Stone where Harry talks to the snake and traps Dudley in its exhibit? Well, that was filmed at the ZSL London Zoo. While you can't celebrate your new relationship status with the reptiles, you can make use of other areas. Its gorgeous Mappin Pavilion and Prince Albert Suite are both available for weddings (both are licensed for civil ceremonies, too). So far as space is concerned, the pavilion can fit up to 80 guests while the suite can fit up to 300 guests.
Searcys St Pancras
Though Kings Cross is the station where Platform 9 ¾ is located, exterior shots of the nearby Kings Cross St Pancras Station have been used as Harry Potter filming locations, too. If you want to give a nod to that, host your event at Searcys St Pancras. The restaurant/champagne bar hybrid is located on the Grand Terrace of the building and has chic industrial, Art Deco vibes. It can accommodate up to 400 guests, meaning you can fit all of your nearest and dearest (plus a few more for good measure).
Bodleian Library Divinity School
Bodleian Library Divinity School is Oxford University's oldest teaching and examination room and was used as a Harry Potter filming location for the Hogwarts infirmary in Harry Potter and the Philosopher's Stone. With a few tweaks, it can be turned into a wedding-worthy space that will impress your friends and relatives. Speaking of, it can fit up to 20 seated guests, so be selective when creating your invite list.
Find your wedding venue on WeddingWire »