With so many elements to consider from wedding cars to table plans and wedding photography, you probably haven't given your wedding reception entrance a second thought. Although we totally get that you have a to-do list as long as your arm (we've been there!), we'd like to make a case for the grand wedding reception entrance. After saying 'I do' to the love of your life, it's only right that you start as you mean to go on and enter the next phase of your celebrations in style. Follow our tips to glide into married life in the most memorable fashion possible.
Here's how to make a grand entrance at your wedding reception.
Hit the right note
Why enter your marquee or banquet hall in silence when you could do it to some meaningful music? Factor an entrance song into your wedding breakfast playlist and have your wedding coordinator hit play for your big moment.
For an even bigger impact, you could get a live band or musician to play a piece of music that means a lot to your both as you walk to your places at the top table. Have the musician set up at the side of the room or wandering between tables for an immersive experience for your guests!
Get moving
If you're both big characters that love nothing more than taking on a challenge, why not learn a dance and groove your way in to your wedding reception? Get guests giggling and in the mood to party as you sashay past the tables to your seats and make sure your photographer is poised and ready to capture your moves and their reactions!
Flash mob
If you love the idea of dancing but tend to shy away from being the centre of attention, why not ask your bridal party to get involved? Choreograph a simple routine for you all to follow as you head to the top table.
Arrive in style
If you're planning an outdoor wedding reception, a fancy or novel vehicle is a great way to make a stylish entrance. Whether it's a fancy car, horse-drawn cart or a motorbike, you can show off your unique style and give guests a fantastic photo opportunity as you pull up to the party!
Confetti cannons
If your wedding venue permits, a confetti cannon is a great way of marking your entrance. Have bridal party members in place ready for your big moment and just as you arrive, get them to fire their cannons, giving guests a spectacular surprise!
Light it up
Wedding DJs and bands often come with their own range of mood and special lighting effects, why not have them come along to your wedding reception a little early and set up a special light show for your entrance? Perhaps your initials could be beamed onto the marquee wall or the lights turned low to reveal an ambient, fairy-lit feel.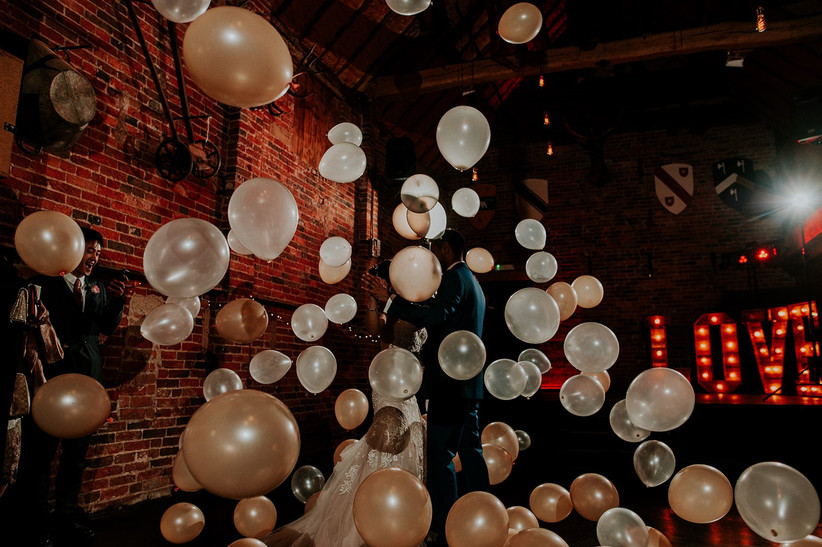 Balloon drop
Have dozens of balloons in your wedding colours suspended above the entrance and then dropped as you come in for a spectacular surprise that will look amazing on wedding photos too!
Find your wedding disco and entertainment suppliers on WeddingWire »