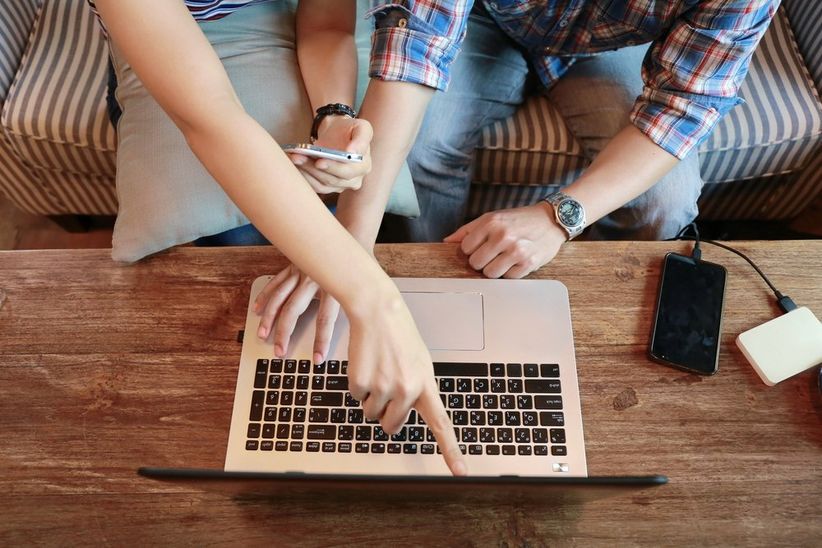 Before you order your stationery, you'll want to start working on your wedding website. This is where all of the important information about your big day will live, so it's a step you definitely don't want to skip as you'll probably want to include the URL on your wedding invitations. From your wedding's key information to your photo app details, these are all things that should be on your page. P.S. if you use our free and handy wedding website tool, it'll only take a few clicks to create.
Here's everything you need to have on your wedding website.
Important info about your wedding
Yes, you'll send out save the dates and invitations telling your guests all the important information about your big day, but there's a good chance that a couple of those will go MIA between when your guests receive them and your wedding day. Having details like the hosts' names, date, time, ceremony venue address, reception venue address listed on your wedding website is imperative so that they can access the key details at any time. You'll want to update this section of your site if any major changes are made.
An FAQ page
You'll probably have a few more things you want to tell your guests, and your wedding website FAQ page is where to do it. You can use it to answer questions like "are there any colours you'd prefer me not to wear?", "when should I RSVP by" and "can I bring my children?", which will save you from being bombarded with calls, texts and emails in the weeks leading up to your wedding. Remember, you can always reiterate the main info - the who, what, where and when - here, too.
Directions to your venue(s)
You don't want any of your loved ones arriving fashionably late to your wedding ceremony, so give them detailed instructions on how to get to the address. We suggest including a Google map so that they can simply punch in their coordinates and find the easiest route to your wedding venue (just to be safe you should also type out the city, street address and postcode). Keep in mind that not all of your guests will be arriving by car - some may need to take a train or plane to get to your wedding location, so you'll want to include those details, as well.
Wedding gift list details
You probably worked really hard on your wedding gift list, so you don't want your guests to miss it. Create a dedicated page on your wedding website with all the nitty gritty details about your registry (be that physical presents, honeymoon help or anything else). Don't forget to include links so that everybody is sent to the right page(s).
Accommodation tips and links
Hosting out of towners? Well, they'll probably need a bit of advice on where to stay. Post key details like the hotels' complete addresses, website links and phone numbers so that no one is left shooting in the dark. If you have reserved blocks of hotel rooms, you'll want to list the rates, the discount code and the booking deadline. Be sure to update the page if/when the entire block is booked so that they know to look elsewhere. Whether you've reserved blocks of rooms or not, you'll want to give options for hotels in different price points so that everyone can find something that fits their budget
Things to do around your venue and hotel
Speaking of out of towners, you won't be spending every moment with them, so they'll need to find ways to fill their time. While you could throw sightseeing maps in their hotel rooms, we suggest going one step further and sharing a few of your favourite spots (you know, non-touristy locations). Include links to your favourite eateries, parks, museums, galleries and more so that they know exactly where to go.
Who your wedding's VIPs are
Your wedding guests know who you and your fiancé(e) are, but do they know all the other VIPs? Probably not. Use this section of your wedding website to post pics and mini bios of everyone who will be playing a big role in your big day, like your parents, officiant and wedding party. It'll be a fun read and let everyone know who will be walking in your processional.
A guest book
You've probably already received your fair share of congratulatory texts and calls, but a few of your guests may be hesitant to reach out (not because they don't love you - they probably just think you're super busy with planning). This page will allow them to share all those happy thoughts without feeling like they're hassling you. Bonus: because it's all online, you can revisit them anytime and anywhere.
A wedding guest RSVP page
In the not-so-distant past guests would have to RSVP to weddings using cards included with their invitations - well, not anymore! Though using the mail for RSVPing isn't a completely outdated thing, the internet is much more efficient. If you're using a WeddingWire generated wedding website, you can easily import your guest list and your friends and family will be able to let you know if they can attend with just a few easy clicks.
Your photo app details
Social Media isn't just for posting brunch pics and DIY wins - it's great for weddings, too. While Instagram and FB are undoubtedly awesome, you'll probably want to go the extra mile and use an app like WedShoots to ensure that everybody's photos end up in one place. To make sure all your guests are in the know, give 'em a link to the app and share your custom code so that they can see all the amazing pics and add theirs, as well.
Set up your FREE wedding website on WeddingWire. Upgrade to Premium Design Plus for a custom domain name and to download your website as a keepsake. »