You've figured out your seating plan and where all your wedding reception tables are going to go, but now it's time to make them shine. While you could easily let your venue coordinator take care of the details and use the house linens, dinnerware, chairs and more to put together your wedding reception tables, we think you should take matters into your own hands and turn them into works of art. Use this rundown to help you figure out exactly what you need to pretty up your space.
Here's everything you need to dress up your wedding reception tables.
Table linens
First things first, laying down your base. You'll want to rent tablecloths, runners, placemats and napkins that suit your theme and colour scheme of your big day. Depending on your wedding style, you can really layer them up or pare them down, but we suggest sampling out a few different options to see what works for you. P.S. Like naked cakes, naked tables are super trendy ATM, so you if you don't want to dress yours up with bunches of linens, skip 'em!
Place settings
Flatware and dinnerware and glassware, oh my! These are the place setting essentials that your guests will need to dig into that awesome wedding breakfast you have planned. Now, there's a good chance that your catering company and/or venue has basic options on hand, but if you want to be fancy and get something a little more luxurious for your celebration – like, say, rose gold forks and knives or geode printed plates – you can always hire them from another company.
Stationery
Thought you were done with stationery after you mailed out your wedding invitations? Think again! Your tables are probably going to need names or numbers, place cards and menus (unless you've displayed them elsewhere). Remember, all of your stationery and signage should look cohesive, so make sure you use the same fonts and graphics. Pro tip: you'll probably be able to score a deal with your stationer if you order everything together, so don't complete your purchase until all the details are set in stone.
Centrepieces
Now it's time to pretty up your wedding reception tables! If you're going with flowers for your centrepieces, you probably want to pick blooms and greenery that complement your other wedding arrangements, like your bouquet and altar arrangements. But flowers aren't your only option! feathers, branches, cacti and even origami can be used in their place and look equally amazing.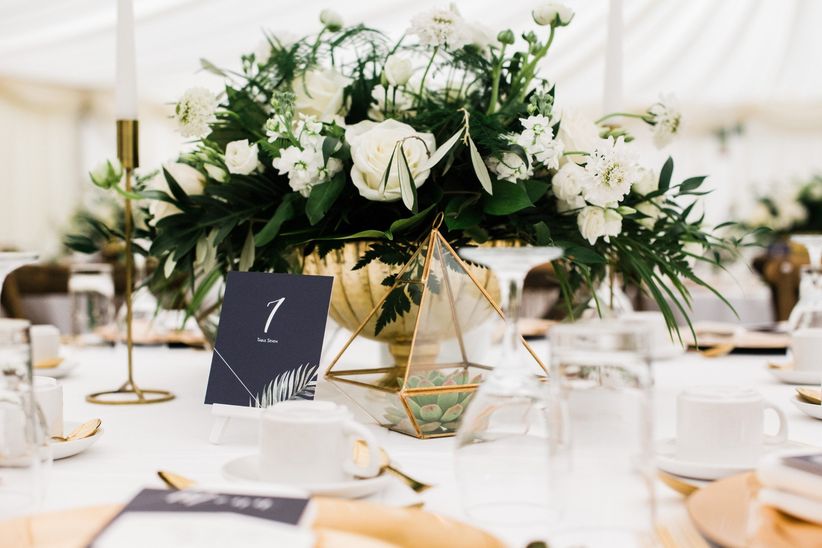 Chairs
Your wedding breakfast isn't going to be too enjoyable if your guests have nowhere to sit, so you can't forget about chairs. If you've opted for a restaurant venue or ballroom venue, it probably has a solid supply of chairs on hand, but if you're bringing your big day to a woodland or country barn, you're going to need to rent them out yourselves. There are plenty of options to choose from, including standard folding chairs, modern acrylic chairs and vintage mahogany dining chairs (we've created this handy glossary to help you hash out what works with your theme) and ways to decorate them.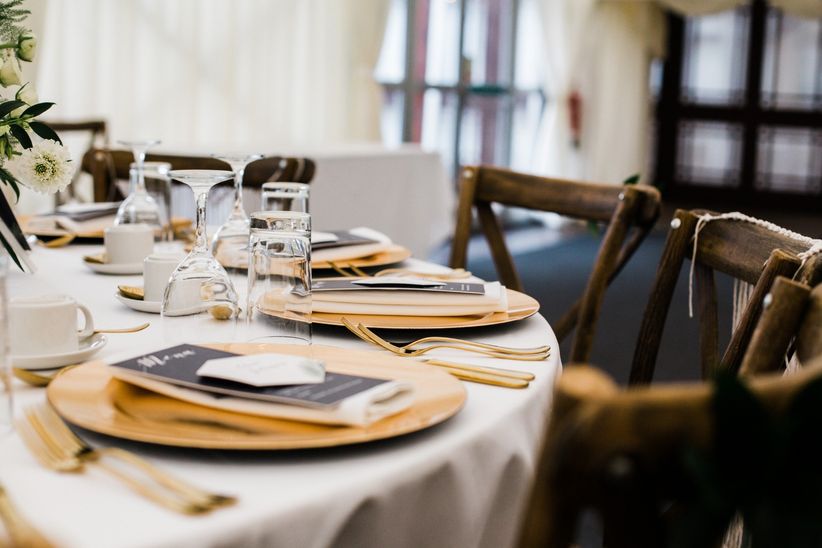 Wedding favours
Some couples choose to dedicate an entire table to their wedding favours while others like to place them on or around each guest's dinner plate. If you've opted for petite gifts like chocolates or itty-bitty bags of seeds, they could probably fit on your reception tables. On the other hand, if you've gone for bigger favours like potted succulents or bags of popcorn may be a little too large (depending on the size of your place settings, table design and centrepieces). There's no 'right' way to do it, so go with what works for you.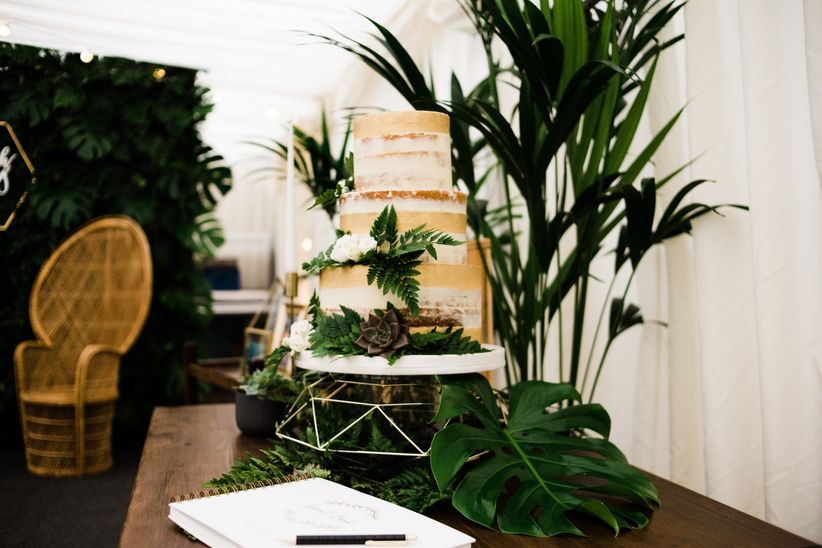 Extra bits and bobs
If you still think your tables need a little something extra, go ahead and add it. Popular additions include confetti, jewels, sparkles, candles and flower petals. The more creative you get, the better your tables will turn out – don't be afraid to take risks.
Find your wedding florist and decorations on WeddingWire »