Want to tie the knot in a fairytale ballroom with chandeliers, grand staircases and all the trappings of luxury? Well, these elegant wedding venues in Sheffield will be right up your street. Whether you want to host your wedding in a hotel or get hitched at a vintage country house, there's something on this list for you.
Here are a few drop dead gorgeous elegant wedding venues in Sheffield.
Tapton Hall
Head to the city's Crosspool area and you'll find Tapton Hall, a Grade II listed building that also happens to be one of the best wedding venues Sheffield has on offer. Inside the 19th-century manor house, you'll find a number of impeccably decorated rooms that can be used for your ceremony and reception, ranging from intimate to expansive. As for style, there's a mix of vintage wedding options and newly renovated spaces, so you're bound to find something that suits your wedding theme.
Capacity: 200 Guests
Wortley Hall
Wortley Hall is an 18th-century gem that's tucked away in a 26-acre estate, giving you plenty of privacy for your celebration. The home is filled with gorgeous stained glass, crystal chandeliers, painted ceilings, ornamental friezes and wood carvings (basically everything you could want in an elegant wedding venue). On your big day, you can make use of one of its four function rooms – all are stunning, so you really can't go wrong – and use the grounds and gardens for your photo ops. P.S. it has a lengthy list of preferred vendors, so you won't have to hunt down your own suppliers.
Capacity: 250 Guests
Halifax Hall
If you're on the hunt for an elegant wedding venue in Sheffield with both indoor and outdoor celebration space, Halifax Hall may just be the one. It has a number of beautiful function rooms, but its grounds and gardens should not be overlooked. Have the best of both worlds by hosting your ceremony and wedding breakfast indoors and then moving to the great outdoors for lawn games and a drinks reception.
Capacity: 150 Guests
Whirlowbrook Hall
Whirlowbrook Hall is a vintage manor house, surrounded by 39 acres of forest, manicured lawns and gardens. It may look old-fashioned on the outside, but the interior has been completely redone, making it the perfect mix of old and new. While you'll have exclusive use of the entire venue (meaning you can make use of most rooms), its Oak Room is the perfect place for ceremonies and its Garden Suite can't be beat for wedding receptions.
Capacity: 120 Guests
Leopold Hotel
What was once a Grade II Listed boys grammar school is now one of the best hotels and wedding venues in Sheffield. While Leopold Hotel's facade has remained relatively untouched, the interior has been transformed into a mix of elegant event rooms and accommodations. Each has a luxurious vintage feel, so you'll still be getting some of that historical charm. Keep in mind that it's best suited for smaller events (its capacity is 60) so you don't want to go too overboard with your invites.
Capacity: 60 Guests
Holiday Inn Royal Victoria Sheffield
If you want to host hundreds of guests on your big day, the Holiday Inn Royal Victoria Sheffield is definitely worth looking into. Its massive ballroom is large enough to fit 350 of your nearest and dearest, meaning you probably won't have to knock any names off your wedding guest list. As for style, you'll find ornate moulding, sky-high ceilings, sparkling chandeliers and all the bells and whistles you could ever want in a wedding venue.
Capacity: 350 Guests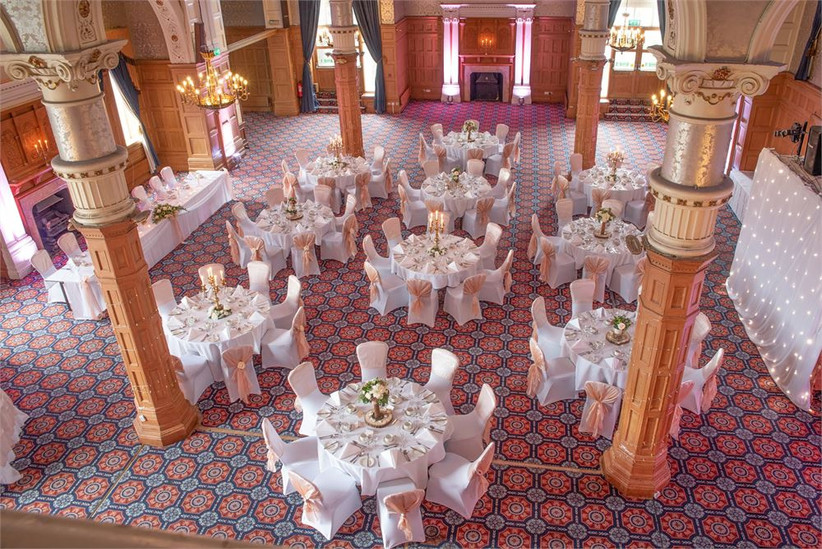 Cutlers' Hall
Cutlers' Hall is a Grade II listed manor home with some serious style. Inside you'll find oil paintings, gilded mirrors, crystal chandeliers, Corinthian columns and other design and decor features you won't find anywhere else. Don't forget to take a few wedding portraits by its grand staircase – it's one of the building's most well-loved fixtures.
Capacity: 200 Guests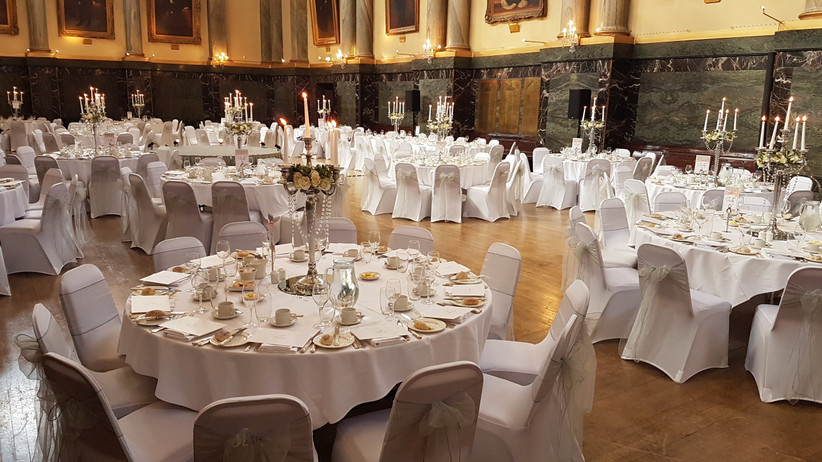 Find more wedding venues in Sheffield on WeddingWire »