If traditional ball gowns, mermaid cut dresses and fancy fit and flare frocks just don't suit your style, you don't have to give up on wedding gowns! Designers have added plenty of more alternative wedding dresses to their catalogues to cater to the brides who prefer out of the box options. Whether you want to show off your legs, rock an ab-baring crop top and skirt or wear trousers on your big day, there's something out there for you.
Here are a few alternative wedding dresses for the unconventional bride.
Mini
Not all wedding dresses have to cascade down to the floor! Many bridalwear designers have added mini dresses to their collections so that the ladies who love rocking higher hemlines have options. You'll want to be mindful of just how short the gown is - showing off your killer legs is one thing, but your nan and grandad don't want to see your bum when you're heading to the altar.
High Low
If you can't decide between a traditional floor length ball gown and a modern mini dress, get the best of both worlds by opting for a high low frock. This alternative wedding dress style has a long skirt in the back (sometimes even a sweeping train) and a shorter skirt at the front. It's the perfect middle ground between modest and bold and is guaranteed to keep all of your guests' eyes on you.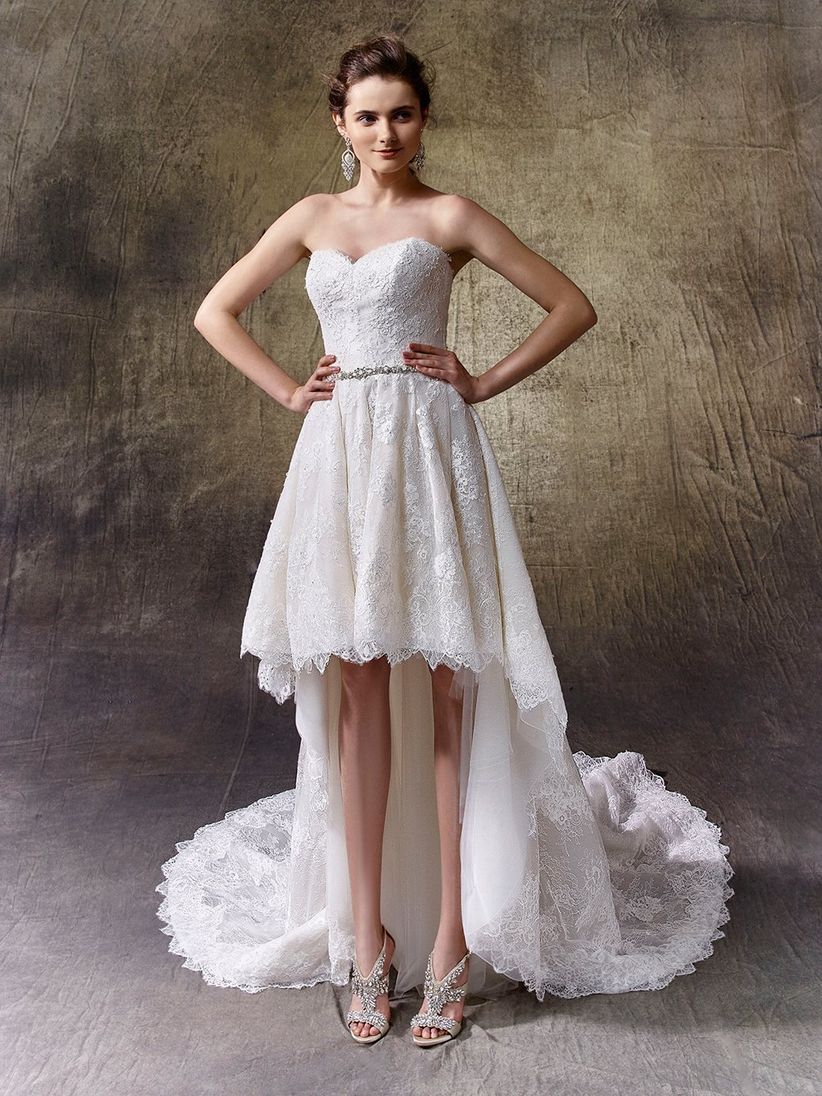 Two Piece
Don't adore any of the wedding dresses you've tried on? Why not go for a shirt and skirt (or trousers) combo? If it's done right, this alternative wedding dress idea can look just as dramatic (or even more dramatic) than a Cinderella-esque ball gown. One of the great things about this type of ensemble is that you can tailor it to fit your frame. For example, if you love your stomach but aren't the biggest fan of your legs, you could do a long sleeved crop top and maxi skirt. Don't be afraid to mix and match different styles and colours.
Jumpsuit
If you don't feel your best in a dress, go for a jumpsuit or romper, instead. Nowadays you can find everything from sleek floor-length numbers with plunging necklines to short and sweet rompers with fancy frills, making it easy to find one that suits your style. If you are opting for one that shows off your stems, don't forget to invest in an amazing pair of shoes (now's the time to splurge!).
Tuxedo
Speaking of ditching the dress, a jumpsuit isn't your only option. Tuxedos are becoming more and more popular for women - I mean, just look at any red carpet - and you can totally rock one on your big day. You'll want to make sure that yours isn't identical to what the men in your wedding party are wearing, so try choosing a bold hue or sleeker silhouette.
Find more alternative wedding dress styles in our gown galleries.