Want to feel like total royalty when you tie the knot? Well, these castle wedding venues in Scotland need to be on your radar. Having your ceremony and/or reception in one of these spots will give your celebration some historical flair and vintage elegance, making it absolutely unforgettable. So if you're getting married in Scotland, we've rounded up our faves to make your job just a little bit easier.
Here are all the drop dead gorgeous castle wedding venues in Scotland that you need to see.
Edinburgh Castle (Edinburgh)
Edinburgh Castle is without a doubt one of the most popular castle wedding venues in Scotland. Located high above the city on Castle Rock, it offers some seriously stunning views of the hustle and bustle below. But that's not all! It's home to a wide variety of ceremony and reception spaces, including its very own chapel and a number of elegant, vintage event rooms, perfect for drinks and canapes.
Capacity: 170 guests
Oxenfoord Castle (Edinburgh)
Make the 12-mile trek from Edinburgh's city centre to take advantage of Oxenfoord Castle, a regal, historic escape with plenty of character. It's surrounded by acres of sprawling parkland and boasts gorgeous gardens, elegant interiors, and its own church (perfect for religious ceremonies). For your reception, you can make use of the dining room and/or drawing room - both are impeccably decorated, so you can't go wrong.
Capacity: 150 guests
Borthwick Castle (Edinburgh)
Borthwick Castle is a majestic castle wedding venue in North Middleton (12 miles away from Edinburgh). It's well-suited for every style of wedding, from a super elegant and OTT ballroom event to a laidback and casual outdoor celebration. As an added bonus, there are also a number of bedrooms where you and your guests can lay your heads when the party's over.
Capacity: 85 guests
Dundas Castle (Queensferry)
If you're hoping to get hitched in or around Edinburgh, Dundas Castle is yet another awesome option. The 5-star, exclusive-use venue is guaranteed to make your wedding downright dreamy. Yes, its outside is truly breathtaking, but head inside and you'll be even more impressed. It's got a 600-year old great hall, a cosy armoury, a book-filled library and many more unique spots you can put to use. There are also a few gorgeous outdoor spaces, including the gardens, courtyard and front lawn.
Capacity: 110 guests
Dalhousie Castle (Bonnyrigg)
Head to the outskirts of Edinburgh and you'll find Dalhousie Castle, a truly one-of-a-kind place to celebrate your big day. It's home to a private chapel and event rooms big and small, so you're sure to find something that fits your vision. P.S. it has both indoor and outdoor options available, so you can get the best of both worlds.
Capacity: 100 guests
Melville Castle (Midlothian)
Melville Castle is yet another great venue option on the outskirts of Edinburgh. The castle has been converted into a hotel and offers opulent State Rooms (the favourite for drinks receptions) and smaller suites for more intimate celebrations. It's surrounded by 54 acres of lawn and parkland, giving you space for outdoor celebrations, as well.
Capacity: 100 guests
Glenskirlie Castle (Banknock)
Hop in the car and take the short 20-minute ride out of Glasgow (or 40-minute ride from Edinburgh) to Glenskirlie Castle, a 21st-century castle with a modern edge. It's home to an award-winning restaurant, fifteen uniquely-decorated, contemporary bedrooms and suites and plenty of dedicated event space for your friends and relatives to mix and mingle.
Capacity: 100 guests
Thirlestane Castle (Lauder)
Thirlestane Castle is a 16th-century stone castle in Lauder surrounded by acres and acres of parkland. The venue offers a range of rooms, including intimate suites, grand Victorian function spaces, a cobbled courtyard, and an expansive lawn. Worried about travel? It's only a half-hour drive away from Edinburgh, so it's not too tricky to get to from the city.
Capacity: 500 guests
Tullibole Castle (Kinross)
Tullibole Castle looks like a country home/castle hybrid, making it the perfect option for couples who can't decide between the two venue styles. It's located 40 minutes away from Edinburgh and can be used for anything from intimate elopements to large 250-person weddings. It has an elegant great hall and a refurbished carriage house that can be used for both ceremonies and receptions as well as plenty of outdoor space for open-air weddings.
Capacity: 250 guests
Myres Castle (Auchtermuchty)
Tucked away in the Kingdom of Fife you'll find Myres Castle, a beautiful stone venue that dates back to 1530. From spiral staircases to sky-high towers to gorgeous accommodations to Victorian-style event rooms, this place has everything you could ever want (or need) to make your celebration unforgettable. Plus, it's a mere 40 minutes away from Edingburgh, so it's not too tricky to get to from the city centre.
Capacity: 160 guests
Carlowrie Castle (Kirkliston)
Carlowrie Castle is a magical, mystical castle wedding venue in Scotland that will turn your big day into a fairytale. It has gorgeous walled gardens, 32 acres of sprawling lawns and parkland, a permanent marquee, an orangery, and, of course, the castle itself. You're spoilt for choice when it comes to spaces and packages, giving you the ability to really tailor all aspects of your celebration.
Capacity: 450 guests
The Black Watch Castle & Museum (Perth)
The Black Watch Castle & Museum (formerly known as Balhousie Castle) is an award-winning castle wedding venue in Scotland that's guaranteed to impress your guests. The home's history dates back to the 12th century and many of its original features have remained intact over the years. It offers versatile elegant event room options for small, medium and large weddings, so you're bound to find something that suits your vision.
Capacity: 100 guests
Knock Castle (Crieff)
Set against the stunning backdrop of Strathearn Valley in Perthshire you'll find Knock Castle. Other than breathtaking views, this Scottish wedding venue offers luxurious, modern spaces for your ceremony and reception complete with all the bells and whistles. As an added bonus, because it doubles as a hotel, you and all of your guests can stay the night.
Capacity: 64 guests
Castle Menzies (Weem)
Castle Menzies is another Perthshire gem worth looking into. It's a 16th-century fort and has a few options to choose from for your big day. The Dewar Room and Main Hall are licensed for civil and religious wedding ceremonies and both can be put to use for receptions, too. As for decor, expect to find chandeliers, wood-panelling, oil paintings and other luxurious details (what more could you want?).
Capacity: 200 guests
Blair Castle (Pitlochry)
Like most Medieval fortifications, Blair Castle has been built and rebuilt over the years. The oldest parts of the current structure date back to 1269, making it one of the ancient venue options on this list. Inside you'll find a healthy mix of traditionally-decorated historic rooms and more modern spaces, meaning it's a great choice for just about any wedding theme. It's also home to gorgeous gardens, which you should definitely make use of on your wedding day.
Capacity: 220 guests
Lews Castle (Stornoway)
If you love the Gothic-Revival style, this may just be the castle wedding venue in Scotland for you. Lews Castle was built in the mid-1800s and will bring you and your guests back in time. Inside you'll find three beautiful event spaces filled with period furniture and decked out with regal columns, glimmering chandeliers and more. As an added bonus, it has several modern hotel rooms available, so you and some of your guests can even stay the night.
Capacity: 148 guests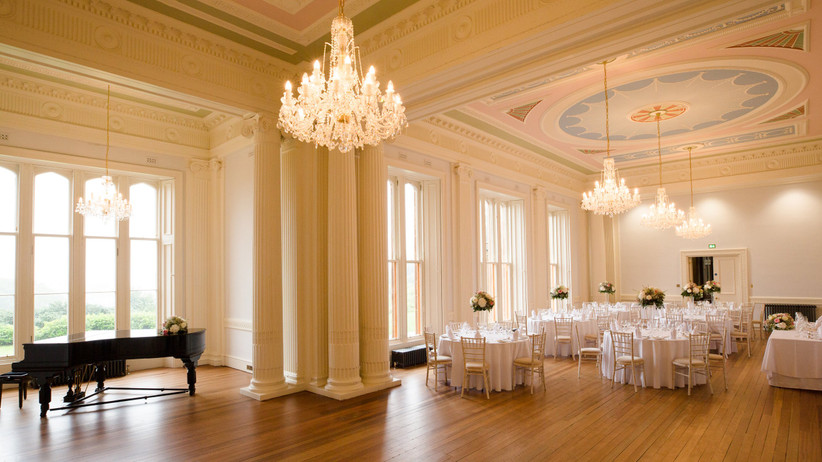 Aldourie Castle (Inverness)
Aldourie Castle looks like it was torn from the pages of a storybook. It's set among 500 acres of Scottish Highlands and boasts orangeries, bridges, formal gardens and, of course, some seriously gorgeous event spaces. The interior is only suited for intimate parties, with a maximum capacity of 50 guests, but if you're looking for something larger, you can set up a marquee wedding tent on the lawn.
Capacity: 250 guests
Duns Castle (Duns)
Duns Castle is a 14th-century fort with plenty of wedding potential. Its outside is grand and gorgeous and its interior won't disappoint, either, filled with oil paintings, Persian rugs and period furniture. Its Great Hall is perfect for more intimate celebrations, but if you want to host a massive after party, you can take over the lawn with a marquee.
Capacity: 60 guests
Wedderburn Castle (Duns)
Looking for a castle wedding venue with variety? Head to the Scottish Borders and you'll find Wedderburn Castle & Barns, just outside Duns. The estate has an absolutely stunning castle outfitted with period decor as well as rustic-chic stone barns. Both can be used for wedding celebrations, so you can get the best of both worlds.
Capacity: 150 guests
Gordon Castle (Fochabers)
Head to Moray and you'll find Gorden Castle tucked away in Fochabers. The 15th-century family-owned establishment flaunts cosy cottages (perfect for intimate weddings), its own church, a fully-restored tower, and sweeping gardens, so you've got plenty of spaces to choose from. If you want to stay the night, there are 8 bedrooms available, all featuring modern amenities.
Capacity: 250 guests
Shieldhill Castle (Biggar)
If you're headed to South Lanarkshire for your big day, this is definitely a castle wedding venue you should be looking into. Shieldhill Castle was built in 1199 and overlooks Clyde Valley, offering beautiful backdrops for your big day. So far as function spaces are concerned, it has both indoor and outdoor options available for your celebration, all of which are more than worthy of your wedding.
Capacity: 150 guests
Cornhill Castle (Biggar)
Cornhill Castle is the perfect place to celebrate if you want to feel like real royalty on your special day. Its wedding packages include a red carpet entry, champagne, and personalized touches for your celebration. As for function spaces, you can make use of the great outdoors and pitch a marquee or celebrate in its elegant dining room (ideal for winter weddings).
Capacity: 100 guests
Stonefield Castle (Stonefield)
Stonefield Castle is an amazing hotel and castle wedding venue that offers gorgeous function spaces and accommodations. On your big day, you can put to use its library, drawing room and restaurant as well as its terrace space overlooking the shores of Loch Fyne. It's definitely a more modern option than some of the other spots on this list, but still boasts plenty of vintage decor.
Capacity: 110 guests
Mains Castle (Dundee)
Mains Castle is a stunning 16th-century restore Medieval castle located on the edge of Caird Park Golf Club in Dundee City. It's home to two unique banqueting suites, a courtyard, and a 70-foot high tower house, as well as plenty of lawn space, so you're spoilt for choice by way of ceremony and reception spaces. It's even won awards for its top-notch service, so you know you're in good hands here.
Capacity: 180 guests
Lunga Castle (Craobh Haven)
Make your way to the sailing port village of Craobh Haven and you'll find the picturesque Lunga Castle. It overlooks the oh-so-pretty Inner Hebridean Islands of Jura, Scarba, Shuna and Luing, so you're guaranteed some killer wedding photo backdrops. As for space, you'll have exclusive use of the venue, which has a ballroom, dining room, drawing room, morning room, and bridal suite as well as a few bedrooms, so you and some of your guests can stay the night.
Capacity: 160 guests
Wardhill Castle (Meikle Wartle)
If you've dreamt of tying the knot in Aberdeenshire, take a look at Wardhill Castle. It's been around since the 12th century and offers an awesome outdoor event space with breathtaking views. Set up a marquee tent on its lawn and marvel at the 400 acres of surrounding parkland and the Bennachie hilltops, or head into the forest for a woodland wedding. Once you're done partying, make use of its luxurious bedrooms – there are 8 gorgeous rooms – or, if you're more outdoorsy, set up camp under the stars.
Capacity: 350 guests
Delgatie Castle (Turriff)
Delgatie Castle is another top-notch Aberdeenshire wedding venue that's bound to make your big day more magical. Its history dates back to 1314 and has remained relatively untouched over the years, so it'll bring you and your guests on a journey back in time. So far as castles are concerned, it's definitely on the smaller side, with only enough space to fit 50 of your nearest and dearest.
Capacity: 50 guests
Cluny Castle (Sauchen)
Cluny Castle is an enchanting property in Aberdeenshire that's been around since the 1500s. Naturally, it has undergone quite a few changes since it was first built, but it remains just as majestic as it was way back when. It's equipped with its own chapel and has a handful of spaces available for your celebration, including its Dining Room, Drawing Room and Tenant' Hall (all fit for weddings under 100 guests). If you're looking for something larger, you can always put up a marquee on the lawn.
Capacity: 100 guests
Stirling Castle (Stirling)
When it comes to Castle Wedding venues in Scotland, Stirling Castle is a true crown jewel. The 16th-century fort is perched atop Castle Hill and flaunts a chapel and a grand ballroom that makes for the ideal ceremony and reception combo. It fits plenty of guests (200, to be exact), so there's a good chance all of your friends and family will be able to fit, too.
Capacity: 200 guests
Culzean Castle (Maybole)
If you're looking for a fairytale wedding venue that rivals the castles in Disney films, you'll love Culzean Castle. Its estate covers a whopping 600 acres of the Scottish countryside, with everything from wild woodland clearings to manicured lawns and gardens available for your celebration. If an outdoor wedding isn't for you, no worries - there are a number of beautiful rooms within that can be used for your ceremony and reception.
Capacity: 1000 guests
Blairquhan Castle (Maybole)
Blairquhan Castle is another stunning wedding venue in Maybole. It's ideal for more intimate weddings than Culzean Castle, with a maximum capacity of 100 guests. Fortunately, that doesn't mean it's any less picturesque. It has Regency architecture, vintage trimmings and historical bits and bobs that make it even more magical. Its accommodations are also super dreamy, with four-poster beds, chandeliers and claw foot tubs (just to name a few of their highlights).
Capacity: 100 guests
Carrick Castle (Lochgoilhead)
Want to tie the knot at a unique wedding venue by the water's edge? Carrick Castle Estate will be right up your street. The rustic-chic exclusive-use venue can be transformed to fit your exact wedding plans and has both indoor and outdoor options for your ceremony and reception. If you're looking for a spot with some countryside flair, this is the wedding destination for you.
Capacity: 160 guests
Ackergill Tower (Wick)
Ackergill Tower is another waterfront option, offering amazing views of the sea from its grounds. But the awe-inspiring scenery isn't this castle wedding venue's only selling point - it offers 32 acres of grounds, its own private beach (perfect for outdoor receptions and wedding photoshoots) as well as ample indoor event space.
Capacity: 250 guests
Broomhall Castle (Menstrie)
Broomhall Castle was built in 1874 and has everything you could need for a truly epic wedding celebration: beautiful function rooms, stunning accommodations and a top-notch team that'll help you put everything together. The Main Hall can fit up to 100 guests, but it has a handful of smaller suites if you're on the hunt for something more intimate.
Capacity: 100 guests
Eilean Donan Castle (Dornie)
Eileen Donan Castle is one of Scotland's most romantic, intimate castle wedding destinations. The 13th-century gem is so picturesque that it has earned a spot in a number of different films, including Highlander and James Bond - The World is Not Enough. Its main space, the Banqueting Hall, is the most popular choice for weddings ceremonies, but you can also use the courtyard if the weather is in your favour. After your vows, you can host a drinks reception in the Billeting Room or the courtyard while you take stunning wedding portraits.
Capacity: 70 guests
Fernie Castle (Letham)
Fernie Castle is a castle wedding venue in Scotland that's been around sine 1353. Since its beginnings, it's had a few necessary touch-ups and now functions as a full-fledged event venue and hotel. The castle is surrounded by lush forests (woodland wedding, anybody?) and has several indoor spaces you can hold your ceremony and reception in, including its Great Hall, Georgian Room, and Belfour Suite.
Capacity: 180 guests
Find more castle wedding venues on WeddingWire »