Looking for a few bohemian wedding ideas to take your big day to the next level? We're here to help. From flower crowns to thrifted finds to copper accents, there are plenty of ways to infuse your wedding with hippy vibes. We've rounded up the best of the best from wedding suppliers and real couples to give you a little bit of inspo.
Here are 21 steal-worthy bohemian wedding ideas.
Boho stationery
Set the tone for you bohemian wedding and give your stationery a bit of hippie flavour. Go for a watercolour design that incorporates elements of nature and a loopy cursive font.
Flower crowns
Who doesn't love a flower crown? Amp up your bohemian bridal look with a halo of blooms and maybe even give them to your bridesmaids, too. Pro tip: if real flowers will push you over budget, go for paper, plastic or felt dupes, instead.
Mix and match bridesmaid dresses
A bohemian wedding style is perfect for mix and match bridesmaid dresses. Remember, if you're letting your squad choose their own gowns, give them specific instructions (i.e. shade, length, etc.) so that nobody stands out like a sore thumb.
Sandals
You want you and your bridesmaids to look like boho queens from your heads right down to your feet, so don't forget about shoes. Strappy sandals with cutouts and beaded accents are just what you need to tie everything together.
Acoustic music
Indie music is the perfect choice for your bohemian wedding reception and ceremony, and it sounds best played live. Pick a few of your favourite love songs and hire musicians (or ask one of your talented friends) to perform on your big day.
Pom poms
This pop of colour and the soft, bouncy nature of the pom poms will add a dose of whimsy to your ultra hip decor and give your exit something special and unforgettable, so don't shy away.
Bring the inside out
If you're hosting your wedding ceremony or reception at a venue that is equipped with an outdoor space, move your lounge onto the lawn. Instead of using patio furniture, outfit it with chic pieces like velour sofas and trendy rugs to make it more wedding-worthy.
Bring the outside in
Think your wedding venue could use a bit of sprucing up? Borrow branches, greenery, flowers and more from the great outdoors to kick things up a notch. They're stunning and, if you hunt them down yourself, they won't push you over budget.
Thrifted finds
Everything old is new again! Use vintage pieces of furniture, decor and more to give your bohemian wedding space a little more character.
Paper lanterns
Have a little fun with your lighting by filling your venue's ceiling with paper lanterns. White ones look ultra chic, but we suggest adding a few that match your colour palette, too.
Mason jar cocktails
Skip the plain 'ol wine glasses and tumblers - serve your signature cocktails in mason jars, instead. They definitely suit the bohemian wedding theme and, if you purchase them yourself, can be reused in your pantry post-wedding.
Fairy lights
Fairy lights are the stuff that Pinterest dreams are made of and are guaranteed to make your venue sparkle. A few strands will brighten up an outdoor reception area after dark or make an indoor space a touch more Instagrammable, so put them to good use.
Plenty of greenery
You've probably spent hours scrolling through lush bouquets and beautiful blooms, but don't forget about greenery! It's (typically) less expensive than flowers and can really add something special to your arrangements and bouquets.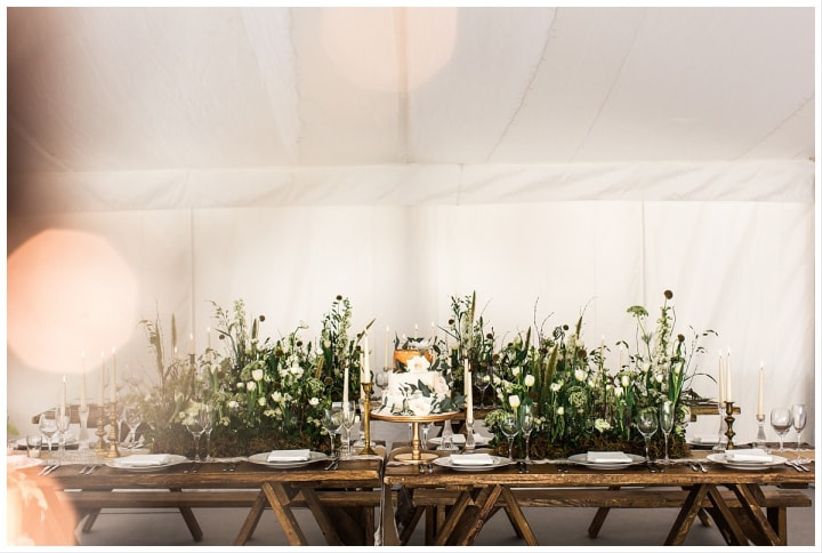 Macrame everything
It's time to jump on the macrame bandwagon for your bohemian wedding. There are plenty of ways to use this trend, from plant holders to altar decor to table runners (like these).
Smoke bombs
Add a dash of witchy, mystical flair to your wedding photos, grand entrance or exit with some smoke bombs. You can find ones that match the palette of your big day or go for a full-blown rainbow of colours.
Mix and match decor
Everything doesn't have to match perfectly to look awesome. Think about shaking things up by using different (but complementary) glassware, dishware and table decor at each place setting.
Geode place cards
If you're in to all things new age and numinous, you probably love crystals. You can incorporate your passion for gems into your wedding by writing your guests names on geodes of all kinds instead of using standard paper place cards. They can also double as wedding favours.
Metallic accents
Copper and brass accents are so in ATM! There are plenty of ways to work this metallic hue into your big day, from flatware to jewellery to stationery, so choose your own adventure.
Feather cake design
Looking for a unique wedding cake that'll get your guests 'gramming? Have your cake designer use earthy colours and a feather motif.
Polaroid guest book
There's a good chance your photographer won't capture every guest at your wedding, so set up a polaroid guest book. You'll want to make sure you have plenty of film on hand, because it's bound to be a hit.
Tent accommodations
If you're escaping the city for your big day, put your guests up in luxurious tents instead of asking them to book rooms in the local hotel, motel or Holiday Inn. Be sure to set up a louge tent, too, for all your friends and family to gather.
Find more bohemian wedding ideas and inspiration in our Real Weddings section!
Photo editing by Monica Lorraine and Diane Hall.