If you want to skip the ballroom or banquet hall and go for something really different, check out boat wedding venues in London. For lovers of the waves and water, hosting your event on the River Thames may just be the perfect choice. Lucky for you, this city has a handful of amazing yachts and barges that are sure to take your celebration to the next level.
Here are a few awesome boat wedding venues in London.
The Yacht London
The Yacht London is a steam yacht that's been in business since 1927. Though its had a bit of a facelift, it has maintained its original charm, making it perfect for couples who want something with a bit of vintage flair. The boat is equipped with a full bar, booth seating, room for a dance floor and DJ booth, a modern speaker system and basically everything else you'll need to throw an epic celebration (so you won't have to rent out all the extras). The multi-level space can host your ceremony and reception, and accommodate up to 200 standing guests, or 100 guests for a seated wedding breakfast, so it's ideal for midsize weddings.
Battersea Barge
London's Battersea Barge has played host to everything from cabaret nights to comedy shows, but it's not strictly reserved for shows - you can host your wedding aboard it, too! This boat has a bar, a restaurant, a stage with lights and sound equipment, and enough space for up to 150 of your nearest and dearest. As for decor, it has dark red booths and wood panelled walls, making it one of the more casual boat wedding venues in London — perfect for low-key events.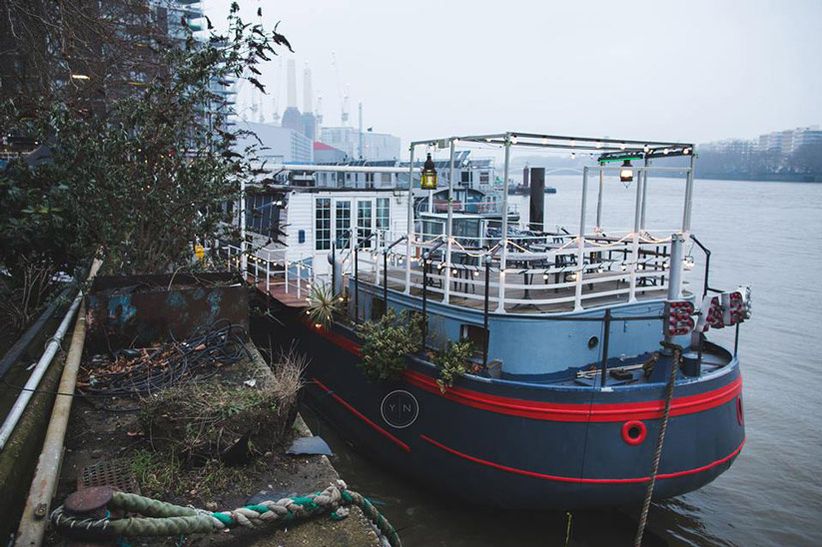 R.S. Hispaniola
If you're on the hunt for a boat wedding venue in London that's a little different than your average ship, the R.S. Hispaniola may be the boat for you. Each space has a unique theme, so you've got plenty to choose from for your celebration. Highlights include its upper deck lounge, with black and orange decor and neon signage, the outdoor space, which has black furniture and hot pink flooring, and its modern lower deck with patterned carpets and sleek leather chairs. It can accommodate up to 150 guests, so you can probably get away with adding a few extra plus ones.
Thames Luxury Charters
Thames Luxury Charters has a fleet of amazing boat wedding venues in London that can accommodate celebrations both big and small. Whether you're in the market for a 300-person reception or something intimate with just your families, you're sure to find something that fits the bill. The company can even take care of your catering, drinks, flowers and entertainment, so you don't have to put in all the extra work while wedding planning (score!).
Woods' Silver Fleet
Woods' Silver Fleet boasts two luxury yachts, the Silver Sturgeon and the Silver Barracuda, which can be booked for a wedding reception. They can even pick up you and your guests at your chosen ceremony venue at many piers throughout London including Greenwich, Tower Bridge, the Southbank, the London Eye, Millbank and Westminster. Alternatively, they can plan the whole day for you in partnership with the Savoy Hotel, where you can have your ceremony on land and then take to the waters for your wedding breakfast and party. The Silver Sturgeon can accommodate up to 440 seated guests and the Silver Barracuda can accommodate up to 140 seated guests.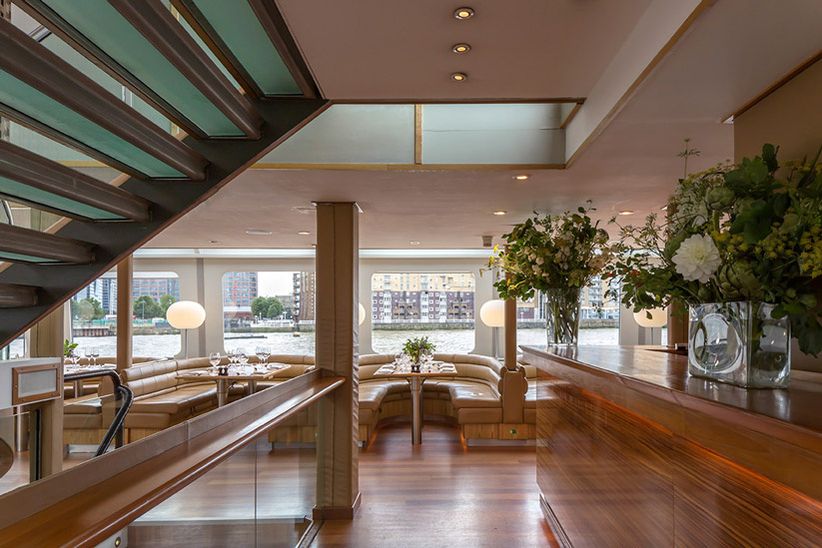 Find more unusual wedding venues in London on WeddingWire »