Choosing your wedding venue isn't an easy task, but it's one of the first things you'll want to strike off your wedding checklist. Luckily, if you hail from the West Midlands - or are planning on hosting your wedding there - you've got plenty of unusual wedding venues in Birmingham to choose from. Seriously, from manicured gardens filled with greenery and glasshouses to a football club, there's something for everyone.
Here are unusual wedding venues in Birmingham for every type of couple.
For the nature lovers: Birmingham Botanical Gardens
Make Mother Nature your guest of honour by hosting your wedding at the Birmingham Botanical Gardens! This spot boasts sprawling outdoor gardens as well as stunning glasshouses, so it's the perfect backdrop for any couple that loves flora and fauna. On your big day, you can host a civil ceremony in one of the suites and then move to the terraces for your reception (saving you from having to move your guests from venue to venue). Speaking of suites, you've got three options, all with different capacities: The London Suite (accommodates up to 25 guests), The Terrace Suite (accommodates up to 80 guests) and The Garden Suite (accommodates up to 150 guests).
For the movie buffs: The Electric
If you never miss the BAFTAs or Oscars, spend your weekends cozied up in front of the TV and have Rotten Tomatoes as your internet homepage, consider paying homage to your love of film by hosting your wedding at The Electric. This old school Art Deco cinema is licensed for civil ceremonies, making it an unusual wedding venue in Birmingham — perfect for movie buffs to say their wedding vows. Instead of an average altar, you'll get to stand in front of the silver screen and make some real movie magic. The cinema can help you sort out your wedding reception drinks and catering, too, saving you a bit of extra work. It can accommodate up to 108 guests.
For the Downton Abbey obsessed: Aston Hall
Skip the standard garden or hotel wedding venues in Birmingham and feel like members of high society by hosting your wedding at Aston Hall. Because it's so large, you've got plenty of spaces to choose from for your event (ranging from intimate to expansive). Don't forget to let your guests know that the dress code is extra posh - you'll want them to fit in with the regal surroundings.
For the hipsters: The Bond Company
If you're looking for an ultra cool industrial wedding venue in Birmingham, set your sights on The Bond Company. For your ceremony, you can get married in the Waterside room (capacity of 120) with exposed beams and a trendy warehouse vibe overlooking the canal. Your post ceremony reception drinks can be hosted in The Canalside Cafe (a bright all white space that can accommodate up to 60 guests) and the Canopy (a cool outdoor area that can be transformed to fit your vision). Your evening reception would be in the Gatehouse (a massive light filled room with a capacity of 150 guests) or The Waterside with a capacity of 70 people. If that's not enough to draw you in, it also boasts views of Victorian buildings, the Grand Union Canal (you can even arrive by boat!) and the Warwick Bar Conservation Area, giving you plenty of stellar wedding photo backdrops.
For the historians: Birmingham Museum & Art Gallery
For all you arts and culture lovers, there's the Birmingham Museum & Art Gallery. This is one of the city's most popular tourist attractions, but don't worry you won't be dodging history hungry visitors on your big day. In this 19th-century Grade II listed building, the Waterhall is a self-contained gallery space that has recently been converted to host weddings and has a civil licence. You can host a civil ceremony and reception here with up to 200 of your friends and relatives in attendance. Alternatively, you can move on to the Round Room (for your reception), Industrial Gallery (for your wedding breakfast) and Edwardian Tearoom (for dancing).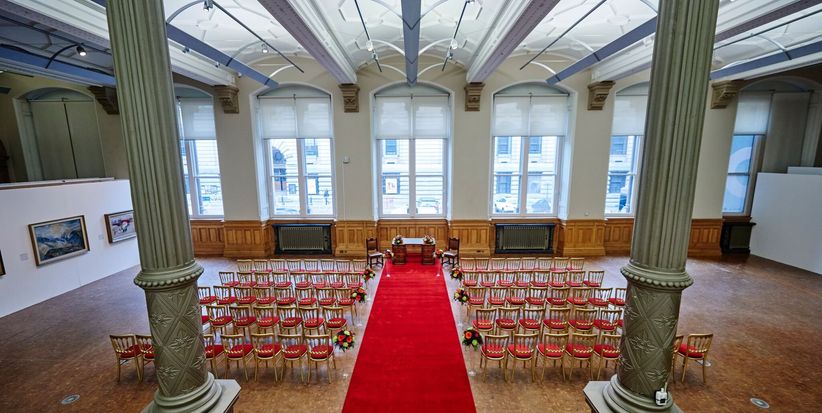 For the bookworms: Unique Venues Birmingham
If you and your partner bonded over a mutual love of books, why not celebrate your big day in a place with thousands of them? The iconic Library of Birmingham isn't filled with dusty hardbacks and creaking floors - it's a super modern space fit for contemporary couples (though the Shakespeare Memorial Room, located in the rooftop rotunda, gives off serious Victorian vibes). Civil ceremonies can be held in the Shakespeare Memorial Room and receptions can be hosted in the Book Rotunda (accommodates up to 200 guests), the Highlight/ The Gallery (accommodates up to 100 guests) and the Shakespeare Memorial Room (accommodates up to 45 guests).
For the foodies: Adam's Restaurant
Calling all foodies! Adam's Restaurant is an upscale contemporary eatery perfect for your wedding. This unusual wedding venue in Birmingham features a hip and trendy main dining space that can be rented out for a 52-person seated meal or a standing reception for up to 75 guests. Keep in mind that it is not licensed for civil ceremonies, so you'll need to book another venue for your actual 'I do's'. Bonus: they'll handle the food and drink for you, so you won't have to spend hours labouring over which caterer to choose for your big day.
For the country loving couple: Alcott Weddings
Take a half hour drive from the heart of the city to Alvechurch and you'll find Alcott Weddings, a countryside oasis perfect for those who need an escape from the hustle and bustle of city life. Whether you want to host your wedding in a tipi, marquee tent or under the sun, the staff here can make it happen. Unfortunately, it isn't licensed for civil ceremonies, but you can always get legally married first then hold an outdoor symbolic ceremony and exchange vows in front of family and friends.
For the sports fans: Birmingham City Football Club
While you might be used to cheering on the home team here, that' not all this stadium is good for. Inside the club you'll find elegant banqueting suites, ranging from intimate to expansive, worthy of your wedding ceremony and reception (the largest, The Legend's Lounge, can accommodate up to 200 guests for a ceremony and up to 250 guests for a reception). If you really want to knock the football wedding theme out of the park, ask your guests to don jerseys instead of traditional wedding attire.
For the kids at heart: Drayton Manor Hotel & Park
Give your big day a touch of whimsy by choosing this unusual wedding venue in Birmingham — The Drayton Manor Hotel & Park. The hotel itself is a luxurious spot with three beautiful modern suites - the Tower Suite (accommodates up to 100 ) the Hamilton Suite (accommodates up to 110) and the Park View Suite (accommodates up to 150) - perfect for your celebration. But that's not all it has to offer - it shares its grounds with a theme park complete with a carousel, roller coasters and rides, giving you some amazing wedding photo backdrops (and post-ceremony entertainment). Its suites are licensed to hold civil ceremonies and receptions, so you want have to do any venue hopping.
Find more unusual wedding venues in Birmingham on WeddingWire »