Autumn is one of our favourite times of the year and so we totally get why you've chosen to get married during this stunning season! As the leaves turn, a host of vibrantly warm colours begin to fall and fruit and flowers continue to bloom in abundance. Due to the variety of florals available, autumn wedding flowers are guaranteed to be absolutely stunning. Whether you're looking for the warm shades of Helenium or the classic look of a white Calla Lily, you'll be spoilt for choice when it comes to your wedding flowers.
Check out our essential guide to autumn wedding flowers.
September
Available in shades ranging from vibrant oranges to deep reds, Amaryllis is a wonderful autumn wedding flower choice. The distinctive star-shaped heads will make a real statement in your wedding bouquet or on the ends of church pews. Team with red bridesmaids dresses for a pop of autumnal colour!
If cooler tones are more your thing, then Aster could be a great choice for you. The daisy-like blooms come in white, pinks, oranges, purples and blues making them ideal for muted, pastel coloured bouquets and table centrepieces that will look simply stunning in autumn.
Top tip: speak to your florist about your budget early on, they will know exactly what they can get their hands on during your wedding month and what will give you the effect you're dreaming of for less!
October
For classic brides looking for a contemporary monochrome look, you can't do much better than Calla Lilies. The elegant fluted florals look simply divine on their own or combined with white filler such as Gypsophila. If royal wedding vibes are what you're going for, we strongly recommend these beauties.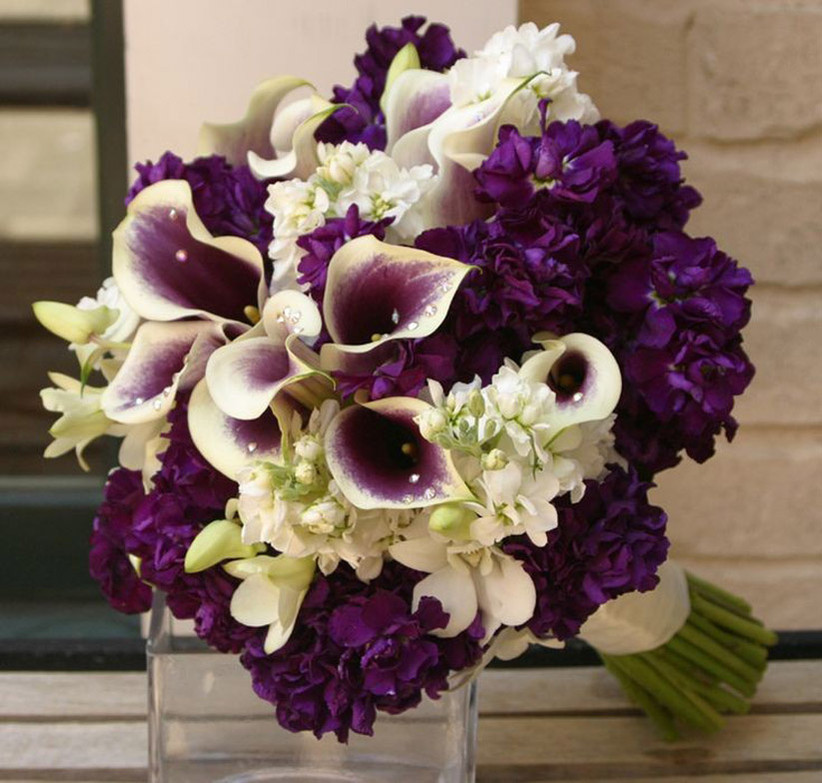 Freesias are enduringly popular wedding flowers, and thanks to their delicate appearance and powerful fragrance, we're not surprised! Available in white, yellows, reds, pinks and purples these beauties suit any theme or colour scheme and will provide a truly romantic scent.
Top tip: Don't shy away from the more expensive autumn wedding flowers, blooms such as lilies are bold enough to stand alone and fewer stems will bulk out an arrangement.
November
As many florals retreat into their Winter hibernation in November, many others are still readily blooming for your Autumn wedding flowers. Gomphrena are tiny little globes of beauty that will look unique and stunning in your bridal bouquet. A bouquet of white Gomphrena is particularly breath-taking during chillier months, all you need to do next is choose the right wedding bouquet wrap.
There's something beautifully romantic about the softly drooping heads of Amazon Lilies. With a royal wedding vibe and an undeniably classic feel, these delicate blooms will fit perfectly with a wedding taking place as the first frosts settle on the ground. Allow them to take centre-stage in a simple bouquet or combine with plenty of green foliage for a natural looking arrangement.
Top tip: If you're a DIY bride, why not get in touch with nature and forage for your own fillers and foliage? Your bouquets will look natural and authentic and will perfectly suit the season!
Find your wedding florist on WeddingWire »