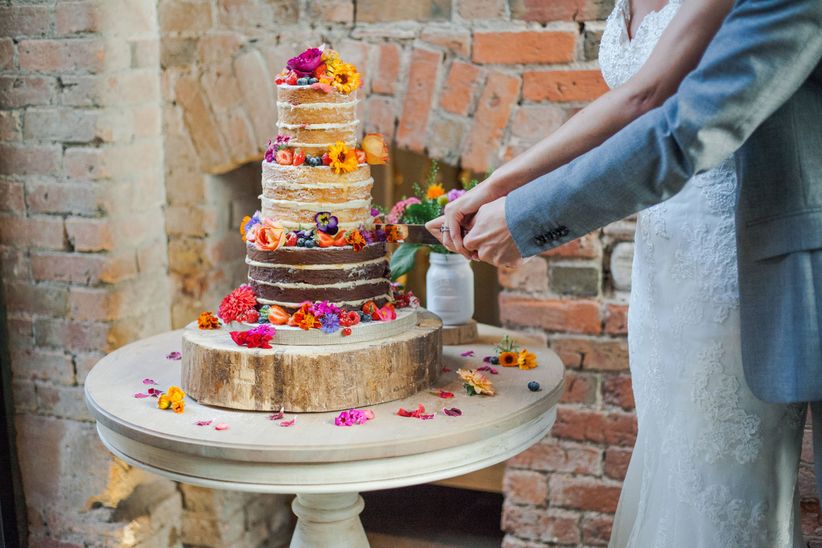 The time has come to make your wedding's biggest dessert decision: choosing your wedding cake design. They come in all shapes and sizes, so you can really use your imagination when coming up with yours (seriously, there's no right or wrong way to style a wedding cake). If you want to go with something a little more daring than a traditional white on white design, we've got a few ideas for you.
Here are 8 delicious wedding cake designs.
Metallic
Want your cake to shine bright like a diamond? You don't need to deck it out in edible gems and glitter dust. Silver and rose gold wedding cakes are a little less kitschy and look absolutely stunning. If you don't want your entire confection to be metallic, consider throwing in a single accent tier with a simpler wedding cake design - it'll still pack a punch.
Naked
You definitely don't want to be sporting your birthday suit on your wedding day, but your wedding cake totally can. Forget about concealing its tiers with layers of fluffy frosting or fondant - let it go au naturale, instead. If you are going this route, consider ditching the OTT details and decorating with pieces of fruit, instead. A naked wedding cake is perfect for more rustic affairs, but can be jazzed up to suit just about any wedding theme.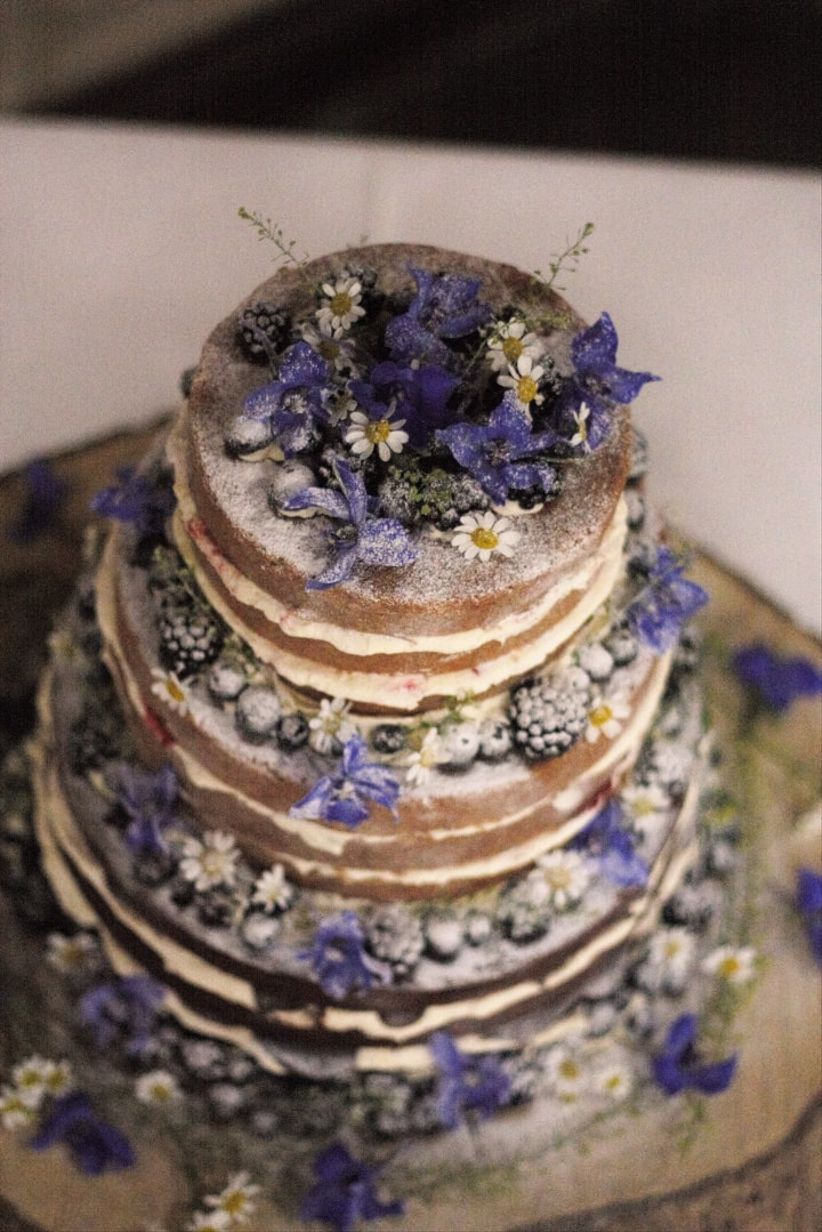 Woodland
If you're in the market for something rustic, but want your cake to be a bit more dressed up than a naked confection, a woodland cake is the way to go. You can start with a faux-bois (fake wood, en anglais) wedding cake design with tiers that are painted to look like tree trunks. Accent them with cute nature-inspired additions like fondant birds, butterflies and flowers.
Lace
Vintage celebrations require cakes decorated in lace. You can have your entire cake hand-piped with a lace pattern or add a few lace appliques here and there for a more subtle effect. Seriously, this stylish addition will instantly give any cake a bit of retro flair, so use it to your advantage. P.S. pairing lace with ribbon is a winning combo, so we suggest going for it.
Birdcage
On the hunt for something a touch more whimsical? Go for a birdcage cake. These confections are designed to look like ornate vintage birdcages and can be taken to the next level with some sugar swallows and finches. This style of cake is definitely eye catching, so your guests will probably sneak a few photos before you cut into it.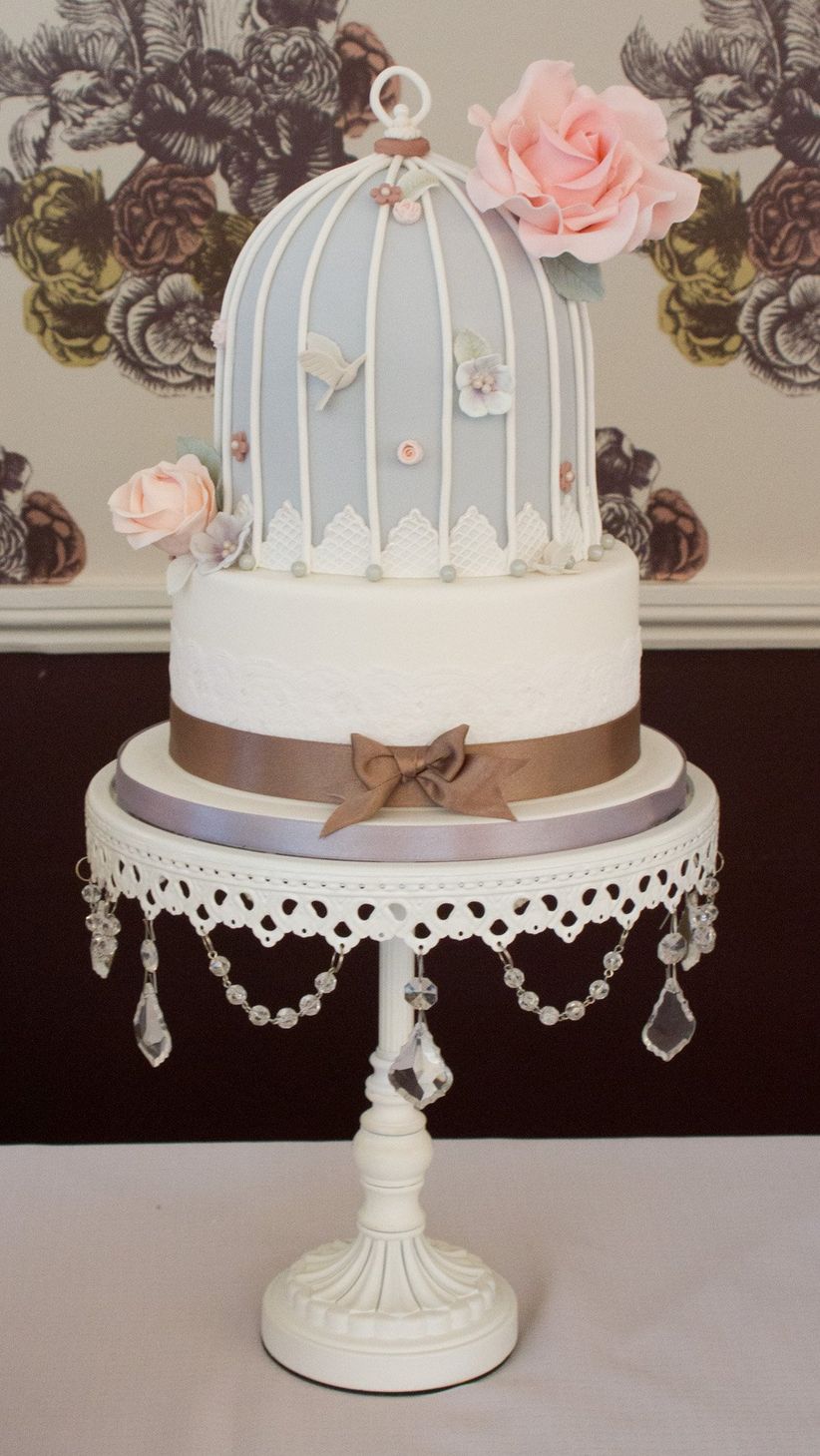 Ombré
Can't decide between fuchsia, magenta and blush for your wedding cake? You can do it all with an ombré cake. Have your tiers fade from light to dark (or vice versa) for a super trendy, watercolour-esque effect. This can be achieved with painted fondant and creamier icing blends, so the choice is yours.
Painted
Turn your wedding cake into a work of art by asking your baker to paint its tiers by hand. Literally anything goes with this style - stained glass, renditions of famous paintings, geometric designs - you name it. Keep in mind this takes a pretty skilled artist and may leave you with a heftier bill thanks to the time it takes to get the job done. Want the images on your cake to be a little sharper than hand painted pictures? Find a baker that does image transfer cakes where they will print an actual image onto a piece of fondant and then apply it to your cake.
Ruffle
If you want to mirror your wedding gown's layers of tulle and taffeta with your cake, think about going for a ruffle wedding cake design. How does it work? Your baker will ice your cake with thin overlapping strips of buttercream, giving it a rippled effect. This style looks absolutely dreamy on its own and when paired with add-ons like fondant flowers and edible pearls, so you can really make it your own.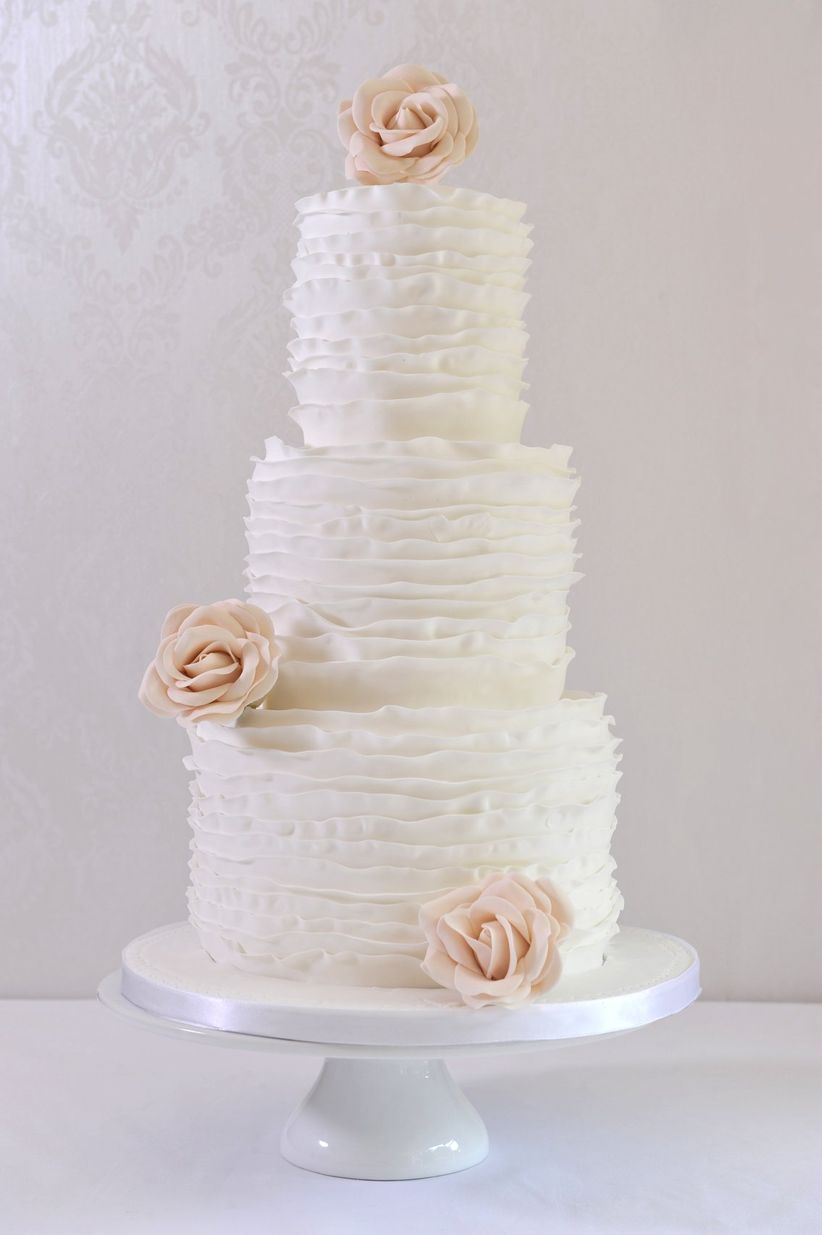 Find wedding cake designers and specialized bakeries on WeddingWire »