If you're a groom and you've already picked out the most handsome groom suit and sharp looking accessories, then it's time to try a new tie knot to give your look a personal twist. It's those little details that will complete your look and make it feel more special. We're talking about your wedding day, so why not try a more elegant tie knot.
Tips to get started
To make sure the tie is securely placed under your collar, leave the top button unbuttoned as you lift your collar. Then, place the tie around your neck, securely placing it under the collar, fold the collar down and button your shirt. Taking this measure before putting your tie on is mostly to protect the shirt from getting damaged. If you don't do this, then when you pull the tie around the neck with the collar down, it rubs the material and pulls on the buttons, potentially ripping the material.
To adjust your tie, first hold the knot and pull the wide blade of the tie downwards. Next, again hold the knot and pull the narrow blade of the tie downwards. Go back and forth between the wide and narrow blades until it is perfectly adjusted and creates a teaspoon fold in the centre.
To leave your tie perfectly adjusted, make sure that the tip of the wide blade hangs just until your belt buckle or pant waist. No higher and no lower.
1. Four in Hand Knot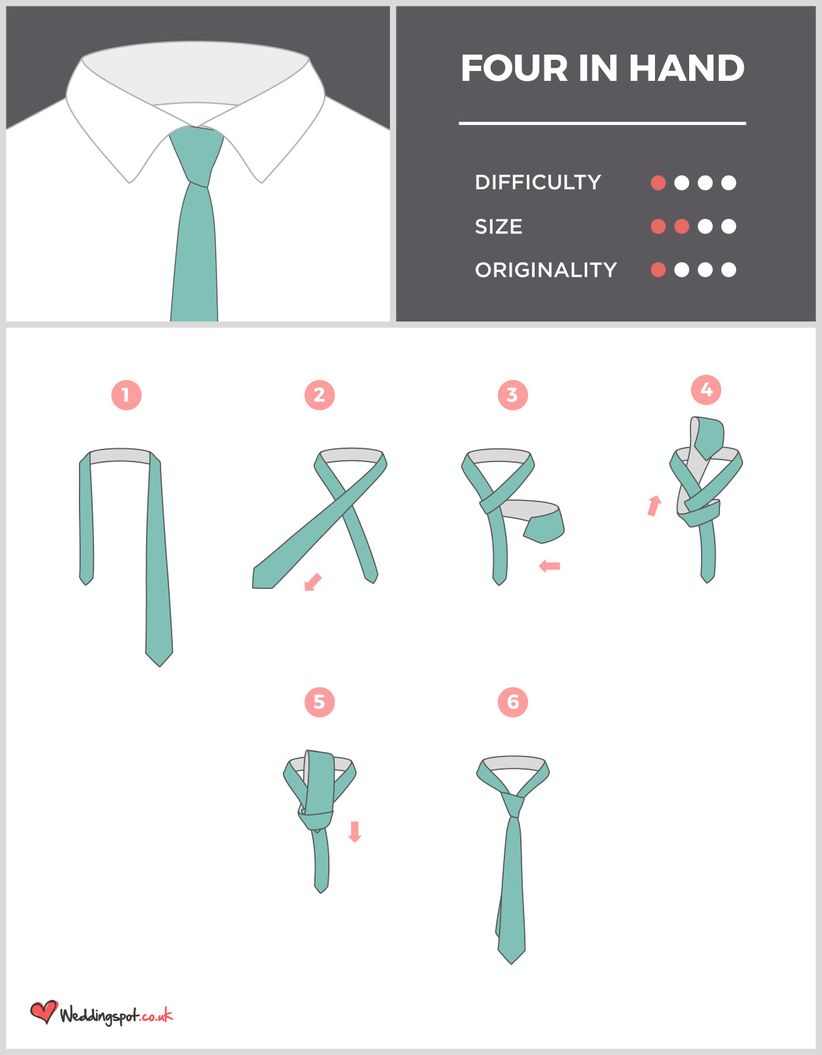 Let's start with an easy one. Most people use this knot; it's the most common one these days. If you want a classic look, this is the one. Because of its timelessness, it's a knot that will look good on every groom and if you get nervous while getting dressed before the wedding, you'll have no problem finding someone to tie your tie for you. It will also go with any shirt you choose. When starting to tie this knot, just make sure the narrow blade is no more than one palm away from your belt.
2. Oriental Knot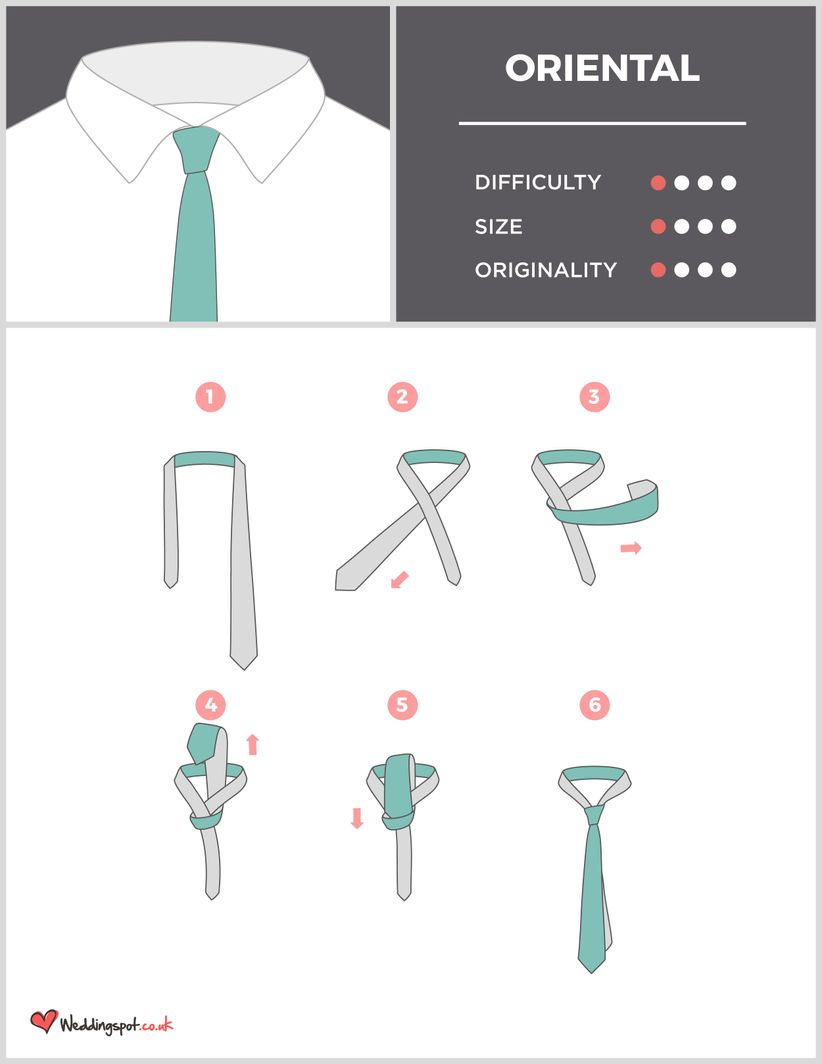 Smaller knots have been in style over the past few years and they look really sharp in our opinion. If you want a more modern look that is still leaning towards something traditional, this is a great look. Plus, it's quite easy to achieve. Make sure to practice tying it before the wedding.
3. Victoria Knot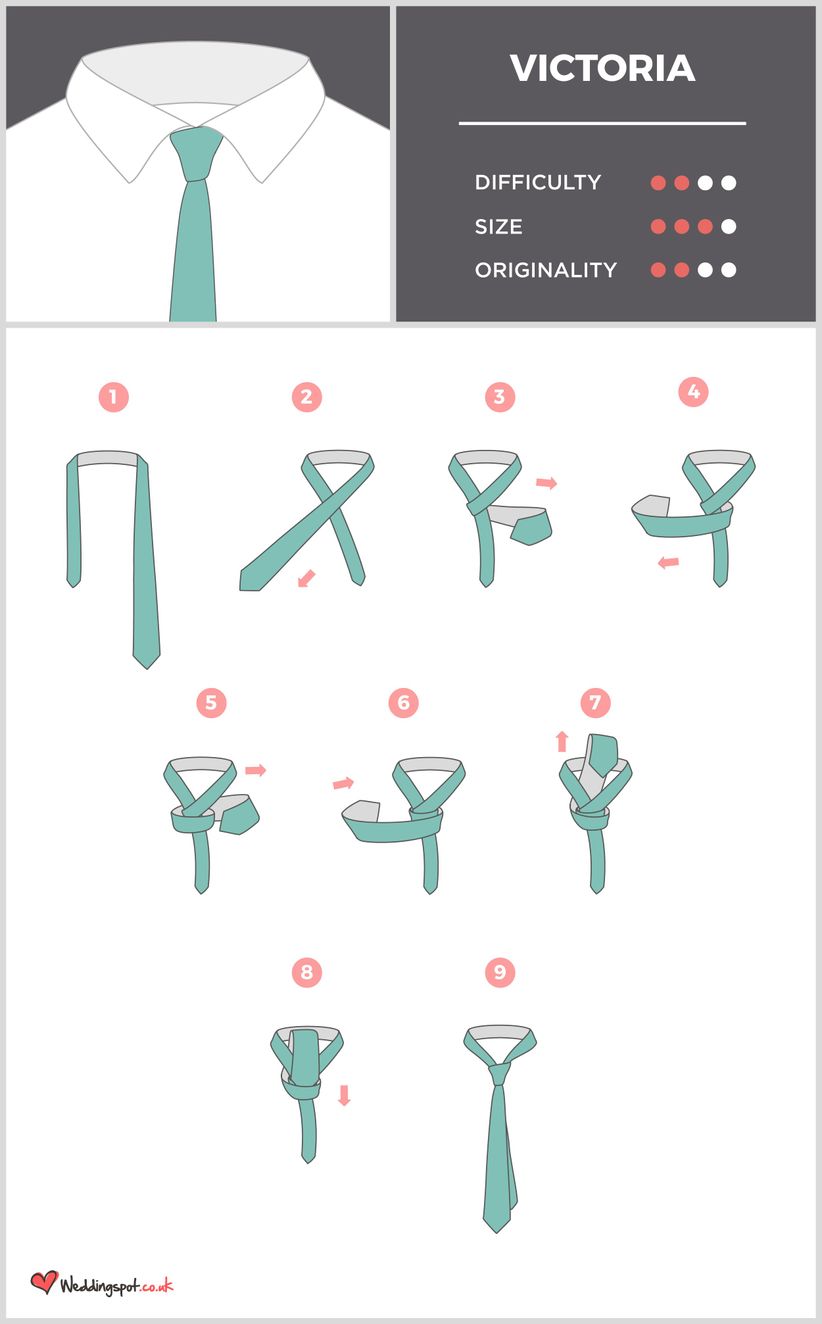 This is another small knot, but it works best with ties made with thicker materials and with shirts that have a more fitted or classic collar. This tie knot is flattering for all men. When getting ready to tie this knot, let the narrow blade hang about one palm from your belt.
4. Half Windsor Knot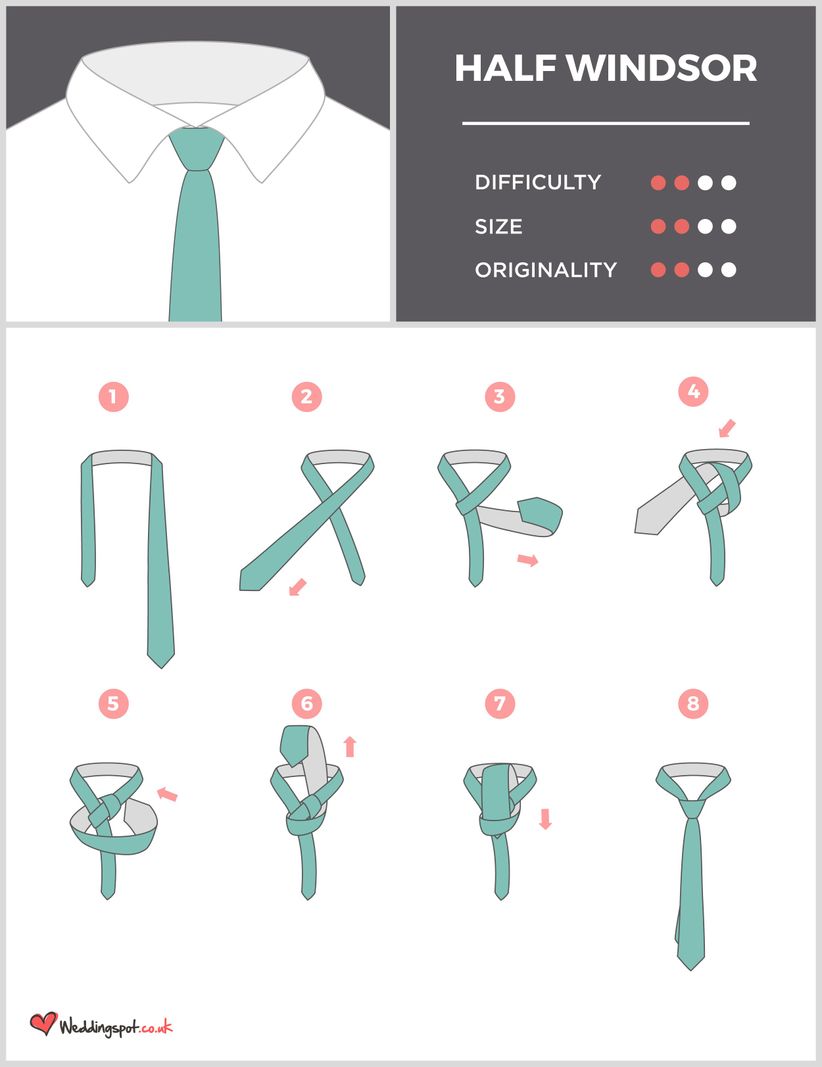 Aside from the royal, elegant name of this knot inspired by the Windsor family, it's quite original. It's not as thick and hangs more narrowly. It works best with narrow ties or ties made from a thin material. Shirts with a classic or open neck collar are optimal for this knot. Before tying the knot, the narrow blade should reach the 5th button of your shirt like with the Victoria knot, or about a palm's width from your belt.
5. Full Windsor Knot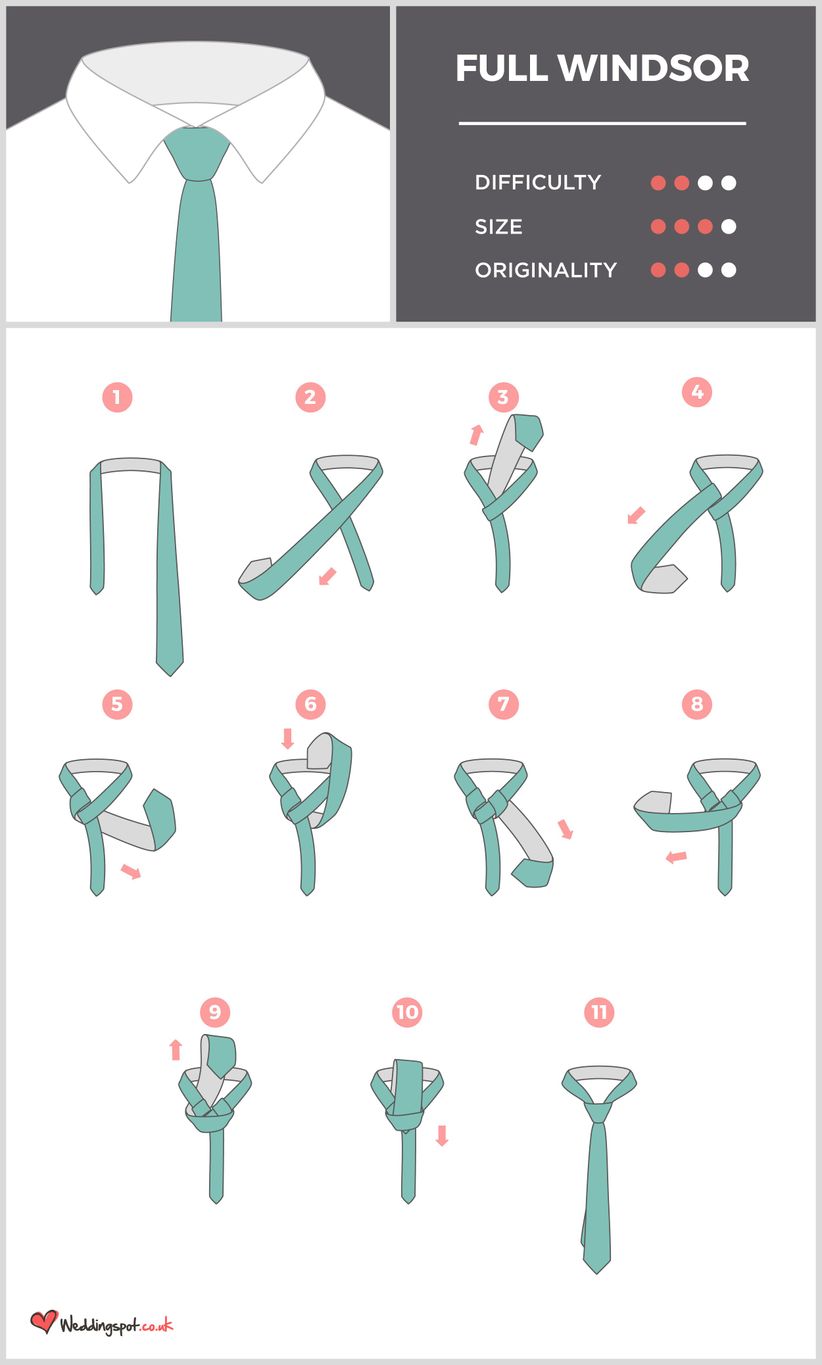 Go all the way Windsor with this knot. You'll have a thick knot that works well with thin ties and requires lots of wrapping around to do this knot justice. It works best with very open collars, such as Italian styles. It flatters medium height or shorter men as well as those who have a thin neck or short torso.
6. Prince Albert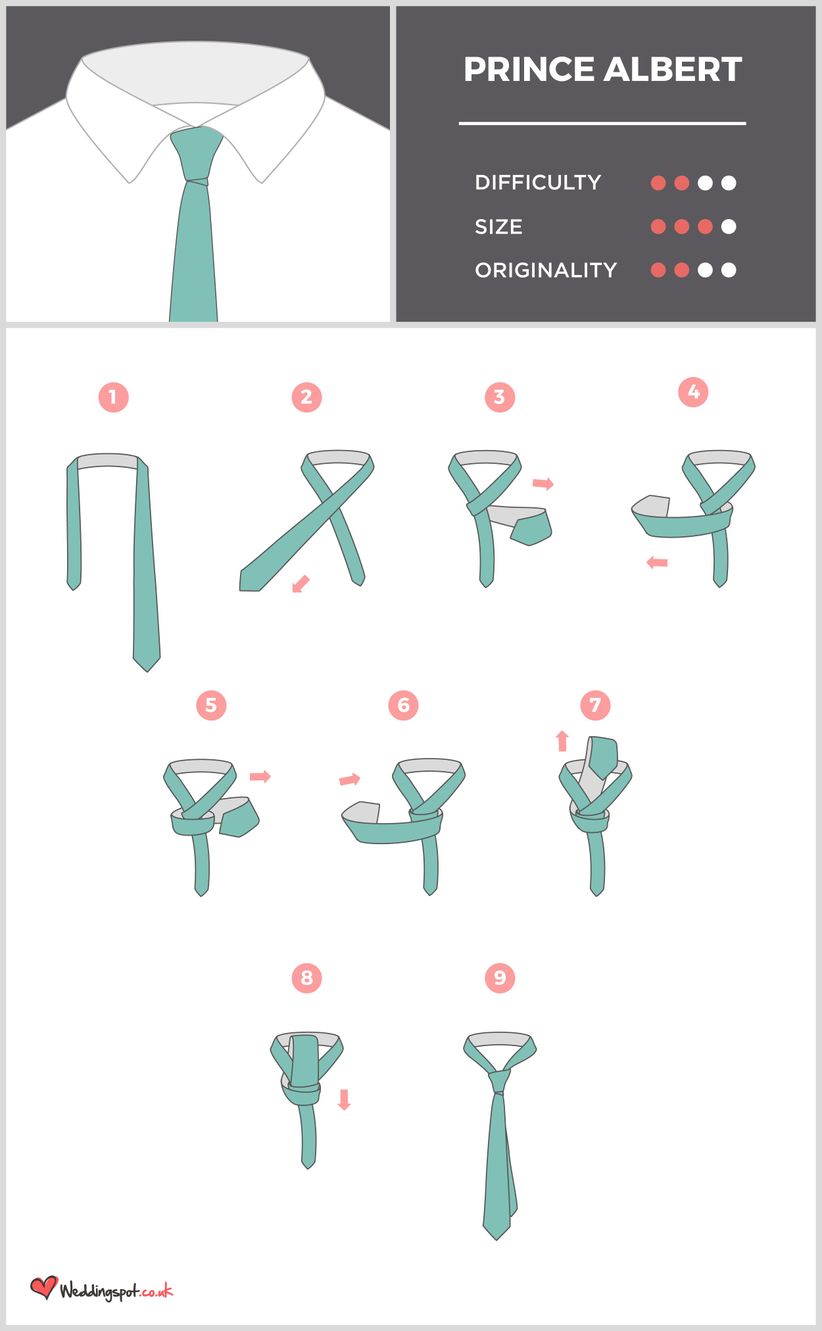 This knot is more tricky and intricate. It works well with narrow ties with thin material, such as silk. It favours shorter men with thin necks, because the knot is thick and visually fills the space around the neck. Before tying the knot, make sure the thin blade hangs down to the height of the 5th button on your shirt. It's similar to the Victoria knot, with the main difference being the last step where the wide blade goes inside the knot.
7. Bowtie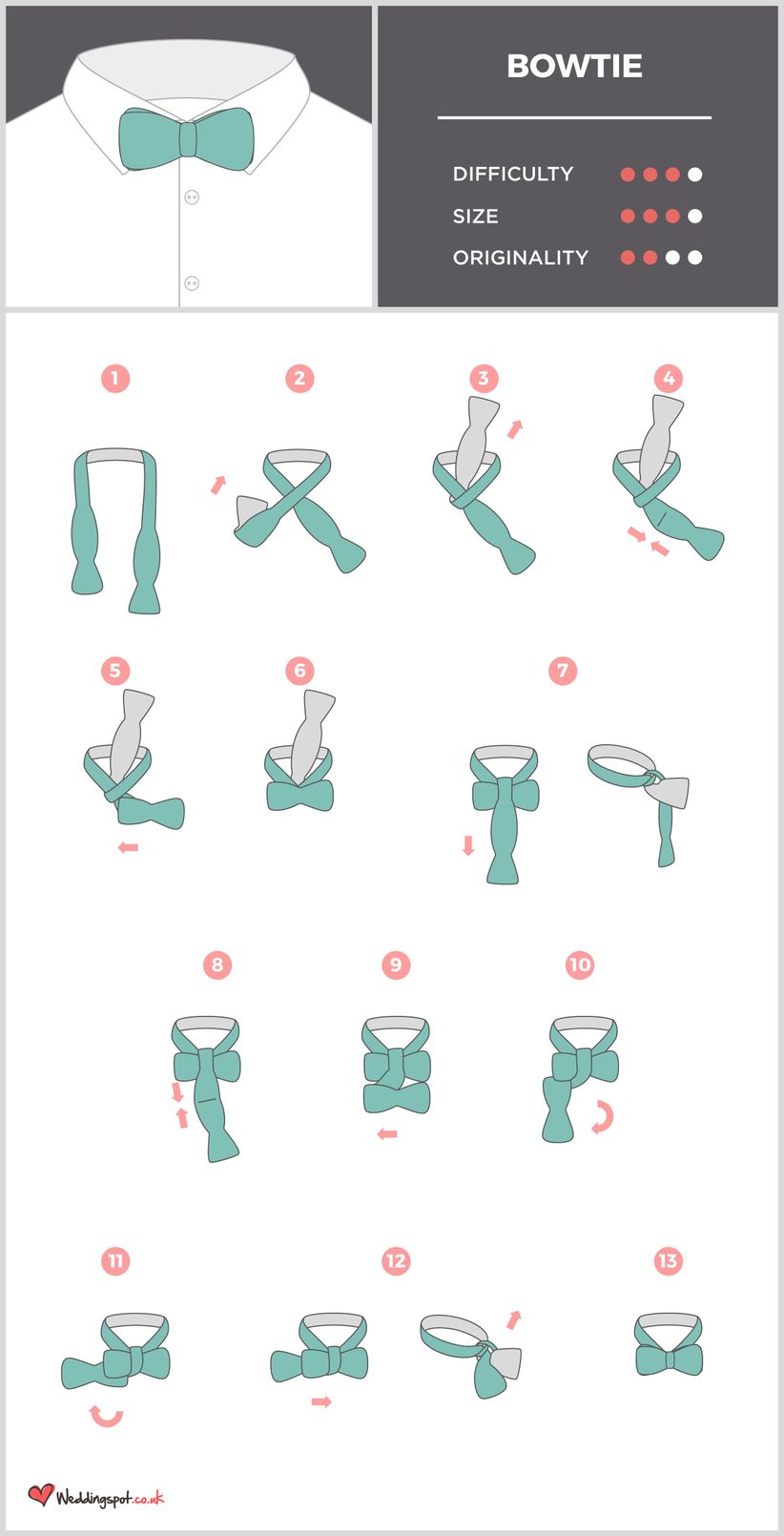 We can't leave out the men who want to show off a bowtie on their big day. This will especially suit grooms who decide to get married in a tuxedo. Either way, with a suit or even a vest, you can't go wrong with a bowtie. It goes with any type of neck collar, wide, fitted, classic, etc. It may look complicated to tie, but it's rather similar to tying your shoes.
As you can see, the groom's style can have it's own special touch too. Not to mention the lovely tie you'll pick, the cufflinks, and the shoes. There are many ways to personalise your groom look so that you're true to your style with a little extra for your wedding day.