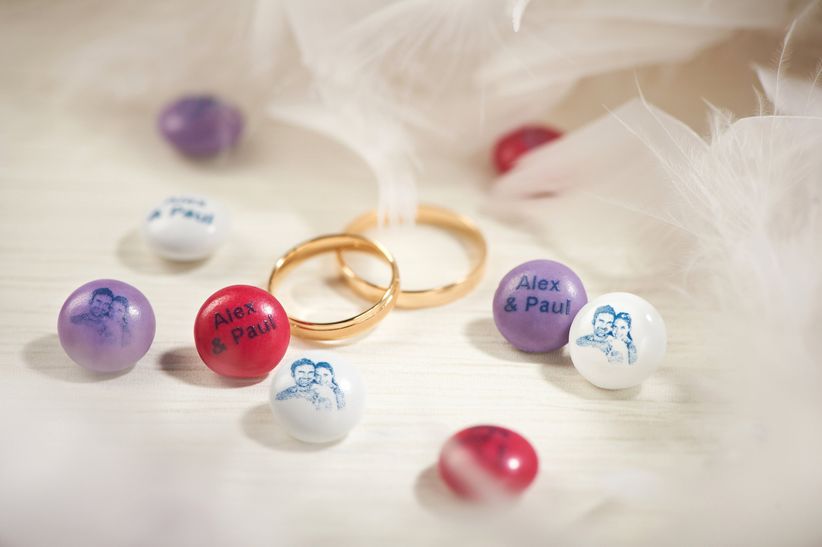 If you're still thinking about how you'll decorate your wedding and you want to add a sweet, personal touch, then take note because this post is filled with eye candy for your wedding. M&M's are a candy we all grew up with, so not only will your guests be overjoyed to find a wedding filled with M&M's, but it will also remind them of their childhood and create a happy-go-lucky mood in your wedding.
There are endless ways to include M&M's in every part of your wedding and they can even be personalised. You can see in the picture above how this couple had their photo and names printed on the M&M's, making them very personal and unique wedding favours for guests. Now, let's get into our 7 ideas make your wedding super sweet with M&M's:
1. Table centres with rose petals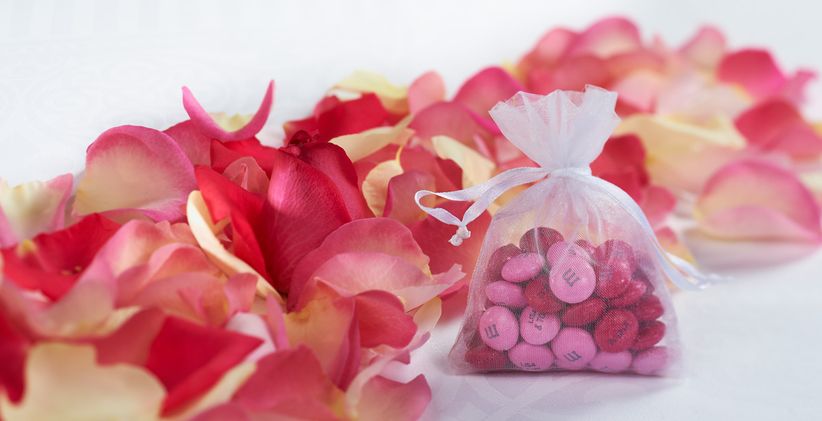 M&M's come in so many colours and you can personalise them for your wedding. Choose from 15 colours to decorate your tables with. Are you decorating your tables with gorgeous pink and red rose petals? You sprinkle them with some M&M's in those same colours. Guests won't be able to resist reaching out to eat them. You can also include little pouches of M&M's in those same colours as wedding favours for your guests. We bet the M&M's won't even make it home.
2. The colourful accent for your wedding cake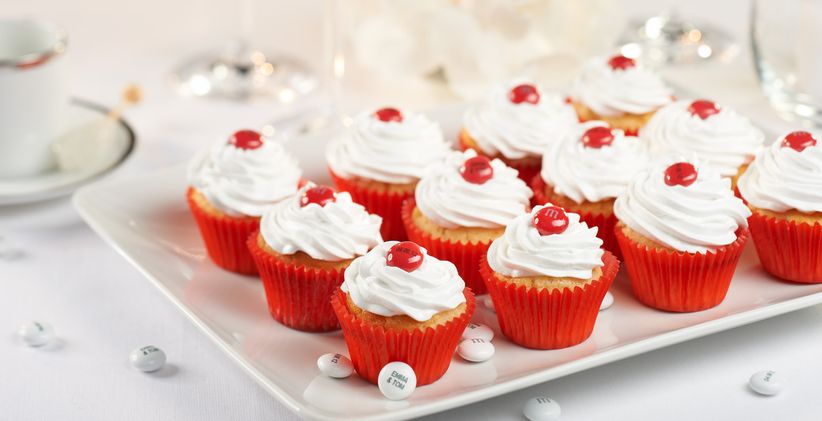 Whether you choose to end your wedding meal with a big traditional wedding cake or cute cupcakes, add some M&M's as the final touch. As with the rest of our tips, you can always choose tones that match your wedding colour scheme. If you want to really impress you can ask your cake maker to fill the cake with M&M's and when you cut the cake the delicious chocolate candy will pour out of the cake. The end result is true eye candy that will delight your guests.
3. Everyone's favourite at the candy bar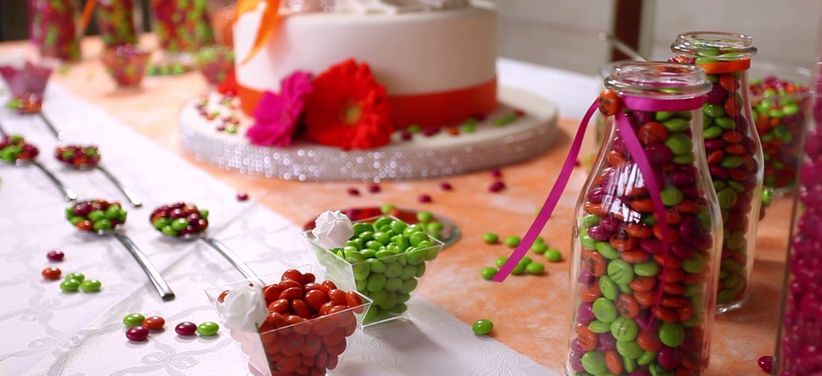 If you want a candy bar stocked with all the traditional sweets everyone grew up with, then M&M's are a must-have. Among all the lollies, marshmallows and macaroons, M&M's deserve their own section in your candy bar. Remember to personalise them according to your wedding colours and get your names or photo printed.
4. Seating cards and gifts, two birds with one stone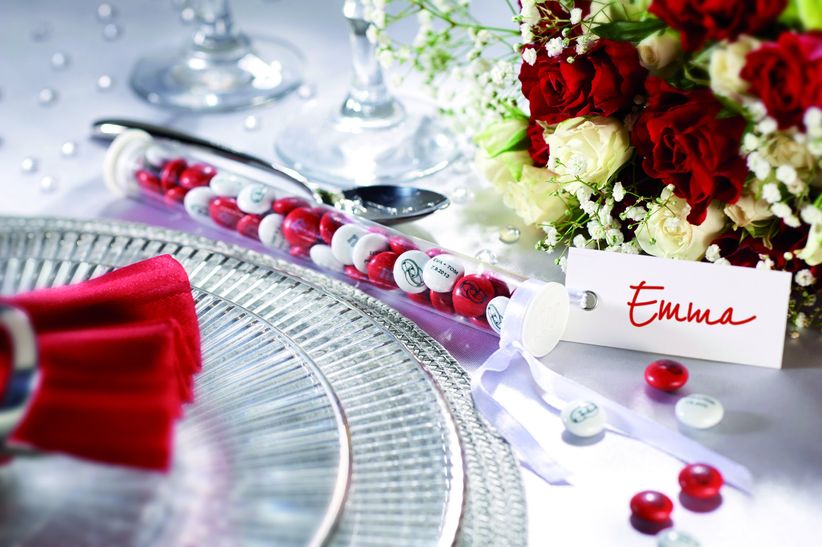 Get creative and you'll see that there are so many ways to make M&M's both the seating card and the wedding favour for your guests. Fill a transparent tube or tulle pouch with M&M's, attach a card with a ribbon and include the guest's name and table number. And you're done; you've got an easy, yet elegant detail that serves both as seating card and wedding favour. Everyone loves receiving something sweet, so you can't go wrong with this idea.
5. A surprise box to treat the bride and groom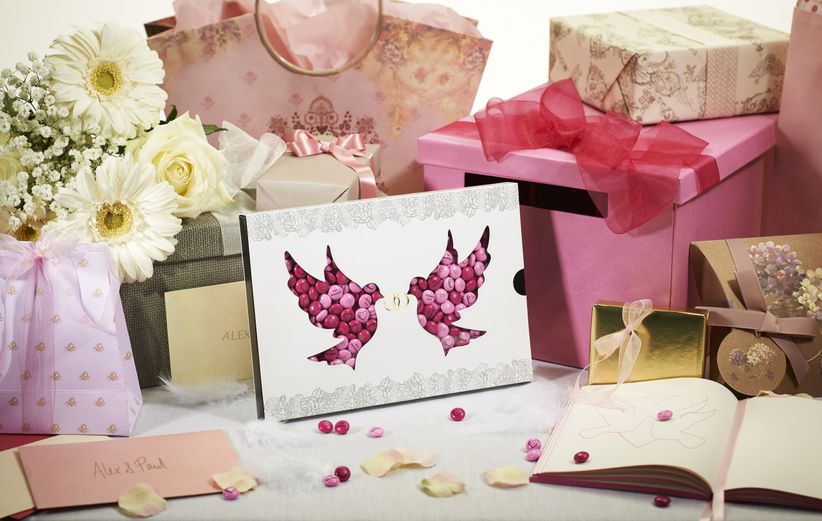 Your guests aren't the only ones who have a sweet tooth. Imagine receiving a surprise box like the one in the above photo, filled with personalised M&M's. We can only hope that our guests get the clever idea to do something like this for us, right? The box itself is so charming you'll almost feel bad opening it and eating all the M&M's in one go.
6. Satisfy your craving for wedding DIY's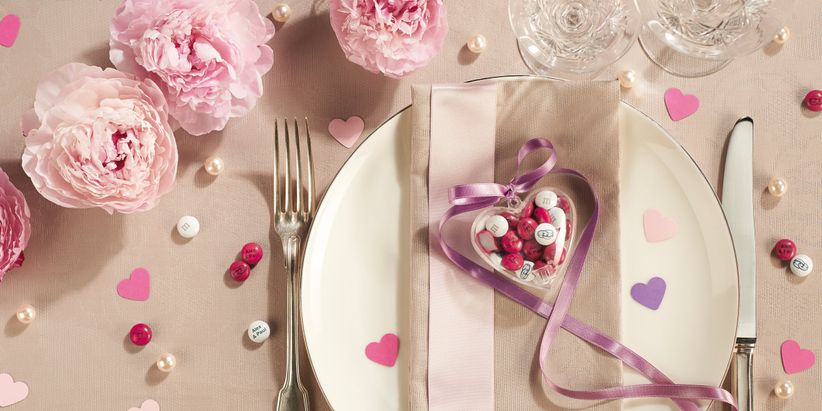 You've probably seen countless DIY's for weddings and don't know which one you'll try for your wedding. If you have an itch to try your hand at a wedding DIY how about putting together your own wedding favours with M&M's. M&M's offers transparent cases in the shape of a ball or heart along with many other ideas to decorate your wedding. They also have tutorials you can follow to create your own M&M's decorations. We urge you to check out their kits to help you find the perfect way to decorate and create personalised wedding favours for your big day.
7. Don't forget about charming wedding invitations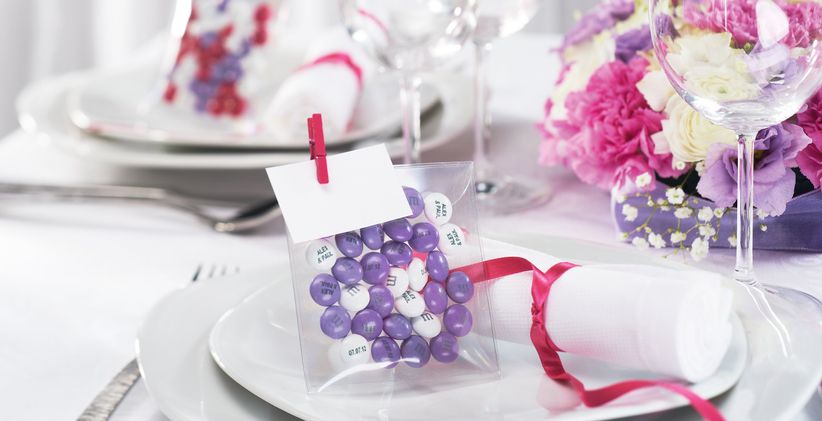 The invitations are the first impression of your wedding for your guests, so give them a sneak peak into what to expect from your wedding. Choose a stylish invitation, envelope and RSVP card. Then, decide on the layout, design and message of the invitation. The best part is that you can include a pouch of M&M's inside the wedding invitation. Your big news just got even better!
We hope you were inspired by these 7 ideas for M&M's to make your wedding beautiful enough to eat. Let M&M's personalise your big day and make your wedding style come to life. Foodies will certainly appreciate the idea of a wedding filled with M&M's, reflecting the happiness and sweetness of love.