A wedding website is a beautiful way to communicate everything to your guests about your wedding. You can select from a lovely variety of themes and then personalise them to reflect your style and the colours of your wedding. Fill the website with photos of you and your spouse-to-be, with details about the wedding, and so much more. We're going to share 6 ways a wedding website will make wedding planning easy.
1. Share your love story
Your wedding website is a place to share the story of how you met, how he proposed, and all the other details that have led up to this moment of planning the wedding. You can even make a little video to show guests when they reach your main page. And don't worry, you can give guests a secret code to access your website so that you keep your privacy and no one can access it unless they are invited.
2. Constant contact with wedding guests
Communicate updates and changes, share the venue location with a map, the wedding programme, talk about the dress code, etc. Guests will also be able to ask you all their questions about everything from the dress code and what time they should arrive to the venue, to where to send gifts or what is your bank account to send you money.
You can even create a poll or questionnaire to get answers from your guests, such as whether they prefer having a bus arranged for their return home after the wedding or if they are looking for a ride to the wedding. A poll can also be helpful to see how many people will stay at a hotel, this way you can give your guests options for hotels in the area.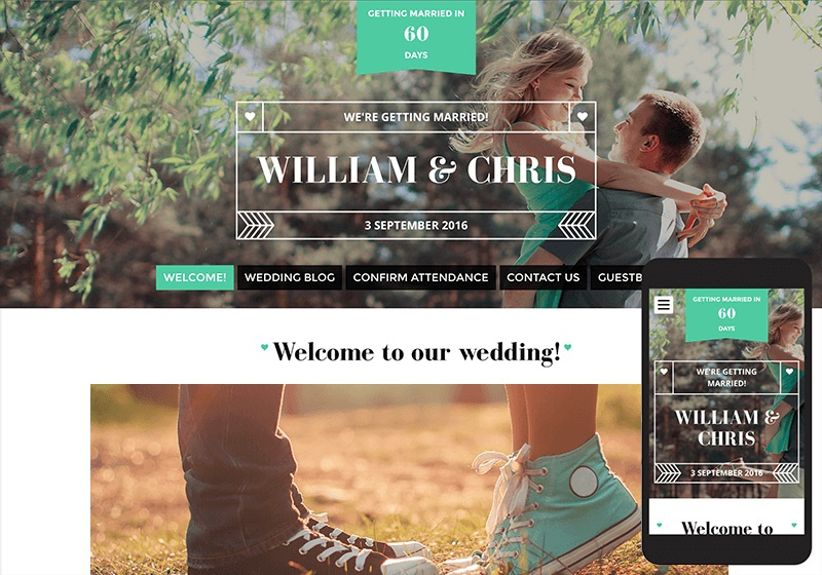 3. Handle all RSVPs from anywhere
Professionally handle all the RSVPs right from your phone, tablet or computer. You can receive RSVPs in real time straight from the website. When they RSVP you can also ask your guests to tell you if they have any food allergies or if there are foods they don't eat. This way you have all the information you need to communicate the number of guests and special menus to your catering and venue.
4. Get wedding guests excited
Show your guests photos of the venue, share as much as you want with your guests to stay in touch and keep them excited about your big day. The website is a great medium to stay in constant communication with your wedding guests. On the day of your wedding you won't have time to be with everyone, which is why it's a lovely idea to try and do so before the wedding.
5. Guestbook
You can also create a guestbook and start watching all the messages roll in. If you're feeling overwhelmed or tired from all the wedding planning, their heartfelt messages could make you feel a little better. Later you can print the guestbook and insert it into your wedding photo album to cherish forever.
6. Wedshoots
Don't you wish there was a way to make sure your guests shared all the photos they took at the wedding afterwards? Well there's an app for that! It's called Wedshoots, and your guests just download it, insert the code you sent them and they can start taking photos. You'll be able to see the photos everyone takes with the app. This means that your guests can start taking photos even before your wedding, showing you photos of them at the airport going to your wedding and also after your wedding with the hangover and a content smile on their face. You won't miss a thing.
Then you can download all of the photos from your guests in high resolution and add them to your wedding photo album. So, don't forget to use your wedding website to tell your guests to download Wedshoots.