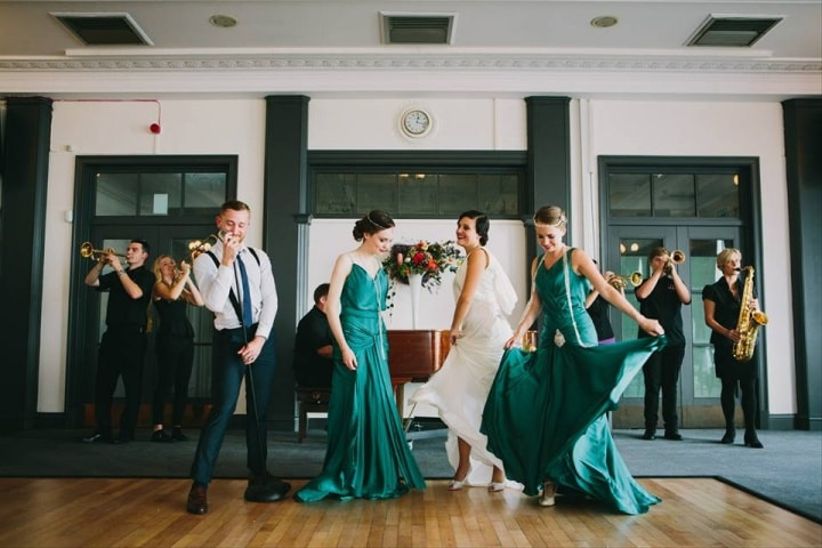 With the big day just around the corner, you've still got a few tasks to tick off your checklist. Perhaps you still have to decide on wedding favours, your bridal bouquet, hire the wedding transportation and buy your wedding accessories. Meanwhile you're thinking about what songs you want played at your wedding. For the ceremony will you have religious wedding music or something that has meaning to you as a couple? In any case, make sure to talk to the person who is marrying you about what kind of music will be permitted in the ceremony.
So, once you know what kind of music you're looking for, you can explore the myriad of wedding bands available to you. Nowadays your average string quartet can learn to play the songs of your choice, and the piano man knows all the latest pop songs. If you want to dance to your favourite tunes, we bet you'll find exactly the band you're looking for. So, let's jump into our choice of 6 options for your wedding band.
1. Rendition bands
There is a band for every type of music, but there are also bands that specialise in covers of your favourite songs, from pop and rock to country and indie. These bands can offer a mix of relaxed and upbeat music to fit every moment of your wedding. The great thing about rendition bands is they can play songs everyone knows, so enjoyment is guaranteed for everyone. Many bands and musicians charge you depending on the number of band members you hire, so keep this in mind when choosing your wedding music.
2. Solo singer
Hiring a solo singer can be a great option for many weddings. Unlike a band, you are only paying one person, so it could even be a great cost-friendly option. You can hire a solo singer for just the ceremony and have a DJ for the rest of the celebration, but now there are solo singers who can adapt to your whole wedding.
3. Jazz
If you want a timeless air in your wedding, then jazz can be a wonderful option. Even if you think jazz isn't your thing, there are so many types of jazz so explore the options and you might find that it's perfect for a part of your wedding, for example during reception. You can have a romantic solo saxophone for your wedding entrance, some soft jazz for your reception and banquet, and then some danceable, upbeat jazz for the wedding party.
4. Rock
A bit of rock might be just what your reception or dance need to complete your big day. There are rendition bands that can play the classics everyone knows from The Rolling Stones to Kings of Leon. You can even find bands that play their own tunes. Make sure to watch videos of their work and read reviews, no matter what band or musician you hire.
5. Singing waiters
This is one of the most unique options for live wedding music. If you want to impress your wedding guests, singing waiters will do the trick. Not only will they serenade your guests as they enjoy a live show, they will ensure that there's not a dull moment during your banquet. You may not even have to hire a DJ because some singing waiter companies also include a DJ for when the dancing starts.
6. String Quartet
Give a touch of elegance with a beautiful string quartet. Nothing screams wedding like the delicate sound of strings in harmony. Whether it's a religious ceremony or a civil ceremony, you can't go wrong with a string quartet. Your first thought will be to have a string quartet at the wedding ceremony, but many can also adapt to more upbeat, modern music for your reception as well. If a string quartet doesn't fit your budget or your small ceremony hall, we recommend looking into hiring a violinist and pianist (keyboard). This duo is beautiful as well.