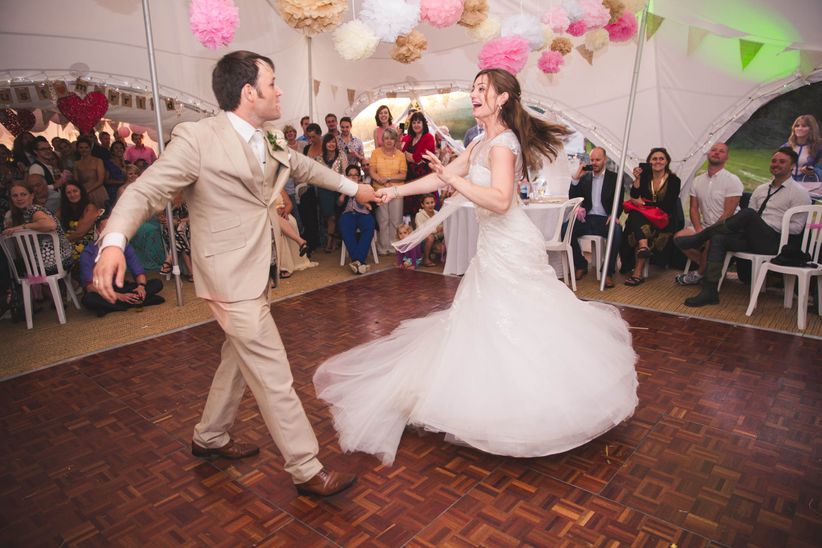 Your wedding day is going to have many memorable musical moments, the most important being your first dance song. If you're having a tough time coming up with the perfect track, you are not alone. To help you out we've put together a list of adorable first dance songs that would make your first spin around the dancefloor even more magical.
Here are 55 swoon worthy first dance songs.
Classic romantic first dance songs
1. Doris Day - Dream a little dream of me

2. Etta James - At last

3. Frank Sinatra - Fly me to the moon
4. Harry Connick Jr. - It had to be you
5. Tony Bennett - The way you look tonight
6. Leonard Cohen - Dance me to the end of love
7. Nat King Cole - Love
8. Ben E King - Stand by me
9. Elvis Presley - Love me tender
10. Dooley Wilson - As time goes by
Modern romantic first dance songs
11. Michael Buble - Everything
12. Norah Jones - Come away with me
13. Extreme - More than words
14. Marc Cohn - True companion
15. Coldplay - The scientist
16. Death cab for cutie - Lack of color
17. Ray LaMontagne - You are the best thing
18. Jack Johnson - Better Together
19. Ben Howard - Only Love
20. Robbie Williams - Robbie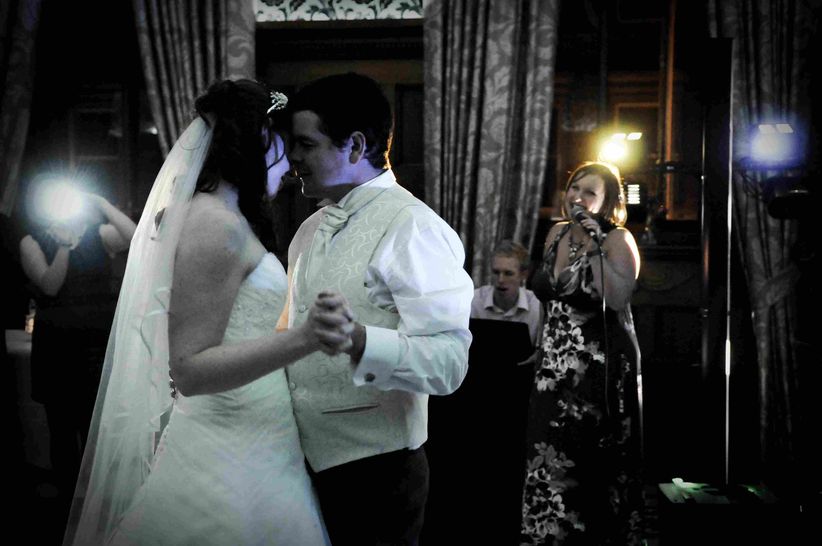 Energetic first dance songs
For those who prefer to move on the dancefloor.
21. The Beatles - All you need is love
22. Bruno Mars - Marry you
23. The wannadies - You and me song
24. The postal service - Such great heights
25. Muse - Feeling good
Latin rhythms
From Tangos to Samba, if you have dance skills, here's your chance to prove it.
26. Carlos Gardel - Por una cabeza
27. Mya - Do you only wanna dance
28. Ne-Yo - One in a million
29. Marc Anthony - Tu amor me hace bien
30. Gotan project - Santa Maria (del buen ayre)
Irish first dance songs
If you or your other half are from the emerald isle, you have some beautiful options from back home.
31. U2 - All I want is you
32. Sinead O'Connor - You do something to me
33. Van Morrison - Moondance
34. Christy Moore - The voyage
35. Luka Bloom - You couldn't have come at a better time
Ska and Reggae first dance songs
36. Madness - Must be love
37. Marcia Griffiths - The first time ever I saw your face
38. UB40 - (I can't help) falling in love with you
39. Amy Winehouse - Our day will come
40. Johnny Nash - Cupid
80s first dance songs
41. Cyndi Lauper - Time after time
42. Foreigner - I want to know what love is
43. Stevie Wonder - I just called to say I love you
44. Berlin - Take my breath away
45. Bryan Adams - Heaven
Rock first dance songs
46. Elbow - One day like this
47. The Cure - Just like heaven
48. Rolling Stones - Wild horses
49. Smashing Pumpkins - Luna
50. Foo Fighters - Everlong
Celebrities and their first dance songs
If you need some inspiration, take a look at the first dance songs chosen by these celebrities.
51. Kate Middleton and Prince William: Ellie Goulding - Your song
52. David and Victoria Beckham: The Starlight Orchestra - It Had to be you
53. Channing Tatum and Jenna Dewan: Israel Kamakawiwo'ole - Somewhere over the rainbow
54. Ellen DeGeneres and Portia de Rossi: Stevie Wonder - Ribbon in the sky
55. Kate Moss and Jamie Hince: Roxy Music - If there is something