Ready to start choosing your wedding flowers? Of course you are! Immersing yourself in the wonderful world of beautiful blooms is definitely one of the most enjoyable parts of wedding planning. Before you start filling your new Pinterest board with pics of exotic blooms like African tulips and Amazon lilies, think about your bottom line. Wedding flowers can get pricey, so knowing a few money saving tips can really save you from going overboard.
Here are a few money saving tips for your wedding flowers.
Let your florist guide you
If you're super Type A and want to do everything yourself, giving the reins over to your wedding florist might be tough, but it's a good move. It's their job to know what's in season, which blooms are the most expensive and how to get the most bang for your buck, so they'll be able to create arrangements that are within your price range. Now, this doesn't mean you should sit back and let them do all the work - you should come to meetings prepared with reference photos and arrangement ideas so that you're on the same page aesthetically.
Save with sameness
Variety may be the spice of life, but when it comes to buying wedding flowers you'll want to aim for uniformity. Flowers are usually sold in bunches, so if you buy whole bunches (as opposed to small fractions of a variety of different bunches) you're bound to save couple quid. This doesn't mean your wedding bouquets will be boring, you may just need to get a bit more creative with shapes, vases, bouquet wraps and accessories to make them pop.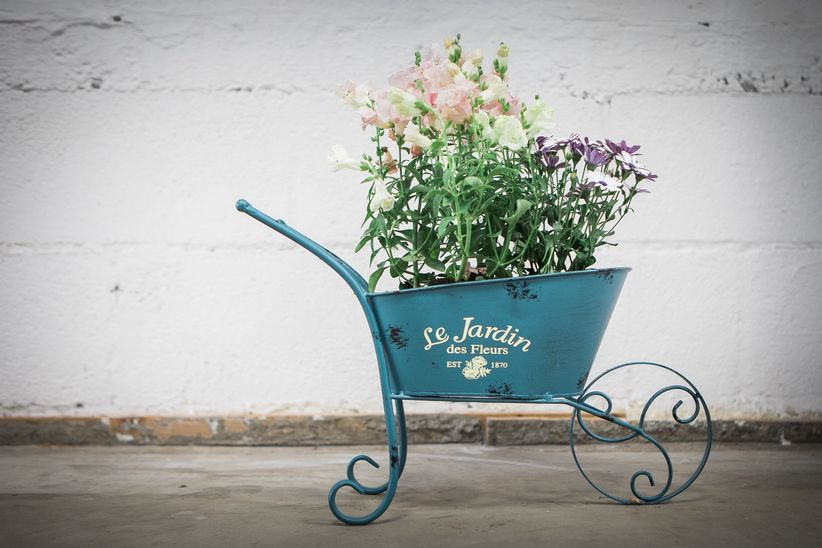 Shop seasonally
You know how certain fruits and veggies are less expensive at different times of the year? Well, the same goes for flowers. Do a little research and find out what blooms are available in your area around your wedding date so that you can be a savvy shopper (your florist should also be able to help your out). Keep in mind that tropical blooms will always be on the more expensive side because they have to be shipped in from afar.
Have your arrangements serve double duty
If you're decking out your wedding ceremony venue with flowers, you don't have to kiss them goodbye after you've said your vows. In the time between your ceremony and reception, move your altar arrangements, aisle markers and more to your second space. You'll probably still need to purchase table centrepieces, but your recycled bouquets can be used to spruce up your sweetheart table, stage, welcome table and/or entryway.
Use your imagination
Your arrangements don't need to all be 100% floral! Make things interesting by using greenery, feathers, gems or vintage goodies to create (or accent) a few of your arrangements. If you absolutely love the flower route but want to save some money, you can go for faux blooms or DIY-ed felt or paper flowers.
Find your wedding florist on WeddingWire »